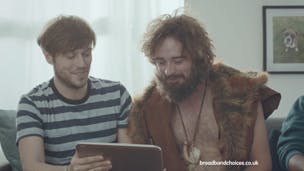 Our new advert's on a TV near you now. If you haven't seen it yet, you're missing out! Watch it here and find out what happens when its stars, Carlos The Caveman and Ben, both put on movie nights for their friends…
Have you seen the new broadbandchoices TV advert? If you have, we hope you like its stars, Carlos The Caveman and Ben, as much as we do. If you haven't, what in the blazes have you been doing with your life? 
The advert showcases our exclusive Plusnet deal - which makes us the cheapest place to get Plusnet broadband - and sees unlikely neighbours Carlos The Caveman and Ben putting on movie nights in their respective homes. Ben, who's used broadbandchoices, puts out popcorn and tortilla chips in his stylish living room and selects a dinosaur film - hello, Freddie Foreshadowing - for him and his friends to watch from the menu on his big, wall-mounted TV.
Meanwhile Carlos, who hasn't used broadbandchoices, lays out hunks of raw meat in his living room, which is festooned with furs, animal hides, spears and a portrait of a vulture, only to find himself bored and lonely as he stares forlornly at the cave painting on his wall, which is no substitute for a top TV package like the one at Ben's house.He clambers onto his roof and blows into his hunting horn to try and find out where his guests have got to, but it can't replace a good mobile phone plan.
Luckily, Ben spots Carlos and invites him to his movie night, where he shows him how easy it is avoid missing out by using broadbandchoices. After that, Carlos is all smiles. At least he is until Ben and his friends' choice of flick catches him by surprise…