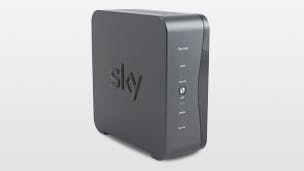 Want to get your hands on the latest Sky Hub? If you're a Sky customer, on Twitter and love competitions as much as we do, read on to find out how you can win one…
Last week, our reviews team were busy getting their heads around the shiny new Sky Hub router. Their verdict - it's a bold piece of energy-efficient kit.
What's more, Sky's fibre broadband customers can kiss engineer visits goodbye, as the new hub allows you to set it up yourself.
And now we're giving you the chance to get your hands on one of these bad boys. All you need to do is tweet the correct answer to the question below:

Which of the following is TRUE about the latest Sky Hub?
a)      Fibre customers can set up their broadband without a visit from an engineer
b)     It's officially Sky's best looking router ever
c)      The hub allows customers to access their Sky TV free of charge
Tweet your answer to @broadbandchoice and include the hashtag #bccomp
Good luck!
Need a clue? You can find the correct answer in our Sky Hub guide
Terms and conditions
This competition and prize draw is run by Decision Technologies Limited whose registered address is Third Floor High Holborn House, 52-54 High Holborn, London WC1V 6RL.
This competition is in no way affiliated with BSkyB.
Entry into the competition and prize draw is free.
The start date of the competition and prize draw is 9:01 17th January 2014 in the UK.
The closing date of the competition and prize draw is 23:59 17th January 2014 in the UK.
The competition and prize draw is open to UK residents only.
To enter the competition and prize draw you must be 18 years of age or older.
The competition and prize draw is not open to employees (and their families) of Decision Technologies Limited or anyone else connected with the prize draw.
To be entered into the prize draw entrants must answer the competition question and tweet their answer to @broadbandchoice remembering to #bccomp
One prize draw winner will be chosen at random after the closing date of the competition from all the twitter accounts that answered the competition question remembering to tweet their answer to @broadbandchoice and #bccomp, prior to the closing date of the competition.
The winner will be notified via Twitter within 2 business days of the closing date. If any notification email, Direct Twitter Message or Tweet is not acknowledged within 10 days from date sent then alternative prize draw winner(s) will be chosen at random from the remaining qualifying entries.
Decision Technologies Limited cannot accept any responsibility for failure of the internet or any other failure of any kind that might prevent the prize draw winner receiving notification.
Winners' name is available on request (email dpo@consumerchoices.co.uk)
Main prize winner will receive a Sky broadband hub. This is the hub that the broadbandchoices.co.uk editorial team recently reviewed here.
Decision Technologies Limited's decision is final and binding and no correspondence will be entered in to.
By submitting your entry you agree that Decision Technologies Limited may republish your competition answer in articles and features on our website and other media. We will not disclose any user's email address or any level of personal information that would enable any third party to contact or identify a particular individual.
If you do not want us to republish your answer then please contact us at dpo@consumerchoices.co.uk or the registered address above and we will fully comply with your request.
Decision Technologies Limited complies with the Data Protection Act 1998 and will not share your data with any third parties. Please read our privacy policy for full details.