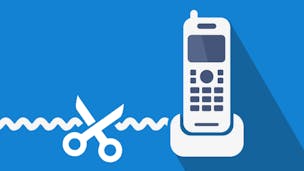 How do I get internet without getting line rental included in the price? It's a question we're asked all the time. If you want broadband without a phone line, there are several ways to go about getting it, but be warned - it might not actually work out cheaper…
Most broadband packages use your phone line to deliver broadband. The cost of line is included in the advertised price, but you still have to pay it - even if you don't use a home phone.
If your heart is set on landline-free broadband, however, don't despair. You do have some options, including Virgin Media and Hyperoptic. Read on, and we'll go through it all.  
Who does broadband-only packages?
Virgin Media (www.virginmedia.com) is the only major provider able to offer broadband without a phone line to more than just a few select areas of the country. If you want to see exactly what you can get, check broadband in your area.
Virgin Media
Virgin Media broadband-only deals
Vivid 200 Fibre Broadband
Vivid 50 Fibre Broadband
£536.00

Total first year cost

£396.00

Total first year cost

£43.00 p/m for 12 months £20.00 setup costs

12 month contract

£33.00 p/m for 12 months £20.00 setup costs

12 month contract

Average speed 213 Mb
Average speed 54 Mb

Offer ends 30/06/18

Go

Call Virgin Media on

0808 168 6088

Go

Call Virgin Media on

0808 168 6088
Virgin Media's fibre optic broadband operates independently of the national telecoms network once owned and still mostly looked after by BT. It means Virgin Media can give you broadband with average speeds of 362Mb, with no need for a landline.
However, when you sign up for broadband and TV there's normally a phone service thrown in with the bundle - opting out won't necessarily save you money. In fact, it may be cheaper to take all three services, even if you you're not going to use the phone line.
You can check for yourself when you use our price calculator to compare packages.
Click here for the latest Virgin Media deals
Relish
Relish only runs in Central London and Swindon, so if you don't live there, we're afraid you're out of luck.
But if you do live in the Big Smoke or the best town in Wiltshire, Relish may be right up your street. It's a wireless broadband provider that uses 4G to deliver services. When you sign up, Relish sends you a router (on the same day even, if you're willing to spend a few bob extra), and all you have to do is plug it in, and you're good to go.
Packages are unlimited and, if you can get a good enough signal, speeds are comparable to fibre optic broadband. It's a great alternative to standard fixed broadband.
Click here for the latest Relish deals
Can I get broadband without a landline?
Broadband without a phone line may seem the ideal scenario, particularly if you're tired of paying line rental for a home phone you barely ever use.
In reality, at least in the majority of cases, you'll need a working phone line in order to have broadband. The only major exception - the one with the widest availability at least - is Virgin Media. 
The good news is that even the cheap internet deals usually includes some free calls at weekends or in the evening. Still, if you're adamant you don't want a phone line at all, and you just want your broadband without line rental, there are a few options to think about.
The simplest solution for many is to switch to a broadband service like Virgin Media that doesn't actually need a landline.
Click here to compare broadband-only deals
Is landline-free broadband a cheaper option?
Because you don't have to worry about paying for your phone line, it would be easy to assume that broadband-only packages would be dramatically cheaper. That's not the case.
Take Virgin Media for example. Its broadband without a landline only works out around £5 less than its standard packages. It's also worth noting that it's one of the pricier providers out there, so you may be able to find an alternative from a company like TalkTalk or Plusnet that includes a phone line, but actually costs less.
Current broadband deals
Broadband Unlimited
Unlimited Broadband + Evening & Weekend UK & Mobile Calls
Unlimited Broadband + Weekend Calls
£235.95

Total first year cost

£239.88

Total first year cost

£204.00

Total first year cost

£18.00 p/m for 12 months £19.95 setup costs

12 month contract

£19.99 p/m for 12 months

12 month contract

£17.00 p/m for 12 months

12 month contract

Average speed 10 Mb
Average speed 10 Mb
Average speed 11 Mb
Pay as you go
Eve & wknd calls inc.
Weekend calls inc.

Offer ends 21/06/18

Offer ends 26/06/18

Offer ends 30/09/18

Go

Call Sky on

0800 759 1469

Go

Call Plusnet on

0808 178 7205

Mon to Fri 8am-8pm

Sat 9am-7pm

Sun 9am-6pm

Go
Always remember - the key is to compare your options. That way you can see the prices side by side, and get a clear sense of what's the best package for your budget.
Compare more broadband deals here
Is 3G or 4G better than broadband? 
If you live somewhere with decent 3G or 4G mobile phone signal, you might be able to rely on mobile broadband for your internet access. This way, if you don't use your home phone, you can do away with your landline and wave goodbye to line rental forever. 
At first glance this might seem like a no-brainer, but unless you can access 4G, you'll find data-heavy stuff like streaming films and TV practically impossible at mobile speeds. To see if 4G is available where you live, use an online mobile coverage checker. 
Mobile internet is also likely to be significantly less cost-effective than a good value home broadband package. If you're anything more than an extremely light or occasional web user, what you save in line rental you may quickly incur in excess data charges. 
Is satellite broadband any good? 
As a last resort, if you live out in the sticks, beyond the reaches of BT and Virgin Media, and have patchy or non-existent mobile signal, satellite broadband could be an option. 
Broadband by satellite is usually more expensive, slower and often less reliable than regular ADSL or fibre optic broadband. However, like satellite TV from Sky or Freesat, it's available pretty much anywhere, and it eliminates the need for a landline. 
Click here for more on satellite broadband 
Disclaimer: The content on this page was not provided or commissioned by any of the providers or operators mentioned. The opinions expressed are the author's alone, and have not been approved, reviewed or otherwise endorsed by providers or operators. Links to providers and operators on this page make us money if you sign up to a deal, but do not increase the amount you pay. For more on how we make money, read about us.