A small number of flexible 'no contract' broadband packages exist in the UK , giving you freedom to switch provider when a better deal comes along.
No contract broadband is a useful option if you're planning to move house, need broadband for a second home, or simply don't want to be tied down to a monthly bill for 12 or 18 months.
Here we'll show you some of the best no contract broadband deals around, and highlight exactly what you need to be aware of before signing on the dotted line.
Which providers offer no monthly contract broadband?
The two most prominent providers to offer no monthly contract broadband in the UK are NOW Broadband and Virgin Media.
Here's what each has to offer:
NOW Broadband
NOW Broadband (www.NowTV.com) offers broadband packages with no contract for an upfront fee. That goes for Brilliant Broadband with an average download speed of 11Mb, Fab Fibre with an average speed of 36Mb, and Super Fibre with an average speed of 63Mb. There's also the option to add a 30-day TV Pass for Sky Cinema and kids' TV.
Below is a list of some of NOW Broadband's 12-month contract deals.
Brilliant Broadband + Free Anytime Calls

Average speed* 11Mbps
£5.00 up-front costs
Anytime

Fab Fibre + Free Anytime Calls

Average speed* 36Mbps
£5.00 up-front costs
Anytime

Super Fibre + Free Anytime Calls

Average speed* 63Mbps
£5.00 up-front costs
Anytime

Brilliant Broadband + Free Anytime Calls (Monthly contract)

Average speed* 11Mbps
£65.00 up-front costs
Anytime

Fab Fibre + Free Anytime Calls (Monthly contract)

Average speed* 36Mbps
£65.00 up-front costs
Anytime

Super Fibre + Free Anytime Calls (Monthly contract)

Average speed* 63Mbps
£65.00 up-front costs
Anytime
*Average speeds are based on the download speeds of at least 50 % of customers at peak time(8pm to 10pm). Speed can be affected by a range of technical and environmental factors. The speed you receive where you live may be lower than that listed above. You can check the estimated speed to your property prior to purchasing.
Virgin Media
All of Virgin Media's services are available on a 30-day basis. That includes broadband with average download speeds of 54Mb, 108Mb, 213Mb or 362Mb; its broadband-only packages; home phone; and of course its high-tech TV service, complete with up to 245 channels and TiVo.
It costs a little more for shorter contracts, with both higher monthly bills and setup costs. That said, if you only expect to be connected for a few months, you'll still pay less than the cost of cancelling mid-contract.
What are my other options?
Not interested in any these providers, but don't want to give up your fixed line in favour of mobile broadband either?
Use our postcode checker to find out what else is available where you live.
Compare broadband deals in your area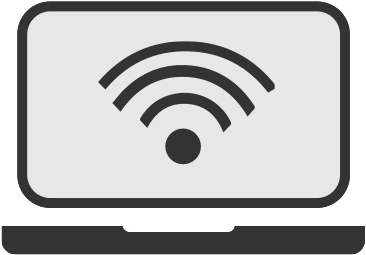 Only need broadband for a short time? Although a fixed line connection is the most reliable, there are other options available, including:
Mobile broadband
Alternatively, you could look into mobile broadband. It's available from mobile phone operators, on either a contract or pay-as-you-go basis.
With mobile broadband, you'll be able to take your connection with you wherever you go - and by using it instead of home broadband, you'll be able to save a bit on line rental.
Mobile broadband packages have far lower monthly usage limits than traditional packages. Out-of-bundle costs can be very high, so you need to be careful you don't exceed your download allowance.
Price-wise, it's comparable to a fixed line connection, even though you'll have a download limit and slower speeds. But, again, it may still be your overall cheapest option if you only want broadband for a few months.
Dongles
About the size of your thumb, a dongle slots into the side of your laptop or computer's USB drive and connects you to the internet.
If you can afford it, we'd strongly recommend you buy a 4G dongle over one that is 3G. It'll be a lot quicker, and will mean less buffering and interruptions.
4G tethering
Most smartphones have the capability to become mobile hotspots. Put simply, when your phone is connected to 3G and 4G, it emits a WiFi signal too. This lets other devices use your phone as a small modem to hook up to the internet.
You can also connect to your computer and tether using a physical cable. Although tethering is ideal if your out and about, it's less reliable and slower than fixed line broadband.
Moreover, different networks have different policies on whether you can use your mobile phone for tethering or not.
To find each network's policy, as well as how to tether your phone, check out our handy guide.
WiFi
In a nutshell, WiFi is the technology that lets you connect to the web without a cable. Most new routers come with WiFi cabability, and most businesses, schools and universities provide it too. You don't need a cable, just enter the unique WiFi code into the WiFi settings on your device.
These days, most broadband providers offer a wireless router as standard. To find out more about WiFi, as well as find the best deals, hit the button below.
Connection and disconnection fees
A lot of UK providers use the BT Openreach network of phone lines, and have to pay a fee to BT to activate your broadband connection.
Most won't charge you for this when you sign up, but, to cover their own costs, they will add the fee to your bill if you disconnect within a year - even if you're moving house. And, you'll probably get charged a connection fee if you're going 'no contract'.
The fee might also be higher if you're the first broadband user in a new home, as the cost of connecting you will be higher in the first place. Cable broadband companies like Virgin Media don't have the excuse of dealing with BT, but you should always check the small-print anyway when it comes to disconnection or deactivation fees.
Some providers will also ask you to return or pay for the router you were supplied with, especially if you've cancelled within a year of signing up.
Monthly vs yearly contracts
Monthly contracts can be expensive, but many people consider them worth the extra cost because of the flexibility they offer - especially if you don't need broadband for very long.
Longer contracts of 12, 18 or even 24 months will generally mean a lower monthly bill, and, depending on your circumstances, could be the cheapest option for you.
However, you should bear in mind that you won't be able to switch for the duration of the contract without paying a hefty fee.