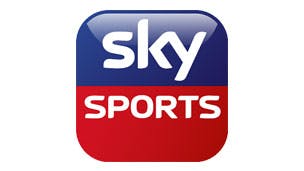 The Sky Sports smartphone app is full of live feeds, facts and stats that make the beautiful game that little bit more enjoyable. Alex Goss, broadbandchoices' business development manager, explains why he can't live without it.
Not to be confused with the similarly-named 'Sky Sports Mobile TV' app  - which comes at a monthly cost - the Sky Sports app is available on iPhone and iPad for no extra charge to Sky Sports subscribers. It gives you all six Sky Sports channels live, sports news, videos, galleries and a shedload of stats - perfect for getting facts and analysis during a match.
The app's split into three categories:
Top Stories: You get all the latest stuff you'd expect from Sky Sports - Jim White news, Paul Merson views and videos on the latest highlights and interviews.
Sports:  choose from a range of popular sports to see the latest news, fixtures, results and tables. You can also find out when the next games are live on Sky Sports.
Watch:  Surely the main reason for getting this app. This is where you get to watch all Sky Sports channels live (that's currently Sky Sports 1, Sky Sports 2, Sky Sports 3, Sky Sports 4, Sky Sports 5, Sky Sports F1 and Sky Sports News HQ).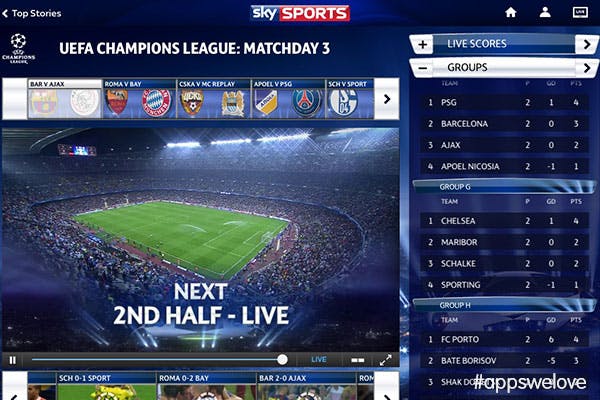 How is it to use?
The Sky Sports app's really user-friendly - it's quick and easy to find what you want to watch.
It's a great app to use if you've got to nip out to the shops on a Saturday afternoon and still want to keep your eye on the 12:45 kick off. I'll admit to strategically positioning my iPhone on top of a pram so as to watch Super Sunday whilst out and about.
The fact that you can watch via 3G / 4G as well as Wi-Fi is very convenient too - especially considering, as a Virgin Media customer, I can only watch BT Sport channels on my phone via Wi-Fi. Just a quick note: always watch out for extra data charges when watching games on mobile internet, as most plans have monthly data limits.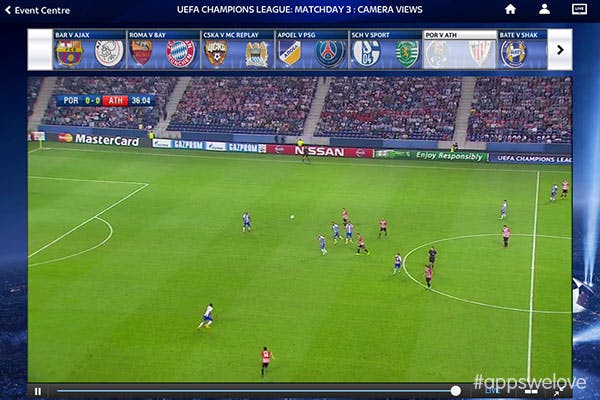 The Sky Sports app is fantastic on iPad. The 'Events' section acts as a great as a complementary tool when you're watching the Champions League games on your TV.
You can watch the Arsenal v Barcelona game on the big screen whilst checking the line ups, catching up on the game's highlights and perusing the team stats for the game on your iPad.
You can even flick onto another of the evening's Champions League games, view in split-screen or watch the goal highlights from all live matches. This is especially useful when you see that Bayern have banged in five goals in five minutes.
For some of the key games, you can watch it from over 10 different camera angles. Not my favourite feature, but it's still nice to play cameraman and replay the highlights during the quieter periods of a match or during Jamie Redknapp and Glen Hoddle's nonsensical half-time punditry.
Value:
If you're looking for the cheapest of cheap ways to get Sky Sports, then this isn't it, as you'll need a standard Sky Sports subscription to use it. An alternative - if you just want to be thrifty (and don't mind compromising on quality) - is to subscribe to the Sky Sports Mobile TV app.
It costs £4.99 per month for Pack 1 (Sky Sports 1, Sky Sports 2 and Sky Sports News HQ) and £9.99 per month for Pack 2 (Sky Sports 1, 2, 3, 4, 5, F1, Sky Sports News and Sky News ). However, the Sky Sports Mobile TV app doesn't have an iPad friendly version, so you'll be restricted to watching on your iPhone.
Alternatively, you can download the iPhone version onto your iPad but it looks pretty horrible - you can barely see the ball.
Sky Sports App Summary:
Great for live sports
Great for Sky and Virgin Media customers
Watch on 3G, 4G and Wi-Fi
What do you think of the Sky Sports app? Do you have an app you love? Tell us in the comments!
Mobile phone