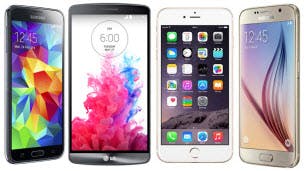 With more than a million different contract deals to choose from, picking the right phone deal is tricky. You've got to consider how many minutes, texts and data you need, how much you want to spend, which network to go with and how to keep your existing number.
Well, fear not - we've grabbed the top contracts for the most popular phones on the market right now. We'll give you some handy switching tips at the end of the guide too!
Apple iPhone 7

So, you want to get your hands on an iPhone 7? We don't blame you - it's awesome. Picking the right plan depends on how much you can afford to pay upfront, what monthly bill you can handle, and how much memory you need. And which colour you consider the most stylish, of course.
We reckon O2 is a good shout for iPhone 7 contracts: costs are reasonable, lots of perks are included (O2 Priority, anyone?), and the network's Refresh contracts mean you can upgrade whenever you like. See O2 iPhone 7 deals here. 
If you like to get a new iPhone every two years like clockwork, in fact, another great option is Sky Mobile. Its Swap contracts let you upgrade early - and Sky TV customers get extra goodies too. See Sky Mobile iPhone 7 deals here.
Check out our guide to the best iPhone deals this month for more top offers.
Samsung Galaxy S8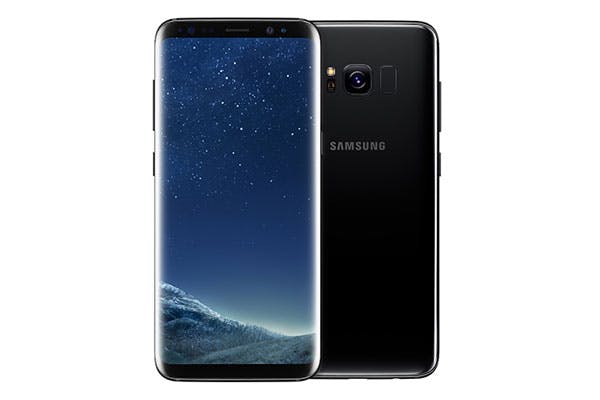 More of an Android fan? You can't do much better than the Samsung Galaxy S8. With a massive 5.8-inch screen that stretches right down the sides of the handset. It's not just elegant-looking, though: its innards are impressive, giving you octa-core processors, 4GB of RAM, and the latest version of Android Nougat. 
To make the most of this phone, we recommend a contract deal that gives you fantastic 4G - and there's no one better for than that EE. You'll get fast speeds, great coverage, and can choose from a wide range of data allowances. See EE Samsung Galaxy S8 deals here. 
Check out our guide to the top Galaxy S8 deals this month for a selection of particularly fab offers around right now.
See all Samsung Galaxy S8 deals
Samsung Galaxy S7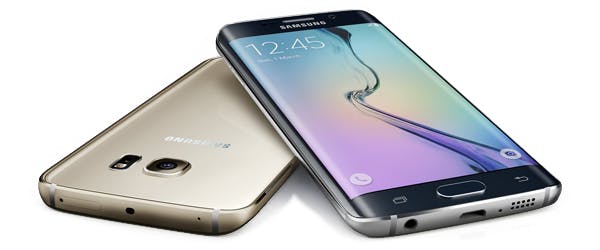 Samsung's former flagship phones are the Galaxy S7 and the Galaxy S7 Edge. The S7 Edge is slightly more interesting, with its funky curved screen, but comes at an extra cost. Inside, the two phones' specs are almost the same, so all you need to decide is whether you want that cool curvy display. We recommend also going for a chunky data plan, so you can enjoy downloading and watching crystal clear HD videos on your device.
BT Mobile offers come with a £5 discount if you're already a BT broadband customer - making them a fantastic pick for a Samsung Galaxy. See BT Mobile Samsung Galaxy S7 deals here. 
See all Samsung Galaxy S7 deals
Not quite in your price range? Have a look at the Samsung's previous-previous flagship, the Galaxy S6. It may be two years old, but it's still a top-quality handset with a QHD display, up to 128GB of internal storage, and a gorgeous jewel-like chassis. 
Grab a deal from a budget network such as iD Mobile and you're guaranteed amazing value - even when you're abroad, if you choose a TakeAway plan. See iD Samsung Galaxy S6 deals here.
See all Samsung Galaxy S6 deals
No phone!

What? A mobile contract without a phone? If you're happy with your current handset, then why not see if you can save yourself some cash by switching to a SIM-only contract? SIM-only plans are available from all mobile networks and come with a range of minutes, texts and data to suit your needs. There are 30-day and 12-month plans available, and you can keep your existing mobile number when you switch.
And you're not short on choice. For ultimate value and flexibility, for instance, you could choose a SIM from giffgaff. The great thing about giffgaff is that you can switch up your goodybag every month if you need to, and even choose 'Always on' data. See giffgaff SIM deals here. 
Or, if you want unlimited data all year round, go for a SIM plan from Three. Spring for an Advanced plan, and you'll get a personal hotspot allowance and Feel At Home too. See Three SIM deals here. 
Want to see more SIM-only deals? Just check out our guide to the best SIM-only deals this month. 
Tips for switching
Think about how much you're willing to pay upfront. You can spread the cost with a no upfront cost mobile contract, for example, but you may end up paying more in the long run. Alternatively, you can spend a bit more initially for lower monthly bills.
Consider how much data you require. If you're a heavy user, a big data or unlimited mobile plan will suit, but if you only use Facebook and email, a few GB is probably all you need to pay for.
Make sure you're out of your minimum contract period with your current network
If you want to keep your phone, it may be locked to your current network. You'll need to unlock it if you want to switch to another network, which could cost a small fee.
If you want to keep your number, ask your current network for your PAC code, and give it to your new provider when you have your new SIM. For full instructions, read our simple guide to keeping your mobile number when you switch networks.
Mobile phone