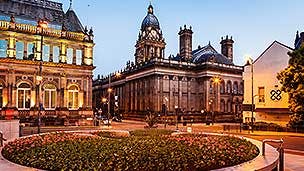 What's the most important thing when your precious phone is broken and you're looking for a quick fix? Does it all come down to price or is warranty important to you too? We know how much you rely on your mobile, but it's worth taking the time to check out your options when it comes to getting it repaired.
We compared info from 10 repair shops in and around Leeds. The price for a replacement screen on an iPhone 5S ranged from £35 to £80, and for a Samsung Galaxy S4 the price range was from £35 to £150*.
*For the Samsung Galaxy S4, we asked for just the glass to be replaced, but some shops only offered replacement of the LCD part too, which makes the price shoot up.  
Name

Details

Opening hours

 

Services

 

Warranty

 

iPhone 5s

 

Samsung Galaxy S4

 
World Communications
George Street
0113 205 1641
Monday to Saturday
9am to 5pm 
Walk-in service
No formal warranty
From
£35
From £35
Headingley Phone Shop

North Lane
0113 440 8405

Monday to Saturday
10am to 7pm 

Walk-in service
No formal warranty
From £50
From £40
Rocking Mobile Phones and Accessories
Merrion Street
07533 580116

Monday to Saturday
9am to 5pm

Walk-in service
No formal warranty
From £50
From £40
Digital World
Central Arcade
0113 245 8560

Monday to Friday
9.30am to 6pm

Saturday
9.30am to 7pm

Sunday
11am to 4pm

Walk-in service
7 days
From £60
From £45
Gadget Exchange

Merrion Way
0113 318 7675

Monday to Saturday
10am to 7pm

Walk-in service
No formal warranty
From £60
From £100 (Screen and LCD)

New Road Side
0113 259 1500

Monday to Saturday
9am to 6pm

Sunday
11am to 4pm

Walk-in
postal
or courier services
100 days
From £80
From £140 (Screen and LCD)
Yorkshire Repairs
Featherbank Lane
0113 827 2121

Monday
8am to 8pm

Tuesday, Thursday and Friday
8am to 5pm,

Wednesday
8am to 4pm

Saturday
9am to 1pm

Walk-in or courier services
12 months
From £70
From £150(screen and LCD)



Moorfield Close
0113 892 1115

Monday to Friday
8am to 6pm

Walk-in or postal services
3 months
From £80
From £149(screen and LCD)
ADV Services
Pepper Road
0113 815 0846

Monday to Thursday
9am to 6pm

Friday
9am to 5pm

Saturday
9.30am to 2pm

Walk-in service
90 days
From £80
From £150 (screen and LCD)
Timpson

Albion Street
0113 242 9978

Monday to Saturday
8.30am to 5.30pm

Walk-in service
12 months
From £74.95
From £149.95(screen and LCD)
(Data updated on 9th January 2015)
Mobile phone