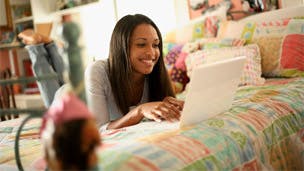 Your odds are improving if you've been waiting for 100Mb Virgin Media broadband, as it's now available to one million UK homes, from Trowbridge to Greenock.
100Mb broadband is now available in one million UK homes, as Virgin Media, the UK's second biggest broadband provider, upgrades its cable network to provide the fastest speed in the UK.
Virgin Media is on track to offer 100Mb broadband to its entire network of 13 million UK homes, by mid-2012.
Jon James, executive director of broadband at Virgin Media, said: "There is a real desire for better broadband and all the wonderful things you can do with a fast connection. When we finish the roll-out of 100Mb across our network, half the country will have access to ultrafast broadband. That'll be six years ahead of EU targets."
The 100Mb service is ideal for families where several laptops, smartphones and games consoles which share the same Wi-Fi connection, as they will benefit from the greater bandwidth.
Using the internet is much quicker with 100Mb broadband - customers can download a standard-definition movie in just 1 minute 38 seconds, and a music album in just 5 seconds, for example.
The 100Mb service also comes with 10Mb upload speeds, a future-proof wireless 'N' router and costs from £35 a month when bought as part of an all-in-one package with phone and broadband.
Places where 100Mb is available:
Barrhead, Renfrewshire
Barry, South Wales
Bedford, Bedfordshire
Canniesburn, Scotland
Cardiff, Wales
Cheshunt, Hertfordshire
Colchester, Essex
Cwmbran, South Wales
Dunstable, Bedfordshire
Ely, Cambridgeshire
Enfield, Greater London
Epsom, Surrey
Farnborough, Hampshire
Gorseinon, Wales
Grantham, Lincolnshire
Greenock, Scotland
Guildford, Surrey
Hatfield, Hertfordshire
Heckmondwike, West Yorkshire
Hinckley, Leicestershire
Leatherhead, Surrey
Nailsea, Somerset
Pentwyn, South Wales
Port Talbot, South Wales
Refrew, Renfrewshire
Rotherham, South Yorkshire
Sketty, South Wales
Southport, Merseyside
St Mellons, South Wales
Stevenage, Cambridgeshire
Stockport, Greater Manchester
Telford, Shropshire
Treforest, South Wales
Trowbridge, Wiltshire
Wardley, Greater Manchester