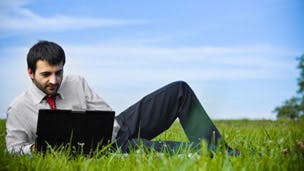 Local broadband projects will now become a reality for some of the UK's most digitally-disadvantaged farmers.
The government is planning a £20million scheme to help some of the UK's most cut-off farmers bring better broadband to their communities.
The money has been set aside by the Department of Environment, Food and Rural Affairs (Defra) to help rural communities to benefit from digital services and business opportunities to bring them in line with other parts of the UK.
Jeremy Hunt, secretary of state for culture, olympics, media and sport, said: "Remote and rural areas have the most to gain from access to broadband but these are the communities currently missing out.
"The whole of the UK should be able to share in the benefits of broadband and we are determined to make this happen by the end of the Parliament."
The £20million for this project is part of the £530million Broadband Delivery UK funding, which is in place to ensure Britain has the best broadband network in Europe by 2015.
In October, Broadband Delivery UK said it would fund superfast broadband pilots in parts of Cumbria, Hereford and Yorkshire with money from the same £530million fund.