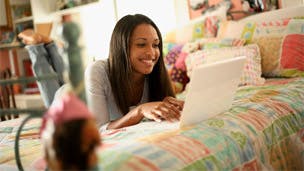 Half of homes and businesses in Cornwall to get fibre broadband by autumn 2012.
Around 50 of the county's 100 telephone exchanges will be upgraded for superfast broadband within 18 months - mostly focusing on East Cornwall - BT has revealed.
The UK's biggest broadband provider has joined forces with the EU, Cornwall Council and Cornwall Development Company to bring fibre optic internet to Cornwall and the Isles of Scilly.
Superfast broadband will be available from 17 exchanges by March next year, with another 26 set for upgrade by autumn 2012.
Carolyn Rule, cabinet member for Cornwall Council, said: "This is an ambitious and visionary programme that will put Cornwall at the forefront of superfast broadband connectivity.
"Superfast broadband has the power to transform every aspect of life in Cornwall, including healthcare, lifelong learning and the way we all work and play."
Most connections will use fibre-to-the-cabinet (FTTC) technology, which delivers fibre cables to the green streetside telephone cabinet. These packages currently offer speeds of up to 40Mb broadband, though BT has said that this could double to 80Mb during 2012, with uploads being boosted to as much as 20Mb.
St Austell, which will be upgraded this summer, will get even faster fibre-to-the-home connections, with cables being run direct to homes and businesses offering speeds of up to 100Mb.
Sally Davis, chief executive of BT Wholesale, said: "The Superfast Cornwall partnership is setting the standard for rural areas in the UK and across Europe.
"Early interest and take-up from homes and businesses across the county has been very encouraging. In the short time since the first communities were upgraded there are already about 700 hundred homes and businesses using and benefiting from superfast broadband."
However, BT also warned that a "minority" of people in upgraded areas would not be able to access the faster speeds. "People not able to benefit will in future receive faster speeds than today through a mixture of technologies expected to include wireless, satellite broadband, advanced copper and a further extension of the fibre network," said the provider.