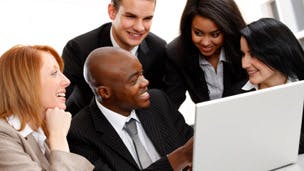 Openreach reveals another 114 exchanges from where fibre will be available.
Superfast broadband is to become available to over one million more homes and businesses in the UK, Openreach has revealed.
Fibre-based broadband infrastructure will be made available from 114 extra exchanges from autumn 2012, according to Openreach, the division of BT which manages access to the telephone network for all broadband providers.
Mike Galvin, Openreach managing director for next-generation access, said: "I am pleased to be able to reveal the latest locations where we will make fibre broadband available.
"Our roll-out is one of the fastest in the world and we are on track to pass 10 million homes and businesses next year before pushing on further."
Openreach will reveal further locations where fibre will be made available over the next few months, which is part of BT's long-term plan to make superfast broadband available to two-thirds of the UK by 2015.
Galvin said: "Fibre broadband will transform peoples' experience of the internet and so I am sure the residents and businesses in these areas will welcome the news. No other company is doing as much as Openreach to bring superfast broadband to the UK."
BT has pledged to stump up £2.5billion to meet this target and the majority of the roll-out will be based on fibre to the cabinet (FTTC) technology, where optical fibre is used from telephone exchanges to reach the telephone cabinets in the streets.
According to BT, FTTC currently offers download speeds of up to 40Mb and upload speeds of up to 20Mb and the company plans to roughly double these speeds during 2012.
BT will only invest in superfast broadband in areas where it makes commercial sense for it to do so, but it believes that with government support, 90% of homes in the UK could get fibre.
List of new exchanges:
Archers Court
Hatfield
Baldslow
Hexham
Bannockburn
Histon
Basildon
Hooton
Beccles
Hythe, Hampshire
Belstead
Hythe, Kent
Bexhill
Ipsley
Bognor Regis
Ipswich
Brighton Rottingdean
Kidderminster
Broadstairs
Kings Lynn
Brundall
Mildenhall
Bungay
Milford
Bursledon
Milnsbridge
Caister On Sea
Moorhill
Carlisle
Newhaven
Castleton, Gwent
Norwich Thorpe
Cherry Hinton
Norwich West
Clacton-On-Sea
Paddock Wood
Colchester
Pagham
Costessey
Peebles
Cuffley
Perth
Foxhall
Polegate
Galashiels
Purfleet
Gillingham, Kent
Rainham, Kent
Gorleston
Ramsgate
Great Baddow
Rawdon
Gresford
Redditch Old Town
Hadleigh, Suffolk
Rustington
Hailsham
Ryhope
Hampden Park
Salisbury
Hassocks