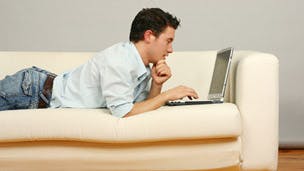 Reliability and speed remain the biggest gripes for UK home broadband customers.
More than a third of UK web users plan to switch broadband provider this year, according to a poll by ISPreview.co.uk.
Just over 34% of us intend to swap broadband provider in 2012, up from 31% in January 2011, the broadband news website found, while 30% have no plans to switch and nearly 36% remain undecided.
The survey of 880 respondents also found that only 55% of broadband customers are happy with their current provider. More than 43% said they're now paying more for their home connection than they were 12 months ago.
When asked which aspects of their service they are unhappy with, 37% said the speed of their broadband. Support and reliability (19%) and high prices (17%) were also common bugbears for the UK internet users surveyed.
Mark Jackson, chief editor at ISPreview.co.uk, said: "It's no surprise to see that consumers are still least happy with their broadband ISP [internet service provider] speeds and that over a third plan to swap provider during this year.
"The good news is that a new generation of superfast broadband services have finally begun to take hold, which offer faster speeds and greater reliability than current generation services. As a result, we predict that price, coverage and support quality will thus become key battlefields for the new generation of superfast broadband services."
He went on to say that industry watchdogs Ofcom and the  Advertising Standards Authority  would be working to make providers more upfront about the quality and limitations of their service.
A recent Ofcom report showed TalkTalk received more complaints than any other major broadband provider between July and September 2011. The communications regulator handled 0.55 complaints per 1,000 TalkTalk customers, which mostly concerned "line faults and other service issues".
In comparison, Sky and Virgin Media emerged as Britain's least complained about broadband providers, with Ofcom receiving just 0.19 complaints per 1,000 customers for each of the companies.