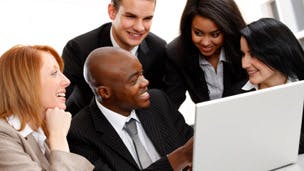 Government's "best broadband in Europe by 2015" plan to get going again.
The EU is set to give the go-ahead to plans to deploy superfast broadband in rural areas of the UK.
The government has allocated £530million to fund the Broadband Delivery UK (BDUK) scheme, which is designed to roll-out broadband across the country.
However, the plan faced delays as the EU investigated whether it broke rules on state aid.
Local authorities are responsible for devising a broadband plan and choosing a company to carry it out. The original plan was for companies to bid for the job of laying the fibre optic infrastructure needed to deliver superfast broadband in these regions.
However, many companies pulled out, leaving just Fujitsu and BT competing for the contracts. Fujitsu then pulled out in a number of areas, leaving BT running unopposed.
This  led to the EU becoming concerned that this would lead to much of the fibre network being owned by BT, thus potentially restricting other broadband provider's ability to offer superfast services in those areas.
However, those concerns appear to have been allayed. The EU's competition commissioner, Joaquin Almunia, has indicated that he's ready to give the BDUK plan the nod, albeit with some minor changes.
The decision still needs to be formally agreed by other commissioners, but those in the know say that's basically a formality at this point.
That's good news for the government, which has pledged to give the UK the "best broadband in Europe" by 2015 - a target that has become increasingly unlikely to be hit as delays have dragged on.
Do you think the government will reach its target? Does broadband in your area need a boost? Let us know in the comments section below.
How would you rate Broadbandchoices.co.uk?  Help us improve our website by clicking on this link and writing a review.
Stay up to date with the latest broadband news: Follow us on Twitter, Facebook or Google+.