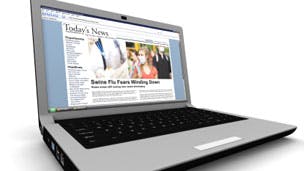 Broadbandchoices.co.uk scours the web to bring you the latest broadband, mobile and tech news
TalkTalk pushes up phone and broadband prices
Today's #TechTalk kicks off with some bad news for TalkTalk customers, as personal finance news website  This Is Money reports that the broadband provider will put up the price of two of its broadband bundles and its line rental from Tuesday 1 January, 2013.
The cost of the TalkTalk Plus and TalkTalk TV Plus packages will go up by £1 from £14.50 to £15.50 per month, while standard line rental will increase by 45p from £14.50 to £14.95 a month. Daytime call rates, mobile call charges and call connection fee for certain numbers will also rise.
BT boosts speed of best Infinity package
Better news if you're a bandwith-hungry broadband user looking to upgrade to BT Infinity, BT's fibre optic service - the telecom giant has bumped up the speed of the fastest BT Infinity package to 160Mb from 100Mb, according to  ISPreview UK.
For £35 per month plus £14.60 per month line rental, you can now get a package that offers speeds just under 18 times faster than the UK average. However, it is only available to around 85,000 homes and businesses at the moment because it uses fibre-to-the-premises (FTTP) technology, rather than the fibre-to-the-cabinet (FTTC) technology most of BT's network is being upgraded to.
Google could crash the iPad mini party
Google may be about to kill Apple's post-iPad mini launch buzz, according to TechRadar.
The technology news and reviews website says that the search giant is looking to get the latest version of its Nexus 7 tablets into customers' hands before the iPad mini release date of Thursday 1 November, 2012. Watch this space...
Could your smartphone give you the trots?
If you were messing with your mobile on the way into work, we hope you washed your hands before tucking into breakfast, because germs on your phone can cause flu, conjunctivitis and diarrhoea, according to The Wall Street Journal.
"We're feeding the little creatures," Michael Schmidt, a professor and vice chairman of microbiology and immunology at the Medical University of South Carolina, told the newspaper. "We've all seen that greasy smear; where there is grease, there are bugs."
Ew.
Londoners can get Windows 8 first
If you're a Londoner looking for a laptop and ain't afraid of a late night, then you could do worse than get yourself down to the Tottenham Court Road branch of Currys and PC World for a minute past midnight tonight.
Why? Well according to consumer tech and gadgets site  Pocket-lint, the West End store will be the first in the country to sell Windows 8. The latest version of Microsoft's ubiquitous operating system is released tomorrow, and this particular Currys and PC World will mark the occasion by selling HP laptops with Windows 8 at up to £400 less than their existing retail prices.
Argos goes digital
And finally, if the news that Argos is to close at least 75 stores has left you dismayed that you may no longer be able to take part in the retail equivalent of spending a day in a bookies, fear not, because The Guardian says the catalogue chain is "attempting to drag itself into the 21st century" by becoming a "digital-led retailer".
So, stock up on those small forms and little pens while you can in order to replicate the Argos experience in the comfort of your own home.
How would you rate Broadbandchoices.co.uk?   Help us improve our website by clicking on this link and writing a review.
Stay up to date with the latest broadband news: Follow us on Twitter, Facebook or Google+.