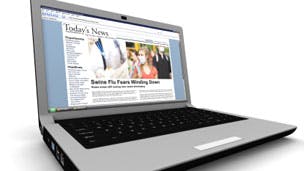 Broadbandchoices.co.uk scours the web to bring you today's latest broadband, mobile and tech news.
Lack of superfast broadband competition a 'worry'
The government should "start to worry" about the lack of competition in the superfast broadband market, Dido Harding, CEO of broadband provider TalkTalk, has told a Westminster panel session.
According to tech news website  The Register, Harding said that the fibre broadband market is not as ""vibrantly competitive" as the standard copper wire broadband market, and that she didn't know if TalkTalk is paying a good price to use the fibre infrastructure supplied by Openreach, the division of BT responsible for upgrading the national communications network.
EE 4G underwhelming
While we're on the subject of next-generation internet access, the boss of business broadband provider Fluidata says he is "somewhat underwhelmed" by EE's 4G service, the UK's first next-generation mobile service, which went live yesterday.
Broadband provider news website  ISPreview UK report that Piers Daniell, managing director of Fluidata, believes that EE have "misjudged the data allowances" and that he is "not that overwhelmed" with the 12Mb speeds the service offers.
Google Nexus 10 details revealed
As we told you in yesterday's #TechTalk, even Google was affected by Hurricane Sandy, having been forced to cancel the launch event for its latest smartphone and tablet.
However, the search giant has released the details of the follow up to its successful Google Nexus 7 tablet, the Google Nexus 10, so called because, you guessed it, it has a 10in display instead of the 7in display sported by its predecessor.
According to technology news and reviews website TechRadar, the Nexus 10's display has greater resolution than that of the iPad 4 and uses Jelly Bean, the latest version of Google's Android mobile operating system. Its UK release date is Tuesday 13 November, 2013, with prices starting from £319 for 16GB version.
Google Nexus 4 details revealed too
TechRadar is similarly forthcoming about Google's latest flagship smartphone, the Google Nexus 4, which has been put together by mobile manufacturer LG.
The Nexus 4 doesn't have 4G capability, which Google says would stop it from selling the handset contract-free. What it does have is a 1.5Ghz quad-core processor, Android Jelly Bean, a 4.7in display with resolution as good as that of the iPhone 5 and an eight megapixel, full high-definition (HD) camera.
It'll go on sale on Tuesday 13 November, 2013, the same day as the Nexus 10, with prices starting from £239 for the 8GB model.
Sky customers get Halloween treat from FX
Happy Halloween and all that, and if you're a Sky TV customer you have extra reason to celebrate today. Well, you do if vampires, zombies and serial killers are your thing. That's because you will now be able to watch the likes of True Blood,The Walking Dead and Dexter via Sky Go.
Entertainment news website  Digital Spy says that satellite TV provider Sky has agreed a deal with FX to enable its customers to watch programmes shown on the sci-fi and horror-themed digital TV channel via Sky Go, its online TV service.
Teens with smartphones have more sex
And finally, if you have teenagers who have smartphones, be warned - they are likely to be getting more action than their friends who don't have an internet-connected mobile, US news network NBC News reports.
A study by University of Southern California researcher Eric Rice has found that teens that can access the internet on their phones are twice as likely to get fruity with a person they met online compared to those who can't. #TechTalk could definitely have done with a smartphone when it was a teenager...
How would you rate Broadbandchoices.co.uk?  Help us improve our website by clicking on this link and writing a review.
Stay up to date with the latest broadband news: Follow us on Twitter, Facebook or Google+.