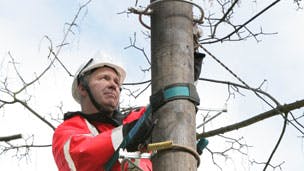 Fibre optic broadband now used by almost a million BT customers.
Telecoms provider BT has announced that its fibre optic broadband roll-out is now more than a year ahead of schedule.
As part of the £2.5billion upgrade, superfast connections will now be accessible to around two-thirds of the UK by the end of spring 2014. That's 18 months earlier than BT had originally planned.
The eventual aim is for 90% of Brits to benefit from a superfast fibre optic broadband service.
Ian Livingston, BT's chief executive, said fibre was "at the heart" of the company's future plans for customers in both urban and rural locations.
Commenting on the earlier projected completion date, he added: "This will allow us to focus even further on the next exciting stage of our fibre broadband strategy.
"BT will be working hand-in-hand with the public sector to extend fibre broadband to UK homes and businesses in the 'final third' of the country that are harder to reach."
Once complete, BT's fibre optic network will be the largest in the UK, providing superfast access for 19 million homes and businesses. The company has already passed the 12 million premises mark and will soon be more widely available than Virgin Media's cable service.
How would you rate Broadbandchoices.co.uk?  Help us improve our website by  writing a review.
Stay up to date with the latest broadband news: Follow us on Twitter, Facebook or Google+.