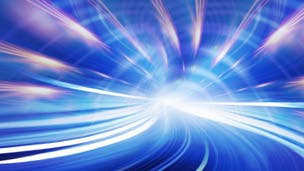 The first ever trial of 'hyperfast' 10Gb broadband - which is over 800 times faster than the average UK fixed-line internet connection - is launched by the telecoms giant.
The world's fastest broadband - a 10Gb 'hyperfast' network - is being trialled in a working environment for the first time ever.
Telecoms giant BT is testing the service - which is over 800 times faster than the average UK fixed-line broadband connection - at Arcol UK, a Cornwall-based engineering firm.
It uses new fibre technology called XGPON - tens of gigabits on a passive optical network - developed by Chinese electronics company ZTE, in partnership with Openreach, the division of BT responsible for upgrading the national communications network to fibre.
The service runs in tandem with BT's existing 330Mb service, the fastest broadband the company currently offers, with Arcol connected by a direct fibre link to BT's telephone exchange in Truro.
It offers Arcol more bandwidth than was used when the London 2012 Olympics media network was at its busiest. Until recently, the company's 40 staff were sharing a 1.5Mb internet connection.
While the line between Arcol and the exchange runs at 10Gb, the company isn't connected to the wider internet at that speed as there is nothing that can be done at 10Gb on the web at present.
The physical limits of networking and computer equipment also prevent the line from being used at its maximum capacity.
The trial aims to demonstrate how faster internet speeds can be offered over Cornwall's new fibre broadband infrastructure - which offers fibre to over 100,000 home s and businesses - in the future by upgrading the electronics at the exchange and in properties and premises.
Ranulf Scarbrough, programme director for the Cornwall SuperFast Broadband Programme, said: "What is exciting about this trial is that these hyperfast speeds have been obtained over exactly the same fibre that carries BT's fibre broadband services today - all we are doing is changing the electronics at either end."
"This trial shows we are thinking and ready for the future even though there are no current plans to deploy this technology. A lot of this project is about futureproofing - making sure that it's not just the fastest speeds today, but that we can continue to be at the cutting edge for five, 10, 20 years."
Are you suffering from slow broadband? Would you be happy with 2Mb, nevermind 10Gb? Let us know in the comments section below
How would you rate Broadbandchoices.co.uk?  Help us improve our website by clicking on this link and writing a review.
Stay up to date with the latest broadband news: Follow us on Twitter, Facebook or Google+.