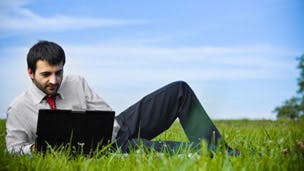 A national agreement could make fibre broadband cheaper, easier and quicker to roll-out in the countryside by granting providers access to private land in return for compensation or an annual fee
Superfast broadband could be delivered to rural areas sooner than expected thanks to a new agreement that will enable providers to lay fibre optic cables on private land.
A national wayleave deal , which will grant broadband providers special access to the likes of farmers fields in return for compensation or an annual fee, is expected to be finalised this month,  ISPreview UK reports.
The broadband provider news website was told by landowners lobby group the Country Land and Business Association (CLA) that the agreement will be in place by the end of November.
The aim of the deal, which was originally scheduled to be in place by the end of 2011, is to make it cheaper, easier and quicker for providers to deliver superfast broadband to rural areas.
ISPreview UK founder and chief editor Mark Jackson explained that "wayleave agreements - terminable licences - are notoriously complicated and expensive to arrange."
This is because each landowner must be approached in a different way, which can be very expensive, but a national agreement should solve that problem.
The National Farmers Union has previously raised concerns that a fixed annual fee as part of a cover-all deal could breach competition law by restricting completion among providers.
However, the CLA is working to get an exemption from competition law, although this may not be necessary if the agreement is voluntary, meaning it will set out a standardised approach without being forced on anyone.
How would you rate Broadbandchoices.co.uk?  Help us improve our website by clicking on this link and writing a review.
Stay up to date with the latest broadband news: Follow us on Twitter, Facebook or Google+.