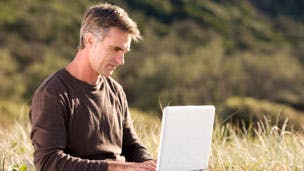 Wayleave agreement will make it quicker and cheaper for broadband providers to deliver high-speed internet access to those living in the countryside
Superfast broadband could now be delivered to rural areas more quickly and cheaply due to a new agreement.
Countryside membership organisation the Country Land and Business Association (CLA) and agricultural industry body the National Farmers Union (NFU) have finalised wayleave - agreed consent to carry out work on privately-owned land - payment rates and terms.
These will make it easier for broadband providers to work with farmers and landowners to install the infrastructure needed to deliver high-speed internet access to countryside communities on private land.
Ed Vaizey, minister for culture, communications and creative industries, said: "The publication of the CLA and NFU rural wayleave agreement is great news. "
"It will go a long way to making our roll-out of rural broadband cheaper and quicker by reducing the cost and time taken in negotiating individual land access agreements."
The agreement suggests payment rates for landowners who choose to give broadband providers permission to install apparatus on their property.
It will reduce the time and cost for broadband providers of negotiating individual wayleave-  agreements.
This will make it easier and cheaper for providers to put the infrastructure in place needed to deliver superfast broadband to the countryside.
Under the agreement, landowners may also choose to waive payment in return for their own superfast broadband connection if the circumstances allow for it.
Harry Cotterell, CLA president, said: "The importance of good rural broadband cannot be over-emphasised.
"It is essential for business, whether starting up or expanding, essential for education and research and an important communication tool for all rural communities."
Do you live in the countryside and have to put up with slow broadband speeds? Let us know in the comments section below.
Stay up to date with the latest news: Follow us on Twitter, Facebook or Google+
How would you rate broadbandchoices?  Help us improve by writing a review