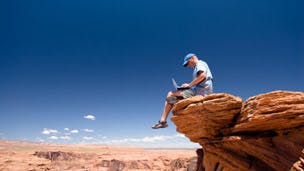 Telecoms giant says TalkTalk risks being left "clinging to a copper raft in a sea of fibre" in dispute over superfast broadband competition
BT has said rival broadband provider TalkTalk risks being left behind if it doesn't "embrace" fibre optic broadband.
The telecoms giant was responding to comments from Dido Harding, chief executive of TalkTalk, who said yesterday that BT holds a near-monopoly over superfast broadband.
Harding told a media and telecoms conference in London: "92% of all [superfast broadband] connections go to one provider. Factually, today, our superfast market is significantly less competitive than our copper market and that should be a real worry."
According to The Daily Telegraph, BT disputed the 92% figure and said that all broadband providers have equal access to BT's fibre optic broadband network, ensuring a "level playing field".
"We hope that TalkTalk embrace fibre as otherwise they are in danger of being remembered as broadband luddites clinging to a copper raft in a sea of fibre," a BT spokesperson added.
Harding wrote about the issue of superfast broadband competitiveness on The TalkTalk Blog just last week, saying broadband in Britain is currently being held back by the "lack of competition".
BT and TalkTalk have also clashed over a TalkTalk advert stating 'Britain's best value unlimited TV broadband and phone ... FREE YouView box, usually £299'.
The Advertising standards Authority (ASA) banned the advert after BT complained the YouView set-top box had only been on sale for six days when TalkTalk first made the claim, which was not a sufficient period of time to prove it was usually sold for £299.
However, BT has also had an advert banned by the ASA. The advert in question was for a 'free for 6 months' broadband package offer, but complaints that the claim was "misleading" because line rental would still be charged were upheld.
Do you think there isn't enough competition when it comes to the availability and price of fibre broadband? Let us know in the comments section below.
Stay up to date with the latest news: Follow us on Twitter, Facebook or Google+
How would you rate broadbandchoices?  Help us improve by writing a review