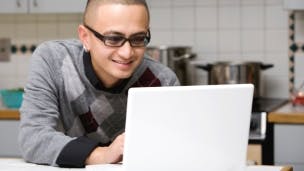 A fifth of the UK's broadband connections now offer speeds of up to 30Mb or higher as superfast internet reaches more of the country under the UK's rural broadband plan.
Superfast broadband now accounts for at least a fifth of the UK's home internet connections, according to new research.
The latest figures from broadband market intelligence firm Point Topic show fibre optic broadband, offering speeds of up to 30Mb or higher, has been taken up by 20% of households with a fixed-line broadband connection.
Superfast broadband can now be accessed by more than two-thirds of the UK, and in the last couple of years the number of homes actually using it has rocketed.
This is mainly the result of the government and BT's investment in fibre optic broadband, as well as a Virgin Media upgrade scheme in which millions of customers had their speeds doubled at no extra cost.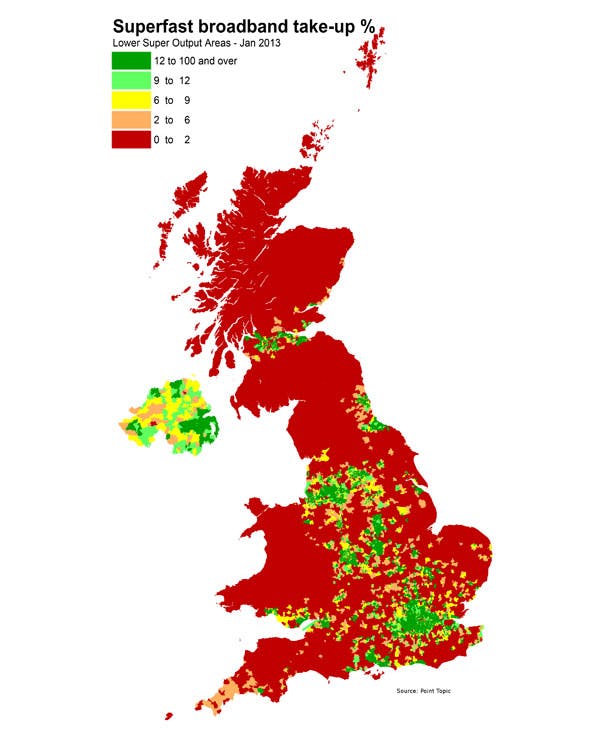 Oliver Johnson, chief executive of Point Topic, said: "Virgin Media has had the most bandwidth in the market for the longest of the major providers. They've seen high-end services go from 10% of their subscriber base to almost 60% in the past two years.
"Superfast will be the engine for growth for the broadband future of Britain. The higher costs will deter some, but overall there are enough drivers - the most important by far being television - for 30Mb and above to be the norm in most households in the next two or three years."
Earlier this week, UK communications regulator Ofcom proposed a set of new measures that could reduce the cost of switching to a superfast broadband service.
Currently, if a customer switches to fibre optic broadband, their new provider pays a £50 fee to Openreach - the division of BT that maintains the UK's national telecoms network - but under Ofcom's proposals it could be slashed to around £10-15.
The aim is to create a more competitive market for fibre optic broadband and help customers get a better deal from their provider.
Click here for more on fibre optic broadband
Still waiting for superfast broadband? Have your say in the comments section below.
Stay up to date with the latest news: Follow us on Twitter, Facebook and Google+
How would you rate broadbandchoices? Help us improve by writing a review