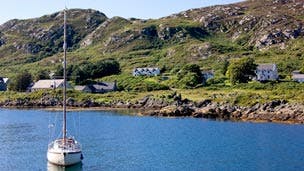 The Churchill Barriers - a set of causeways joining the Orkney mainland to its nearby islands, built as a U-boat defence - are now being used to deliver superfast broadband around the Orkney Islands.
The barriers, so called because they were built on Churchill's orders, were originally brought up around Lamb Holm, Glims Holm, Burray, and South Ronaldsay, to protect the Royal Navy fleet from German U-boats. Work finished just four days after VE Day in 1945. Since then, they've been important road links between the islands, and now they're carrying fibre optic broadband to Scottish residents.
The £146 million broadband project - part of the Digital Scotland Superfast Broadband programme - is lead by the Highlands and Islands Enterprise (HIE), with extra funding from the UK and Scottish Governments and BT.
Burray is the first area away from mainland Orkney to get connected, and around 500 more premises in St Mary's and St Margaret's Hope will have access to the services by Christmas.
Stuart Robertson, director of digital at HIE, said: "Building a fibre optic network across the Highlands and Islands presents its own unique stories. In Orkney history is playing its part. The Churchill Barriers, built to protect the fleet at Scapa Flow, have allowed us to run the main network cable from Kirkwall to Holm, to Burray and on to St Margaret's Hope. For Westray, we laid around 28km of subsea cabling across the Bay of Tuquoy.
"By the end of next year we will have taken access to fibre optic based broadband in Orkney from zero to at least 76% of premises. Nowhere is forgotten and in addition to this first phase we, and our colleagues in Community Broadband Scotland, are already looking at ways to reach further."
Source: For Argyll
Read more broadband, mobile, and TV news
Stay up to date with the latest news: Follow us on Twitter, Facebook or Google+
How would you rate broadbandchoices? Help us improve by writing a review