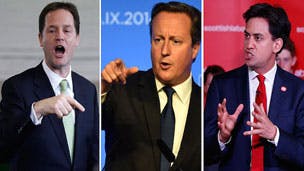 Broadband is a hot topic in the upcoming election, with both the Conservative and Labour parties pledging to improve the UK's internet in their manifestos.
The Conservative Party is committed to extending superfast broadband coverage to 95% of the UK by 2017, according to its election manifesto. The party also wants the UK to become a "world leader" in the development of 5G networks.
The Party's manifesto outlines its plans for the tech industry if it is granted a second term next month. Boosting broadband, it says, is a main priority, and claims its superfast broadband initiative will continue rolling out services to urban and rural locations across the UK, via fibre and satellite networks.
The Tories also promise to pursue the deployment of ultrafast broadband to the majority of homes and business when it is practical to do so.
Mobile coverage will also be a central focus under a Tory government, they say. Several major mobile operators recently struck legally binding agreements with the government to extend SMS and voice coverage to 90% of the UK by the end of 2016, and the Conservatives say they still intend to meet the deadline if they are re-elected.
The Labour Party, meanwhile, has pledged to provide more affordable and better broadband in its manifesto too. Labour wants to extend high speed services across the UK by 2020 and will work with Ofcom to minimise 'not-spots,' to connect many hard-to-reach areas.
The manifesto says: "Our economy is developing a network of connections that will revolutionise innovation. Labour will ensure that all parts of the country benefit from affordable, high speed broadband by the end of the Parliament."
Source: V3