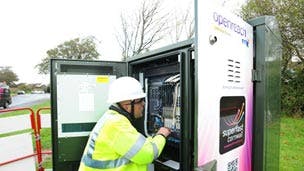 BT's Openreach network has officially brought fibre optic broadband to a humungous 25 million premises in the UK - or around 86% of all homes in the country.
Openreach is the wholesale branch of BT, which sells capacity on its lines off to other providers - including Sky, TalkTalk, Plusnet, and EE. It opened in 2009, when the country's average broadband speed was a mere 4.1Mb, and over the years it has expanded to an average of 70,000 premises every week.
Together with other networks - like Virgin Media and Hyperoptic - this tips the UK's total superfast broadband coverage to over 90% of premises.
Clive Selley, Openreach CEO, said: "The UK is making great progress with fibre broadband… I'd like to thank the thousands of Openreach engineers who have worked so tirelessly to make this happen."
But more than that, the company is looking forwards, hoping to expand its coverage even more.
"The job isn't finished however," Selley added, "and we are working hard to get coverage to 95 per cent and above… Our approach has delivered affordable superfast services to the vast majority of the country in the fastest possible time. We want to build upon that by making ultrafast broadband available to most of the UK."
He claims that'll include finding ways of increasing broadband speeds in rural areas - which, Ofcom has shown, aren't doing nearly as well on the broadband front as urban areas are.
A number of prominent telecoms voices have called for Openreach to split from BT and become independent, claiming that it has too much of a monopoly on the country's broadband. Ofcom, however, believes a reform would be better than an outright split.
Source: BT | ISP Review
Read more broadband, mobile, and TV news
Stay up to date with the latest news: Follow us on Twitter, Facebook or Google+
How would you rate broadbandchoices? Help us improve by writing a review