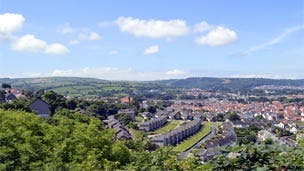 The rollout of superfast fibre optic broadband in Wales could take a few months longer than expected, officials have revealed. According to Ed Hunt, director of the Superfast Cymru project, some areas will need an extra 18 months to complete.
As the name implies, the Superfast Cymru project is charged with getting Wales set up with faster broadband. It's funded by the government and BT, and aims to get fibre optic broadband to 96% of premises in Wales by the end of this year, plus 42,000 more homes by June 2017.
But those timelines may shift as some areas, including Pembrokeshire, will need extra time. According to Hunt, that could take 18 months, so the project's not expected to be completed until at least September or October 2017.
At a meeting in Whitland Memorial Hall, Carmarthenshire, Hunt explained that 500 kilometres of fibre cables have been laid in Carmarthen West and South Pembrokeshire, but "there will be a second sweep around Wales after the initial delivery to get to those properties we fail to reach on the first round."  
That's not the only difficulty facing the project. There's also been a disappointingly low uptake of fibre in some areas. The Superfast Cymru project makes fibre available across the country, but you'll still need to switch to a superfast package like BT Infinity or TalkTalk Fibre to use it.
Unfortunately, few people seem to be doing that - just 25% of people have switched to fibre. In some areas, that's even lower. In parts of Carmarthenshire, for example, only 12% have signed up for superfast.
It's a shame, as fibre packages are not wildly expensive these days. In fact, when special offers get involved, they can work out cheaper than standard broadband. It's definitely worth checking if you can get fibre in your area, but if you're still waiting you can check the Superfast Cymru website to see when work is due to start in your area.
Source: Western Telegraph
Read more broadband, mobile, and TV news
Stay up to date with the latest news: Follow us on Twitter, Facebook or Google+
How would you rate broadbandchoices? Help us improve by writing a review