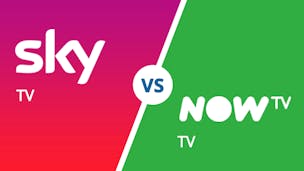 Both are run by the same company, both offer broadband and TV bundles, and they're the only two ways you can get Sky Atlantic live on your telly - but which provider is best?
Sky TV and NOW TV seem awfully similar, but there's actually a few major differences that make these two providers stand apart from each other. Read on and we'll tell you everything you need to know - and help you pick the best deal for you.
Wondering whether NOW TV is the best way to get Sky Cinema? Check out our complete guide here. And see our complete Sky review here, and our NOW TV review here. 
At a glance
| | | |
| --- | --- | --- |
|   | Sky | NOW TV |
| Broadband packages | Broadband Unlimited (up to 17Mb), Fibre (up to 38Mb, 25GB download limit), Fibre Unlimited (up to 38Mb), Fibre Max (up to 76mb) | Brilliant Broadband (up to 17Mb), Fab Fibre (up to 38Mb), Super Fibre (up to 76Mb) |
| Fibre | Yes - up to 76Mb download speed | Yes - up to 76Mb download speed |
| TV packages | Entertainment Pack (300+ channels). Can add on Box Sets (350+ on-demand shows), Cinema (10+ channels), Sky Sports (up to 7 channels) and Kids (11 channels)  | Freeview, Entertainment Pass (11 channels), Sky Cinema Pass, Sky Sports Pass, Kids Pass (6 channels) |
| Recording | Yes, up to 1000 hours (Sky Q 2TB box) | No |
| HD | Yes, up to 4K on compatible devices | Yes, up to 720p on most devices; up to 1080p on some |
| Set top box | Sky Q 1TB or 2TB | NOW TV Box or NOW TV Smart Box |
| Contract lengths | 12 months, 18 months | 1 month, 12 months |
| Key features | Top quality TV, HD and surround sound, latest tech | Short term contracts, value for money, flexibility |
Price
The cost of each provider depends on what kind of package you want and what deals are available - but generally speaking, NOW TV is lower in price.
NOW TV deals
Brilliant Broadband
Brilliant Broadband + Entertainment Pass Attachment
Brilliant Broadband (1 month)
£189.99

Total first year cost

£249.87

Total first year cost

£239.99

Total first year cost

£15.00 p/m for 12 months £9.99 setup costs

12 month contract

£19.99 p/m for 12 months £9.99 setup costs

12 month contract

£15.00 p/m for 1 month £59.99 setup costs

1 month contract

Up To 17 Mb
Up To 17 Mb
Up To 17 Mb
Pay as you go
Pay as you go
Pay as you go
Channels 0
Channels 15
Channels 0

Offer ends 23/05/18

Offer ends 23/05/18

Offer ends 23/05/18

Go
Go
Go
Packages
With Sky, you can take out broadband, home phone, or its TV service - or you can bundle them together into a single convenient (and cheaper) package. The way the TV works is simplicity itself - everybody gets entertainment channels like Sky One and Sky Atlantic as standard, and you can then add the extra channel packs that you want. These packs include Sky Sports, Sky Cinema, Kids channels and Box sets - each works on a rolling monthly basis, so you can chop and change as desired.
NOW TV takes a slightly different approach. When you sign up, you get a package of broadband, home phone, and, if you want it, a TV box with Freeview. Onto that, you can add any of its TV Passes: the Entertainment Pass, Kids Pass, Sky Sports Pass, or Sky Cinema Pass. You're contracted in for either 12 months, or - if you're happy to pay a higher setup fee - just 30 days on a rolling contract.
Both let you sign up to just their TV services, too, so you can pair them up with whatever broadband you like, and vice versa.
Verdict
Both providers are quite flexible when it comes to TV options, but NOW TV pinches this category for its one-month broadband.
Broadband
Both providers offer pretty much exactly the same broadband, using the Openreach network: standard broadband with download speeds up to 17Mb, or fibre with speeds up to 38Mb or 76Mb. Besides contract length, there's no real difference here.
Verdict
A perfect tie.
Channels
A NOW TV Box will give you just basic Freeview, with around 70 channels, plus whatever you get with your TV Passes. Its main draw, the Entertainment Pass, only gives you 11 channels, but they're good ones: Comedy Central, Discovery, Fox, Gold, MTV, Nat Geo Wild, Sky 1, Sky Arts, Sky Atlantic, Sky Living, and Syfy, plus on-demand content from Viceland and ABC Studios.
Sky, meanwhile… well. Depending which TV packs you add, you can get over 350 channels. Even the most basic one will nab you over 300.
Verdict
Sky's the winner, with more TV channels than you'll know what to do with.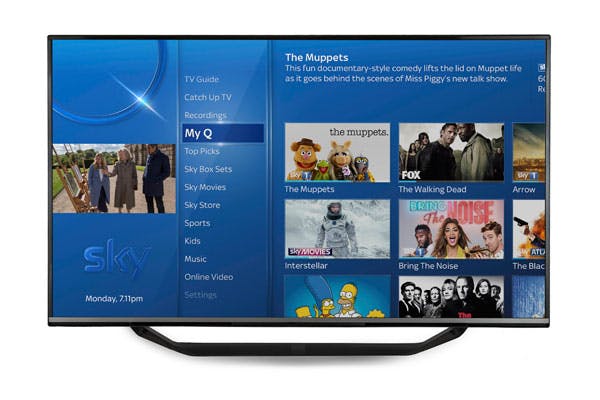 Sports and movies
You can get Sky Sports and Sky Cinema with either provider, so that's good.
NOW TV has a couple of advantages here. For a start, taking out a Sky Cinema Pass is a shade cheaper than it is on Sky, and even cheaper if you subscribe to multiple months in advance. And you can get Sky Sports Passes that last just a day, or a week - perfect if there's a specific event you want to catch.
However, Sky has a little something up its sleeve too: BT Sport. Once you're set up with Sky TV, you can call up BT and add it on - it's far from cheap, but ideal for hardcore sports fans. You can't get it on NOW TV. Sky also lets you watch both sports and films in higher definition, including a bit of 4K-resolution content here and there.
Plus, if you reckon you'll only watch a couple of Sky Sports channels on the reg, Sky lets you subscribe to individual channel packs rather than the full suite. You can grab up to three packs for a cheaper price than the complete set costs.
Verdict
NOW TV wins for convenience, value, and casual fans, but major sporting types and movie buffs are better off with Sky.
On demand and catch-up
With NOW TV, you'll get basic catch-up, through services like BBC iPlayer and ITV Hub. You'll also get a good range of on-demand telly with each TV Pass - there's box sets galore with the Entertainment Pass, for instance, but it's limited to just those channels.
It also lets you log in and watch your shows on a massive range of devices: smartphones, tablets, computers, streaming sticks, even other people's TV boxes. Home entertainment isn't just for the home any more, folks.
Sky, on the other hand, has a frankly eye-watering amount of on-demand content. Tons of channels have programmes to catch up on, and if get the Box Sets TV pass, you get more than 350 series to watch on demand too. And you can watch them from anywhere thanks to Sky Go - though you can only register two devices.
Verdict
Sky has more to watch on-demand by a long shot, although where you can watch it all is a bit more limited.
Equipment
A telly package from Sky gives you Sky Q - one of the best TV systems on the market. The set-top box is 4K-ready, can store up to 1000 hours of recordings, has an intuitive interface, and has Sky's 'fluid viewing' - essentially letting you pause a programme in one room, then pick it up where you left off in another. Even the broadband router, the Sky Q Hub, is a good'un, rocking features like dual-band Wi-Fi. Find out more about Sky Q here, or read up on Sky's router here.
There's one downside to Sky's TV equipment, of course: you need a satellite dish. They're a lot of hassle to install, and if you're renting or living in shared property, you may not be able to get one at all.
Meanwhile, NOW TV's hardware isn't quite as impressive, but it's fine, you know? The router you get for NOW TV's broadband is perfectly serviceable, and for Freeview the TV Box is just dandy - you can use over 50 apps such as YouTube, or pause and rewind with the Smart Box.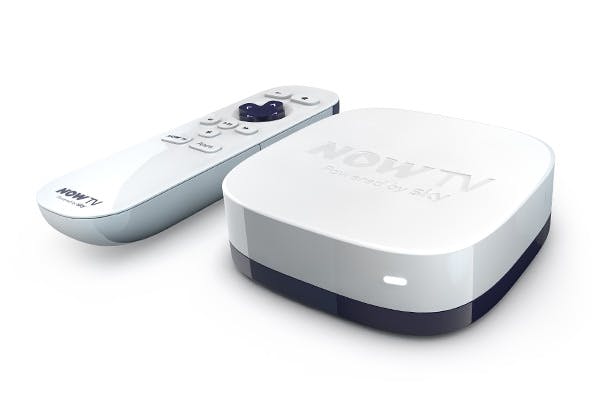 Verdict
Sky's set top boxes and routers beat NOW TV's hands-down… so long as you're cool with a satellite dish.
Final verdict
Let's not beat about the bush: Sky is better. It's got the best equipment, the most comprehensive TV service you can get in the UK by a country mile, and amazing top-of-the-line home entertainment tech in the form of Sky Q. If you're into your TV, you really can't get better.
However, that doesn't necessarily make it the best choice. NOW TV has a couple of things that Sky doesn't: flexible 30-day contracts on everything, and a more affordable price tag.
If you want the best TV service money can buy, with some excellent broadband to boot, go Sky.
If you just want to watch Game of Thrones or a few movies - or if you're on a budget, or need something temporarily - you won't regret choosing NOW TV.