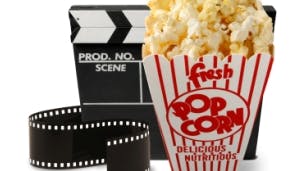 If you're a fan of the silver screen, there's plenty to watch on the small one. All pay TV services in the UK offer dedicated film channels, both to watch live and on-demand.
In this guide, we'll look at what's available from the various TV providers, as well as how to find the best deal. So lights, camera… let's get on with it.
Movies on Sky
Sky Cinema - formerly known as Sky Movies - is the most comprehensive movie service in the UK and naturally it's available with Sky TV. It gives you 11 channels, covering all types of flicks - Oscar winners, superhero slugfests, art-house, family… you name it.
It's typically the first service to get premieres too, so if you're particularly interested in seeing new films on TV, Sky Cinema's your best bet.
You can add Sky Cinema onto your Sky TV package at any time - it works on a monthly rolling basis, so you can add and remove it by the month. As well as watching live and on-demand channels on the TV, you'll also be able to access the Sky Go service and watch movies on your phone, tablet and computer, and - for an extra fee - other devices like smart TVs and game consoles.
Plus there's a dedicated Sky Cinema app, for iOS and Android devices. Basically, whenever you're in the mood for a film, there's a way to watch one - the biggest challenge will be rustling up some popcorn.
Find out more in our guide to Sky TV, and to compare deals, simply enter your postcode in the box above.
Movies on TalkTalk TV
TalkTalk is based around YouView - basically a Freeview box with lots of bells and whistles - so you get all the free to air movie channels, including Film 4 as standard. To get more, you need to add channels to your packages with a 'Boost'.
There are two TalkTalk film boosts available: Sky Cinema and PictureBox. The Sky Cinema Boost gives you access to all 11 of Sky's dedicated movie channels. The PictureBox Boost gives you access to 60 flicks each month, with new ones cycled in every week. It's a well-curated selection, and a healthy mix of crowd-pleasers, family films and interesting curios.
What's particularly good about TalkTalk Boosts is that they roll monthly. You can add and remove them from your package as you see fit, so you're not tied into any lengthy contracts.
As well as Boosts, TalkTalk also offers the TalkTalk TV Store. The service formerly known as Blinkbox lets you rent and buy the latest and greatest films. You don't have to be a TalkTalk customer to use it - you can watch online via PC or smartphone, for example - but if you do have TalkTalk TV, it all integrates nicely.
If you need more information about TalkTalk Boosts, check out our full guide on the subject.
To see TalkTalk deals, simply enter your postcode on the top of the page and we'll show you what's available in your area.
Movies on Virgin Media
Virgin Media's as comprehensive a TV service as you're likely to find. Naturally, it has a lot to offer movie fans.
Sky Cinema comes included in the VIP bundle, but can also be added onto any other Virgin Media TV package. Regardless of your bundle, you'll get all channels in HD as standard, and more than 1,000 films to watch on demand.
That can be done on TV via your TiVo box, or online with the Sky Cinema app - available to all Sky Cinema users at no extra cost.
You don't have to sign up to Sky Cinema to watch movies through Virgin Media TV though. All subscribers get access to Virgin Movies, which lets you rent movies to watch on demand. HD and 3D flicks are available, and they're usually available on the same day as their DVD or Blu-Ray release.
You can find out more about Virgin Media here, and to see deals in your area, use the postcode checker above.
Movies on BT TV
If you have BT Superfast Fibre optic broadband, you can get access to all Sky Cinema channels and on demand movies. The dedicated movies service can be added to a BT package when you switch.
If you can't get fibre (our guide can help you see if you can), you can get Sky Cinema On Demand. This gives you a monthly subscription so you can watch films online, but you don't get the live channels.
If you want to watch newer films, you can buy or rent the latest movies individually on the BT TV Store. You can also rent loads of TV box sets, so there's no shortage of films to veg out in front of.
Find out more about BT TV in our guide, and compare deals at the top of this very page.
Movies on Now TV
Now TV originally launched as a convenient way to watch movies online, but now it's so much more than that. It does broadband and TV - available on both a contract or no-contract basis - and gives you the option to choose a Sky Cinema pass.
This gives you all of Sky's movie content - live channels and a vast array of on-demand films to watch as and when you like.
As well as on TV with a Now TV streaming stick (costs extra), you can also watch your films through your phone, tablet, PC, Mac, smart TV, games consoles and more.
Our exclusive guide can tell you more about Now TV.
On demand movie apps
If you prefer streaming over channels, and want to be able to watch your movies from anywhere, take a look at on demand movie streaming services. You'll find most of them available via a web browser, as a smartphone or tablet app, or through Smart TVs, streaming sticks, and games consoles. You can even access some right there on your telly with some TV packages.
Netflix is one of the most popular on demand TV and movie apps. Although it requires signing up for a separate subscription, some TV services - namely Virgin Media and TalkTalk - will also let you include the fee in your normal TV bill, and access it through the home screen on your telly.
Its closest rival is Amazon Prime Instant Video, where you can also watch a huge range of movies and TV shows on demand. They're available to buy and rent too, so you can download and watch films from anywhere - and since it's designed to work on pretty much any device, that shouldn't be difficult.
Now TV is created by Sky, but works very separately from its TV services. Through Now TV you can watch movies and TV shows on demand by buying a monthly pass - and that includes Sky Cinema passes as well. You'll find Now TV online and on apps, through Sky TV, or through YouView (including BT TV and TalkTalk TV).
PictureBox works a little differently, in that there isn't a huge library of films to choose from - instead, they're rotated around every month, so the collection is constantly updating. You can get PictureBox as a TV Boost on TalkTalk, through BT or Virgin Media TV, or via its app.
Want movies included in your TV package? Enter your postcode above to compare TV packages in your area.