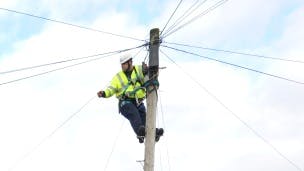 Most broadband packages come with an added monthly cost - line rental. Sounds suspiciously like a phone line rather than a broadband connection, right?
The truth is that a lot of UK providers can only connect your broadband if you pay for line rental. Read on and we'll explain why.
Why do I need line rental?
Even though the likes of BT, EE and Virgin Media now offer broadband services that don't require a landline and line rental, the majority of providers still deliver broadband into homes across the UK using phone lines.
Whether you use that line to get online and stream the latest binge-worthy series or simply make calls to friends and family, the line's maintenance costs are the same. And that means providers need to charge for it.
The majority of providers in the UK use Openreach to get their services to you. This works entirely through the copper phone lines of BT's national network.
That means that in most cases you'll need a phone line to get your broadband up and running, except if you pick one of a small handful of providers that use an alternative to Openreach.
It doesn't mean you have to have a phone attached and you don't have to pay for calls if you don't want to. That main thing here is that the line itself has to be active.
Which providers offer broadband without a landline?
Providers that offer broadband without a landline include, BT, EE, Sky and Virgin Media.
In select locations you can also get broadband-only from Hyperoptic, which operates mostly in London and surrounding areas, a Gigaclear, a specialist in bringing fibre broadband into rural areas, and Zen.
Use our postcode checker to see what deals you can get on broadband without a landline.
How having a landline affects your broadband package
Providers used to present your broadband price as two separate costs: the cost of the broadband, plus the cost of the line rental.
It made things a bit confusing. You could be lulled into thinking you were signing up for £5-per-month broadband, only to then discover there was an £18 monthly line rental charge on top of that. Not exactly ideal.
Thankfully, those days are gone. As of October 2016, the ASA (Advertising Standards Authority) ruled that providers must make their costs much clearer.
Now, you'll be shown a single price to pay each month that covers both the broadband and line rental. It's far more straightforward.
As almost all broadband packages include line rental, you can usually upgrade to a better home phone package too. That means options such as anytime calls.
Alternatively, if you're really not a fan of line rental, you can always grab a landline-free, broadband-only package.
Home phone add-ons and extras
If you need to make phone calls from home, you might prefer to get a few extras with a proper package, taking full advantage of the line rental you're paying for.
A lot of providers offer inclusive calls, voicemail, calls to other countries, and mobile apps to use your home phone minutes when you're connected to Wi-Fi elsewhere on your smartphone or tablet.
Some providers even include a few of these features - like evening or weekend calls to UK landlines - as part of their standard line rental.
And, of course, you can always get line rental and a landline contract without broadband attached to it.
Mobile broadband alternatives to broadband and home phone
If you don't want a landline and are keen on maximum flexibility, then a hotspot utilising mobile broadband is a solid option.
Three's HomeFi connects using wired internet or mobile networks, meaning that if you have a solid connection you can access the internet via its rapid 4G and 5G platforms.
Or you could go for the excellent AI Cube, which allows you to connect up to 64 devices using its 4G network.
Just remember that mobile networks are not always as reliable as fibre broadband.
What are the pros and cons of a broadband package with no landline?
Pros
Access to some of the fastest broadband speeds around
Good option in rural areas thanks to providers like Gigaclear
Growing number of providers means more coverage for broadband without a landline throughout the UK
Cons
Not as much choice as if you compare the entire market for a broadband deal
Have to pay for a separate landline if you want to make calls from home
Often more expensive than regular fibre broadband deals
Frequently asked questions
Is broadband without a landline cheaper?
Not necessarily. You can get cheaper standard broadband deals, offering slower connections over copper wires.
However, the fact you're not paying line rental means that if broadband without a landline is available where you live, there are good deals to be found, offering some of the fastest broadband currently available.
Can I get fibre optic broadband without a phone line?
Yes. In fact, the whole point of broadband without a phone line is to offer the fastest fibre connections without having to rely on the ageing network of copper phone lines.
Do broadband prices include line rental costs?
If you're buying a regular fibre broadband package, then yes. This price will be included in the overall fee and will not be hidden, a practice that has been banned since 2016.