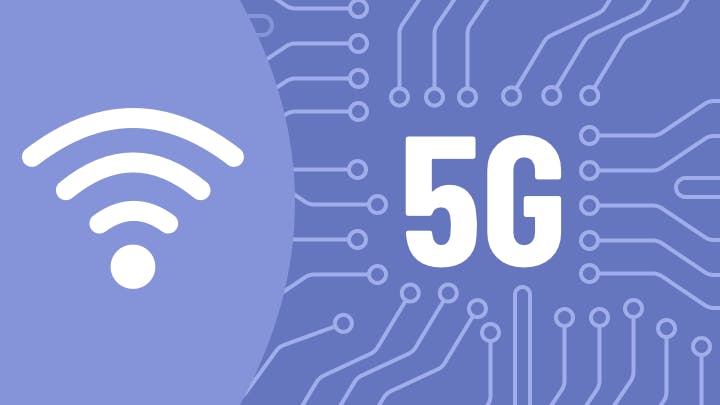 If you can't get fixed line broadband where you live or you're not happy with your service, 5G home broadband could be worth a look. It's also ideal if you need a short-term broadband service, or as a back-up in the event that your fixed-line connection goes down.
What is 5G home broadband?
Unlike standard fixed line broadband where cables deliver your service to your home, 5G broadband is delivered by 5G telephone masts. Those are the same masts that provide a 5G connection for mobile phones.
Where is 5G broadband available?
Networks that offer a 5G home broadband service are Three, EE and Vodafone. However, at the time of writing, you're only able to sign up if you're in certain cities or towns.
What we can say with some certainty is that 5G home broadband is most widely available in London, where all three providers offer a service.
The best way to find out if you can get 5G home broadband at your address is to use availability checkers. You'll find links to all three networks below:
5G home broadband deals
Below we take a look at what each 5G home broadband provider offers..
Vodafone 5G home broadband
Vodafone's 5G broadband service is based on its Gigacube router and offers maximum speeds of 1Gbps. You can sign up for an 18-month contract or a one-month rolling contract and choose from allowances of 100GB, 200GB and unlimited.
As you might expect, if you choose a one-month subscription you'll be liable for an upfront charge. But the Gigacube comes free with 18-month plans.
EE 5G home broadband
EE 5G home broadband plans can get you an average speed of 150Mbps, with a service that's based on the 5GEE Home Router.
Unlike other providers who offer multiple long-term and one-month 5G home broadband plans to choose from, EE 5G home broadband service is only available on a single plan.
Priced £70 per month and £100 upfront, this gets a monthly allowance of 1TB (that's 1,000GB).
As an additional sweetener, EE mobile customers also get an extra 20GB data boost for their pay monthly phone plan free of charge.
Three 5G home broadband
Three's 5G broadband service lets you choose from a 12-month of 24-month plan, both of which feature unlimited usage and average download speeds of 100Mbps.
There's nothing to pay upfront on either plan.
Cheap 5G home broadband deals
Depending on the provider you choose 5G home broadband works out as fairly affordable, with a number of packages that offer comparable speeds to fibre broadband for a similar price.
At the time of writing, Three's 5G home broadband is the most cost-effective, with its cheapest plan priced around £30 per month with nothing to pay upfront.
Is 5G home broadband faster than standard ADSL broadband?
In short, yes. A lot faster.
Average speeds with EE's 5G home broadband are around 150Mbps. And Three offers a 5G home broadband with speeds of 100Mbps. By way of comparison, most standard ADSL broadband is advertised with average speeds of 10-11Mbps.
In fact, 5G home broadband speeds generally trump average speeds for the most commonly available fibre broadband packages too. These generally get you average speeds of 35-60Mbps.
It is possible to get fibre that rivals and sometimes outdoes 5G home broadband for speeds.
But to get them your home will have to be provisioned for cable broadband from Virgin Media, or fibre-to-the-premises broadband from the likes of BT and EE.
Is 5G home broadband worth it?
5G home broadband has a lot to recommend it, but it's not without its disadvantages. Let's look at the pros and cons…
Pros
One-month contracts are great for a short term broadband solution
Prices in line with fibre broadband
No landline rental to pay
Portable, so you can take with it on holiday or if you move home
Fast enough for multiple occupancy homes
Easy, plug and play set-up, with no engineer visit required
Cons
ADSL broadband is significantly cheaper
Limited coverage, so you can't get it everywhere
5G routers are fine for most homes, but may struggle to reach some rooms in larger properties
Smaller range of providers to choose from
No option to bundle with TV to save money
Frequently asked questions
Will 5G replace fixed line broadband in the home?
It may well, in time. It's certainly capable of handling the demands of data-hungry households and providing the speeds required for online gaming and streaming 4K and 8K video.
But because 5G is only available in select parts of the UK, we can say with some certainty that it won't replace fibre for some years yet.
Which providers offer 5G home broadband?
Right now, only Three, EE and Vodafone. But with 5G mobile phone service available from many more networks, including Sky Mobile, Tesco and BT, we're likely to see more providers launch 5G home broadband in future.
What equipment do I need to get Three 5G broadband?
When you sign up for Three's 5G home broadband service you'll also get Three's 5G Hub. It connects to Three's 4G and 5G network.
According to Three, you can connect up to 64 devices (including laptops, phones and tablets) to the hub.
Vodafone, on the other hand, offer 5G broadband via its GigaCube 5G broadband router. Prices range from £30 to £50 depending on what data allowance you opt for, and you can choose from 30-day rolling contracts or an 18-month contract term.
Bear in mind, though, if you choose the 30-day option, you will have to pay a hefty amount upfront.
So, if you don't have superfast broadband in your area or you're just looking for a flexible contract, GigaCube is well-worth a look.
EE's 5G Wi-Fi comes with EE's pay monthly plan, but, to be honest, it's isn't cheap. £50 will buy you 50GB of data and £75 will buy you 100GB. Moreover, you'll need to sign up to a 24-month contract.
What's the difference between 5G and fibre?
The main difference is in how they're transmitted.
5G broadband is delivered using mobile-phone-network infrastructure to transmit signals through the air. Conversely, fibre comes to your home via fibre optic cables laid underground.
This means that if you need to move house, all you need to do is bring your router along with you.