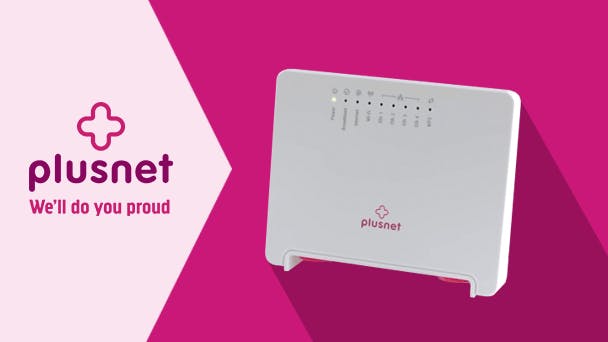 So you've gone for Plusnet broadband, and you've got a pretty new Hub Zero to get to grips with. Let's take a look at it.
The new Plusnet Hub Zero - or Plusnet 2704n if you're a tech geek - is the router that you'll get installed with a brand new Plusnet (www.plus.net) standard broadband connection. It replaced old outdated Technicolor 582 and brought a snazzy new design, slightly better tech, and lower energy consumption. Let's take a look.
How do I get a Plusnet Hub Zero?
You'll get a Plusnet Hub Zero included as standard with a standard ADSL Plusnet broadband package. If you prefer fibre, however, you'll get a Plusnet Hub One instead.


*Average speeds are based on the download speeds of at least 50% of customers at peak time(8pm to 10pm). Speed can be affected by a range of technical and environmental factors. The speed you receive where you live may be lower than that listed above. You can check the estimated speed to your property prior to purchasing.
Take a look at our guide to Plusnet broadband to find out more.
What features does the Plusnet Hub Zero have?
The Hub Zero is definitely a step up from the old Technicolor 582. It boasts a next generation Broadcom chipset for 'snappier performance,' as Plusnet puts it, and it uses 40% less energy than the last model. That puts it in line with the new European rules for power consumption when it's on standby - it should only use 3.4W if you've got fibre optic broadband.
Flip the li'l thing over and you'll see four ethernet and the usual ADSL socket. Those ethernet ports mean you can plug your computer in directly for the fastest possible connection. Transfer speeds are a little limited compared to a lot of routers, though they should be fine for ADSL broadband.
In fact, the Hub Zero hasn't got the most technologically advanced Wi-Fi out there either. Other providers, like BT and Sky, have hubs with built-in modems and 'dual-band' tech that automatically selects the cleaner of two wireless channels for more reliable Wi-Fi.
But still - it works. Plusnet prides itself, of course, on its simple and easy-to-understand broadband packages, and the hub certainly delivers there. Everything is labelled nicely so you can see at a glance what's going on. Plus you get a longer cable included, so you can put it where you want in the house without much fuss, and its small size makes it unobtrusive.
Along with the hub itself, your box includes an ethernet cable, microfilter, power supply, internet cable, setup guide, and a handy reference card.
What does the Plusnet Hub Zero look like?
The hub is a dinky little thing, about the size of two decks of playing cards. It's got a tough white plastic case, and it's moveable - you can twist out the pink feet at the bottom to stand it up, or hang it on the wall using the holes on the back.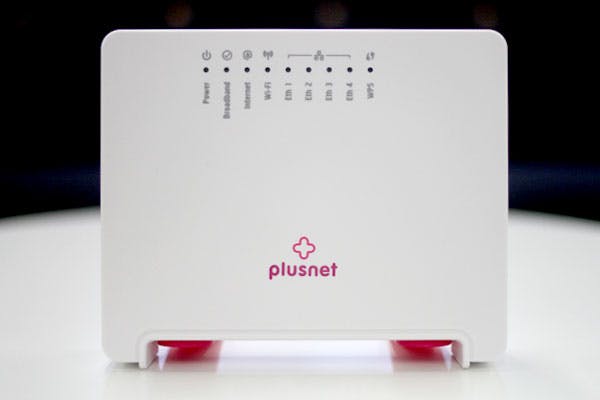 It might not be the most stylish gadget in the world, but hey, it's user-friendly.
In keeping with its reputation for simplicity, Plusnet has designed the Hub Zero to be easy to use and understand, even for a total wireless novice. On the back, all the buttons and sockets sit in a line with markers so you know what they all are, right below the label that tells you - in plain English - your network and Wi-Fi password.
On the back you'll see, from left to right:
ADSL socket - This is where you plug in the internet cable, i.e. the precious meeting point between your broadband line and router.
4 x ethernet sockets - If you've got fibre optic broadband, one will be used to connect a BT Openreach modem; the rest are used for connecting directly to your computer.
Reset button - Find a paperclip and jab it at this button if your Hub is misbehaving and needs to be reset.
Power socket - Where your Hub plugs into the mains.
On/off button - Speaks for itself, really. Push this black button to switch your device on and off.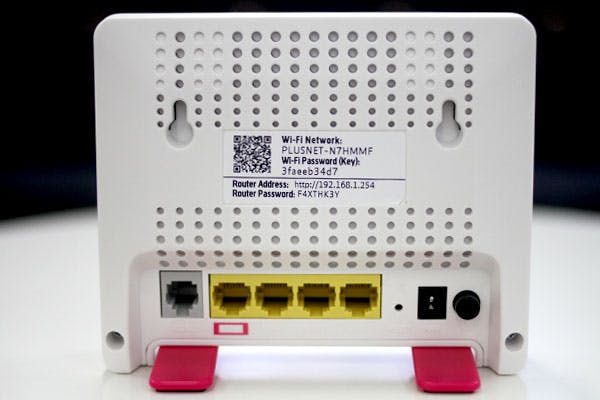 On the front, there's a row of LED lights, all labelled clearly so it's obvious what each light means. They are, from left to right:
Power - Whether the router is on, off, or in recovery mode.
Broadband - Whether a broadband signal is detected in the router.
Internet - Whether or not your router is connected to the internet.
Wi-Fi - Whether or not Wi-Fi is switched on.
Ethernet 1-4 - Each of these represents a different ethernet socket on the back of the Hub. A green light means something is connected to the corresponding socket.
WPS - Whether WPS (Wi-Fi protected setup, or your basic internet security) is working.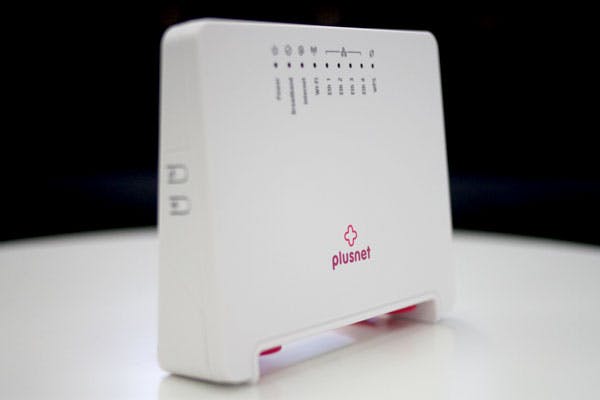 Twist the router to the side and you'll see two more buttons:
The WPS button to switch WPS on and off
The Wi-Fi button to switch Wi-Fi on and off.
So if you're having problems connecting to the internet, all you need to do is take a look at your Hub and see what it says is going on. Easy.