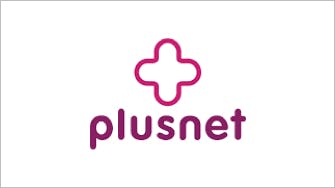 As of October 2022, Plusnet Business broadband is no longer accepting new customers. If you're an existing customer or awaiting installation, please contact Plusnet on 0800 432 0200
There aren't many real options for large businesses, but for small to medium ones - shops, home offices, cafes, and the like - you've got some great choices. Let's take a look at Plusnet (www.plus.net).
What can I get from Plusnet business?
There are four business broadband packages up for grabs:
Business Broadband - The basic broadband package, with up to 18Mb download speeds and a 25GB monthly download limit. However, the limit only applies to internet usage between 8am and midnight - overnight downloads are unlimited. It's ideal for a business where you need internet for a bit of browsing and email but don't need to download large files (at least, not during the daytime).
Unlimited Business Broadband - Up to 18Mb download speeds but with unlimited downloads. This package is good for a business that needs reliable internet all the time, but not for anything too intensive like video conferencing.
Business Fibre Broadband - Superfast fibre optic broadband with speeds of up to 76Mb, and a 50GB monthly download limit. Although, again, overnight downloads are unlimited. The fast speeds are great for streaming video, VoIP, or for connecting a few devices at once - but look out for the download limit.
Unlimited Business Fibre Broadband - Fibre optic speeds of up to 76Mb but with unlimited downloads. Perfect for when you need a reliably fast connection, download a lot of data, or need to connect multiple people all day.
All are available either as standalone broadband-only packages, or with line rental too - though with broadband-only, you'll still need a working phone line, whether from Plusnet or another provider. Your phone line options are:
PAYG - The standard business line rental from Plusnet, in which you only pay for the calls you make.
UK Anytime - Includes anytime calls to UK landlines.
UK Anytime, Mobile, and International 500 - Includes anytime calls to UK landlines, plus 500 anytime minutes to UK mobiles, US mobiles, and landlines in 20 international destinations - including Germany, Ireland, and India.
UK Anytime, Mobile, and International 1000 - Same as above, but with 1000 mobile and international minutes.
Packages are available on contracts lasting either 24 months, 12 months, or one month. The 24-month contract has lower upfront costs and monthly bills, but is a lot less flexible.
A bunch of features are thrown in with each broadband package too, including unlimited email addresses, one free .co.uk web domain, Plusnet SafeGuard for internet security, and the option of a static IP address. And, of course, you'll have tech support from Plusnet's award-winning 24/7 customer service.
You'll also have the option to add more services for an extra cost each month - such as Enhanced Care for quicker fault repairs, or Prioritised Service for higher upload speeds.
What's good about Plusnet business?
Packages are very affordable, especially for business-grade broadband, with some of the cheapest line rental in the country
Specialises in simple, easy to understand packages
Known for excellent 24/7 UK-based customer support
Flexible contract options, from one to 24 months
Unlimited downloads available
Packages with unlimited 12am-8am usage are great if you work night shifts, or if you need to download data overnight
Broadband-only packages available
Good for small businesses and offices
Extras available at no extra cost, such as unlimited email addresses, a free domain, and a static IP address
What's bad about Plusnet business?
Not many options for large businesses or big offices
Not many business extras either, like the cloud storage, calling features, multiple phone lines, symmetrical upload and download speeds, or leased lines available from providers such as BT
Superfast fibre optic connections aren't available everywhere - use our postcode checker to see what your business can get
The more flexible contracts get a lot more expensive
Usage caps can be restrictive
No phone-only packages - line rental is only available with broadband