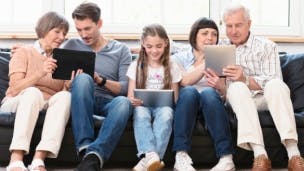 With so many different options available, picking the right broadband package for your family can be a bit confusing. With that in mind, here's all the help you need to find the best deal for your money.
What's the best broadband for a large family?
That depends how large your family is. But as a rule of thumb, we'd say if you're in a house of three-four people, you'll need a connection of 35Mbps or above. In a house of five or more people, we'd recommend a package with a speed of 67Mbps.
To get those sort of speeds, you'll need a fibre optic broadband package. These days, pretty much every provider offers fibre broadband with speeds of 36Mbps to 67Mbps, which are widely available across the UK. You can get these speeds from the likes of BT, Plusnet, EE, Sky, TalkTalk and Vodafone.
Quite a few providers now offer even faster speeds, ranging between 100Mbps to over 1Gbps. However, these aren't as common. If you can get it in your area, Virgin Media is the fastest provider in the UK, with speeds starting from 54Mbps all the way up to 1.13Gbps.
Larger households need faster connections because they likely have many devices – such as computers, smartphones, tablets, games consoles and smart TVs – with lots of family members or housemates using them simultaneously. The more devices connected to your home internet, the faster the connection you'll require.
With a fast internet connection, you and your family will be able to stream music and HD video, play online games, use social media and make video calls – all at the same time.
Do families need fibre optic broadband?
Whether you need fibre optic broadband depends on how much everyone uses the internet, how large your household is and how many devices are being used at once.
Fibre optic broadband will give you:
Faster speeds
More bandwidth, so you can get loads of devices online at once
Lower latency (lag), meaning better Skype calls and more responsive online gaming
Do family homes require broadband with unlimited downloads?
Broadband with unlimited downloads is essential for large households, allowing everyone to stream, game and browse to their hearts' content.
Luckily, these days nearly every package is unlimited as standard, including broadband from BT, Sky, TalkTalk, and Virgin Media.
Keep an eye out for 'truly unlimited' packages, too. This means there's no web traffic management that can slow down your connection at peak times.
Broadband for low income families
Broadband can be expensive, so it's important to carefully weigh up your options before selecting a package - particularly when you have a family and are on a budget.
The cheapest deals tend to have the slowest speeds. While it may be tempting to go for the most cut-price option on paper, it may not provide a connection that's fast or reliable enough to handle you and your family's needs.
And if you end up wanting to leave a contract you're not happy with, you'll likely be charged high fees for cancelling early.
That's why going automatically for the cheapest broadband isn't always the best policy. It's important to strike a balance between all the features you need and how much it costs.
How do I choose affordable broadband for my family?
Let's take a look at the things you should consider when deciding on the right family broadband package on a budget:
Fixed usage or unlimited data?
Whether your kids are online gaming with their friends, or you're working from home, the average family household consumes a lot of data.
Activities like watching movies, streaming music, playing games and working remotely will eat up your data, so it's a good idea to opt for an 'Unlimited' data allowance. If your broadband has a download cap, you'll easily reach it.
What about broadband speed?
A household packed with consoles and devices means you'll need broadband fast enough to manage these demands.
However, you don't need to pay over the odds for broadband that's faster than you actually need. Speeds at the lower end of the scale are often more than enough to handle your usage.
For most family households, 'superfast' broadband (defined as a connection with a download speed of 24Mb or over) will be fast enough. Most entry-level fibre broadband packages offer average speeds between 36Mbps-67Mbps, which can comfortably support HD video streaming, online gaming and browsing the internet.
If you live in a household of…
three to four people, consider broadband with average speeds of 35Mbps and above
five or more people, look at packages with average speeds of 67Mbps and above
Do I need phone calls with broadband?
Some broadband packages come with a landline included, to which you can add extra call packages. Of course, broadband packages with call allowances are more expensive than those without.
If you don't need a home phone and want to keep costs down, look for deals that don't come with line rental, as including calls with your broadband could stick around an extra 30% on to your bill.
Some budget providers, such as Plusnet, don't offer broadband-only options. In these cases, you can opt for pay-as-you-go calls.
On the other hand, if you want a calls package, it's a good idea to get a broadband and landline bundle from the same provider. This way, you can save money on both services.
Do I need TV with my broadband?
As with call allowances, including TV in your broadband package will ramp up your monthly costs.
If your priority is keeping your costs down rather than having endless entertainment on demand, choosing broadband without TV channels is a good idea.
What contract length should I go for?
In general, taking out a longer contract – either for 18 or 24 months – will save you money in the long run.
But if you think you might leave your contract early, you'll usually have to pay a hefty cancellation charge. If so, it may be worth getting a shorter-term contract, like a 12-month one, even if the monthly cost is more.
It's certainly worth comparing broadband packages by looking at contract lengths and monthly costs.
Does every broadband provider charge a setup cost?
Some providers will charge a set-up cost, while others do not.
Always check if there are any set-up costs or one-off activation charges you need to pay upfront – and look out for packages that include free setup.
Will I pay more for a broadband package with parental controls?
You won't necessarily pay more for broadband with parental controls, but not every broadband provider offers it. If you find this function handy, you might want to keep an eye out for packages that include it.
Can I get any extras and offers on broadband packages?
If you're shopping around for broadband as a new customer, you can get some of the best deals on offer.
It's always worth taking note of extras and incentives added to broadband packages, such as Amazon gift cards, reward vouchers or free subscription services, as well as broadband special offers for limited periods.
You may find that special discounts and deals will bring down the price of a more expensive package to a figure that's within your budget.
What are my options for affordable broadband packages?
ADSL – this is the absolute cheapest broadband available, with average download speeds around 10-11Mbps. However, it's not the best option for a family with heavy internet use, as it's a fair bit slower than fibre broadband
Fibre – there's not a huge price gap between ADSL and the cheapest fibre optic broadband package. For a couple of pounds more a month, you'll be able to get fibre broadband with speeds of 36Mbps, which is much better suited for a busy family. We'd say getting a fibre optic package is well worth the extra cost – and you can always get it from a more affordable provider, like Plusnet
Can I get help with paying for broadband?
A few providers have special packages and deals available for people who are vulnerable, live with a disability or receive certain benefits.
For example, BT has a BT Home Essentials plan that gives you fibre broadband and a landline for an affordable price. It's available for people on certain benefits, such as Universal Credit, Jobseeker's Allowance and Income Support.
Read our page for more information what you can get – you might find that you qualify for help with costs.
Available broadband packages