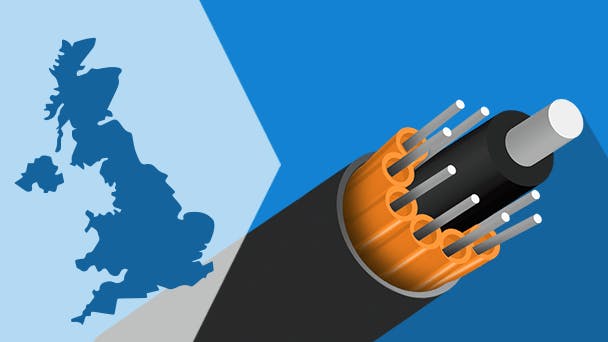 When you want broadband faster than a cheetah in a Ferrari, it's got to be fibre. But can your home get it?
There's only one way to find out: by using our fibre checker. Click the button below, enter your postcode at the top of the page, and take a look at your results.
Compare broadband deals in your area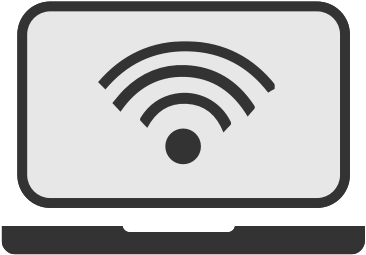 Fibre optic broadband is newer technology than standard telephone lines - which is great, because it means our connections are super top-of-the-line and future-proof… but it also means it's not available everywhere we want it just yet.
Thankfully, the majority of UK towns and cities now have access to fibre broadband - over 90%, in fact - so there's a good chance you can get it where you live. Thanks to government-led schemes and projects from local councils, providers have managed to roll superfast connections out even to remote areas and islands.
80-90% of the country is covered by BT's fibre network (with average download speeds in the 57-67Mb range), and around 60% can get Virgin Media. Plus, there are plenty of smaller fibre providers with their own networks too, such as Gigaclear or KCOM in Hull.
Read more about fibre optic broadband, and take a look at what packages are available, in our full fibre guide here.
If you can't get fibre…
When fibre isn't available, the next best thing is a standard ADSL connection. It won't be nearly as fast, but it's reliable, much cheaper, and you can get it with totally unlimited downloads. Average speeds are usually around 10-11Mb, which is more than enough for most households - though it may struggle if you have multiple people streaming iPlayer or downloading huge files at once.
If speed's the name of the game, however, take a look at mobile broadband. This works over 4G and 3G mobile networks rather than through cables. Speeds are often comparable to fibre, so that's good, but latency (lag) can hold you back and most packages have restrictive download limits.
Got your heart utterly set on fibre, and won't be happy until you get it? We don't blame you. While there's very little you can do to get new lines installed - assuming you don't have several hundred thousand pounds in cash just lying around - you can ask providers to consider bringing it to your postcode. Register your interest in a connection on the Openreach or Virgin Media websites, for example.
*Average speeds are based on the download speeds of at least 50% of customers at peak time(8pm to 10pm). Speed can be affected by a range of technical and environmental factors. The speed you receive where you live may be lower than that listed above. You can check the estimated speed to your property prior to purchasing.
Which providers offer fibre optic broadband?
If you can get fibre in your neighbourhood, you should have plenty of choice over which provider to pick. Depending on what's available, you can choose between:
MiFi mobile broadband as an alternative to fibre broadband
If you're in an area where fibre broadband is not available, the new generation of MiFis, that are designed as an all-in-one home broadband and mobile broadband solution, are a very viable alternative.
Not least because if you're lucky enough to be in a location where a 5G service is up and running, you can expect speeds in line with some of the best fixed-line fibre broadband packages.
Unlike dongles, a MiFi provides a signal that can be shared with multiple devices simultaneously. And it's pretty easy to find them on deals with unlimited usage too.
Here we take a look at two highly rated MiFis that are available right now.
Vodafone's Gigacube
The Gigacube lets you connect up to 64 gadgets at the same time, but more importantly offers speeds of up to 300Mbps on 4G and 1Gbps on 5G plans. So it's just as quick as full fibre broadband from the likes of Virgin Media and Hyperoptic.
Three HomeFi Plus
Three's HomeFi Plus gets you speeds that are a match for fast fibre fixed line broadband from the likes of BT, Sky and TalkTalk.
And like Vodafone's Gigacube, you can connect up to 64 gadgets simultaneously.
Frequently asked questions
Why can't I get fibre?
There are all kinds of reasons why a property can't get a fibre optic connection. It may be because:
The phone line between your home and cabinet can't support fast enough speeds
Demand for fibre in your postcode is high, and it's full to capacity
You live in an apartment building where the internal wiring isn't up to par
The nearby terrain is too awkward to run fibre cables - such as mountains, lakes, and islands
You're in the middle of a major city centrewhere providers can't rip up the pavement to install cables
There are schemes in place to get fibre broadband to as much of the UK as possible, so it's certainly worth looking up whether it's coming to your area in the near future. Look for details from Openreach, your local council, or Virgin Media.
What is full fibre broadband?
In a nutshell, full fibre broadband - or fibre to the premises (FTTP) - delivers fibre broadband to your home using nothing but fibre-optic cables all the way, directly from the provider.
Right now, full fibre broadband isn't widely available in the UK, but the government has already pledged to change that. So watch this space.