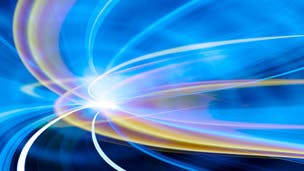 Let's be honest, picking the right fibre optic broadband package can be daunting, and the jargon you'll hear along the way can make the experience a whole lot more complicated than it needs to be.
Given this, we thought it would be helpful to break down two of the most common terms you'll hear during your search for the right fibre optic package: FTTP and FTTC.
So, what the heck do they mean, and which is best for you?
Let's dive straight in…
*Average speeds are based on the download speeds of at least 50% of customers at peak time(8pm to 10pm). Speed can be affected by a range of technical and environmental factors. The speed you receive where you live may be lower than that listed above. You can check the estimated speed to your property prior to purchasing.
What is fibre?
Fibre optic, as you probably already know, is superfast broadband.
For large families, serious gamers and anyone who runs their own business, it's ideal, as it lets you operate several different devices at once, and is super-reliable compared to standard ADSL broadband.
How does fibre work?
The optical fibres within the tubing of fibre cables are about the width of a human hair and designed to carry light.
It's actually quite simple; the casing around the inside of the optical fibres is one-hundred percent reflective, allowing light to bounce off the sides and traverse along the cables. When the end of the cable, the flashes are recognised as data.
This, in a nutshell, makes for a seriously fast broadband connection.
Yup, fibre-optic truly is the king of broadband, and FTTC and FTTP are the two main types available in the UK.
That said, if you don't understand the difference between the two, you could end up paying over the odds for an internet package that isn't right for you.
What is FTTC?
In a nutshell, FTTC (fibre to the cabinet) broadband uses a full fibre optic connection from provider to the cabinets (the green ones you see in many streets), and copper wire from that to your home from the cabinet.
FTTC broadband is the most common setup for broadband in the UK, and makes use of existing street cabinets and infrastructure, curbing the need to dig up any roads in established areas.
This makes it a lot cheaper to install than FTTP broadband, and the reason why most of the UK can access it.
However, because it still uses inefficient copper wire, speeds are far lower than full fibre connections. Speaking of which…
What is FTTP?
FFTP means 'fibre to the premises' - it's also sometimes called FTTH (fibre to the home). Rather than reach your home via the green cabinet at the end of your street, FTTP travels directly from your internet provider.
With me so far? Great.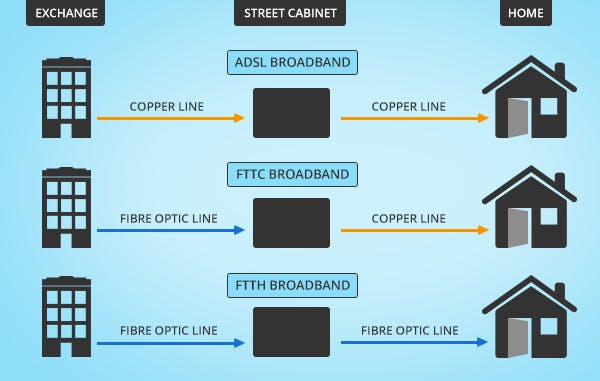 Unlike FTTC broadband, FTTP uses all fibre optic, making it the fastest type of fibre on the market. In fact, it can reach speeds of up to an impressive 1Gbps. That's seriously fast!
But there's an elephant in the room: availability. Full fibre connections are extremely limited in the UK. Even if you want one, there's a very good chance you won't be able to get it.
Which is better?
Well, it depends on what you're looking for.
In terms of pure speed, FTTP is better. For example, if your family uses several devices at once - game consoles, iPads, on demand TV, etc - then FTTP will be that much faster than FTTC, and won't slow down any of your gizmos.
And if you run a business, you'll almost certainly benefit from a FTTP connection, not only because the speeds are a lot quicker, but also because there's less chance the internet will cut out half-way through an important email to a client.
Let's take a look at the pros and cons of each:
How does FTTC and FTTP compare?
Of course, before you decide, we recommend you check with your provider to see exactly what speeds your likely to get, as they may vary depending on your area.
Where can I get FTTC deals?
Here's the thing; although FTTC is slower than FTTP, it's still fibre, and it's still properly fast. What's more, broadband providers offer some competitive FTTC deals.
Here's where you're likely to find some great deals:
Remember, always check the speeds with your provider first, as they'll likely vary from those advertised above.
You can check what type of broadband is available in your area by using our postcode checker, below:
Compare broadband deals in your area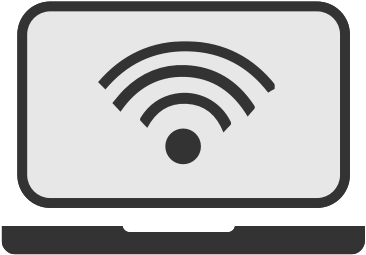 Where can I get FTTP deals?
Getting FTTP deals can be a little trickier than FTTC because, as I say, it's not widely available. But there are a couple of providers who can help:
How do I get fibre broadband?
Right now, over ninety per cent of households in the UK can access fibre broadband, so it's more than likely you'll be able to get a fibre connection
If you live in a rural area, though, your chances of getting fibre-optic will be much lower.
Also, If you've never had a fibre connection before, an engineer may need to come out an install the appropriate gizmos in your phone socket.
Fortunately, that's just about the full extent of the hassle involved in setting up fibre-optic.
Does fibre optic use a phone line?
Usually, yes.
I say 'usually' because Virgin Media uses its own cables, which means they can offer a much faster broadband connection than most providers.
How do I switch to fibre?
So, now that you know more about FTTC and FTTP broadband, next step is to choose the one that's right for you.
Simply click on the button below to compare packages and choose the one that suits you best.
Once you've done that, plug your swanky new router into the appropriate socket, wait a while, and hey presto! Enjoy your new superfast broadband.