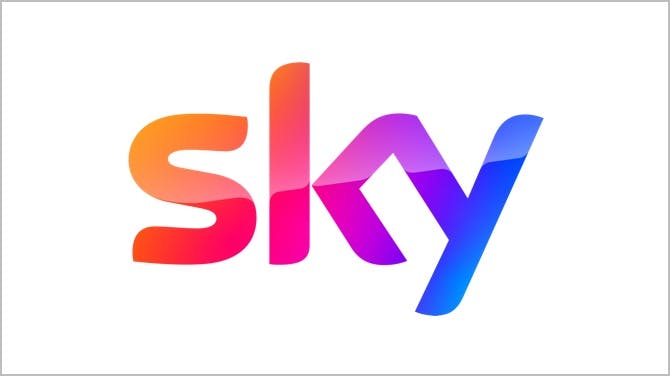 Despite competition from the likes of Netflix and BT Sport, Sky TV is still one of best paid-for services for blockbuster movies, Premier League football and kids' shows. We take a look at what it's got to offer.
What does Sky TV have to offer?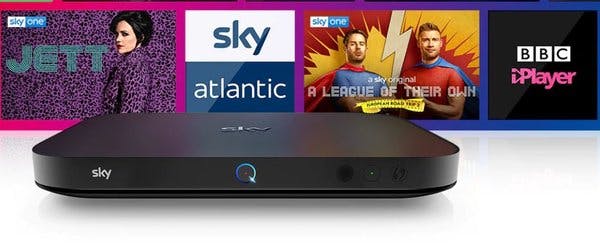 If quality TV is your bag, Sky may be the provider for you. Its TV service offers a dizzying array of telly content – up to 500+ channels, a breath-taking number of on-demand shows, access to streaming apps, movies, hundreds of hours' worth of storage for recordings, and so much more.
Everyone gets a minimum of 350 or so channels, including premium ones such as Sky One, Sky Atlantic, Sky Arts, Comedy Central, National Geographic, Fox, and Discovery.
You'll also get the Sky Go app to watch your programmes from anywhere, and of course some of the best TV technology on the market.
And you can add even more...
Sky Cinema - Comprises 11 dedicated movie channels, covering all genres from new blockbusters, to arthouse hits and classic family films. Sky shows a new premiere every single day, and also has more than a thousand on demand movies to watch at any time.
Sky Sports - Gives you all the premium sporting content from Sky. That includes a set of live channels, even more sports via the app, catch-up content, and all the news and updates you could possibly want.
Sky Sports Premier League - shows top games from the Premier League, as well as highlights, discussion, analysis and debates
Sky Sports Football - shows live football every week, including the EFL, Carabao Cup, SPFL and La Liga
Sky Sports F1 - every practice, race and qualifying session of the F1 season
Sky Sports Cricket - shows every England home Test, domestic matches and all ICC competitions
Sky Sports Golf - live coverage of the Majors, and also the European and PGA tours
Sky Sports Action & Sky Sports Arena - these two channels are only available together, and show a massive range of shows, including International and European rugby union, NFL, GAA and darts
Sky Sports News - Round-the-clock news coverage, as well as match highlights from across the world of sport
Kids - A set of dedicated children's channels, including Disney XD, Nickelodeon and Cartoon Network, as well as more than 4,500 episodes on demand.
It lets you watch select content on the go (you can choose what they can see) and parental controls allow you to block access when it's bedtime.
HD and Ultra HD - If you want to watch TV and movies in the highest definition possible, you'll have to add this onto your package.
What TV packages can I get from Sky?
Sky's TV service is flexible and simple. You start off with a Sky Q box and Sky's basic TV service – and bear in mind that 'basic' already means 350+ channels – and onto that, you can add all the other telly services you want. That includes the option to add:
Sky Sports
Sky Cinema
BT Sport
Kids TV
Multiscreen
Extra HD and ultra HD content
And more.
Or, you can pick its innovative Sky Glass. This gives you a swanky flat-screen TV, with Sky TV completely built in. That's all of Sky's channels, box sets, on demand content, apps, and whatever else you subscribe to.
The main advantage of Sky Glass – besides giving you a telly – is that it's delivered entirely via your broadband. That means no need to get a satellite dish installed.
Sky Q box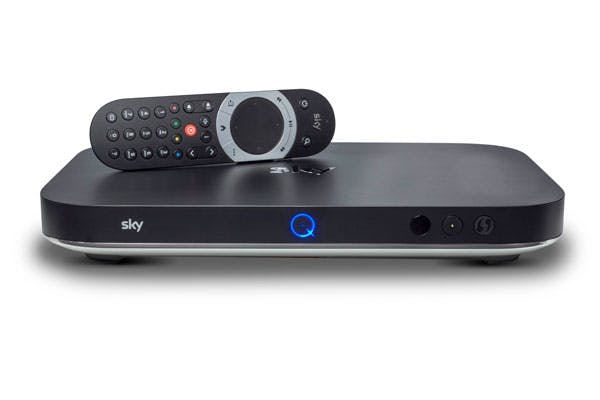 Named product of the year at in the set top boxes category at the What Hi-Fi Awards 2019, the Sky Q box's key features are:
Option to pause, rewind or restart live TV
Storage capacity for up to 500 hours of HD video
Series Link recording, so you can set your Sky Q box to tape a whole series
Voice-controlled remote that lets you search for shows using voice commands
Option to pause TV in one room and carry on in the next (requires Sky Q experience add-on)
What is a Sky+ HD box?
The Sky+ HD box used to be the standard set-top box you got with a Sky TV package – but not any more. These days, all customers get the much slicker Sky Q box.
Sky On Demand and Sky Go
Sky has an extensive library of on-demand content, which is delivered over the internet. That means you'll need to connect the Sky Q box - provided with all TV packages - to your broadband to get it.
This doesn't have to be Sky broadband, so if you're already signed up with a different provider, you should still be ready to go.
Sky On Demand lets you access catch-up services like BBC iPlayer and shows from Sky's own entertainment and movie channels as well.
What you can watch depends on what bundle you sign up for - you'll need Sky Cinema to watch films, for example, or Kids pack to watch Disney Channel shows.
Signing up with Sky also gives you access to Sky Go, which lets you watch live TV, catch-up TV and on-demand movies and shows on your PC, smartphone, tablet, games console and more, in line with your subscription.
How can I get Sky Go?
It's available to all Sky TV customers at no extra cost.
To get going, visit the Sky Go website, download Sky Go Desktop to your computer, or install the app to your phone or tablet. Then sign up or log in with a Sky iD, which you'll then need to link to your Sky TV account.
Once you've done that, boom, you're in - time to watch as much TV as you want.
What devices are compatible with Sky Go?
Loads, but with some caveats. You can get it on:
PCs (Windows 7, 8.1, 10, 11)
Macs
iPhones and iPads (iOS 12 and above)
Android phones and tablets (Android 5.1 and above)
Games consoles (with Sky Go Extra)
You can register up to three devices at once - or four, if you have Sky Go Extra - which you can switch around and manage no more than once a month.
What's Sky Go Extra?
Sky Go Extra gets you extra stuff for an extra cost.
It's the premium version of Sky Go, and comes with additional features. The main selling point is that you can download episode of TV shows to your device, and watch them any time from anywhere – even if you're offline.
You can also register more devices to watch on – four rather than three – and watch on more devices at once. It's also the only way to get Sky Go on your games console.
Extra works on a monthly rolling subscription, so you can cancel it or start it up again whenever you like.
What do I get with Sky Cinema?
11 channels that show nothing but films all day every day, and more than 1,000 movies on demand, will satisfy even the pickiest of film fans.
They cover a load of different genres, so you'll have something to watch whether you're a sci-fi geek, in the mood for a classic, or want to keep the kids entertained.
Sky Cinema's biggest selling point is that it has exclusive rights to some of the latest blockbusters - a lot of them arrive up to 12 months before other TV services get them.
Not only does it give you a lot of films, they're in fantastic quality too. UHD 4K quality content is included, and audio is incredible, even if you're watching on-demand. You'll need a compatible device and good speakers to make the most of that, of course.
A subscription will also give you access to Sky Go, letting you log in from your laptop, phone, or tablet and watch movies on demand wherever you are. Sky Cinema has its own dedicated app too - download it and you can browse movie listings, set your Sky Q box to record, and create a personal shortlist of films you want to watch.
How do I get Sky Cinema?
Well, the most obvious way is with a Sky TV package. It's easy to add a Sky Cinema subscription when you first sign up - and you can strike a deal on broadband and phone too while you're at it. Or if you've already got Sky TV at home, you can add Sky Cinema at any time on a monthly subscription.
Virgin Media lets you add all 11 Sky Cinema channels, plus lots on-demand, to any TV package. Some Big Bundles come with the full suite ready-included too.
NOW TV lets you buy a Sky Cinema Membership - a rolling monthly pass that lets you watch Sky Cinema on your telly, through apps, or online. And again, you can bundle it with a full NOW TV Combo, complete with TV, broadband, and home phone.
In fact, if you've got a smart TV, games console, or streaming box, chances are you've got the NOW TV app available on it - a very easy way to purchase a monthly Sky Cinema pass.
You can watch your movies on your phone or tablet using the app, too - though you'll need a heavy data allowance to handle it.
TalkTalk and BT both offer Sky Cinema through their TV boxes too. This in fact gives you a subscription via the NOW TV app – but you can include it in your TalkTalk or BT bill to make life easier.
To see which TV packages are available in your area, use our postcode checker to take a look at your options.
Sky Store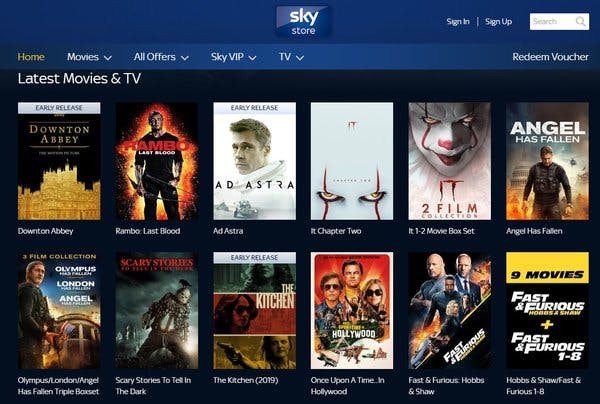 If you want to watch the newest movie releases, you can buy or rent films from the Sky Store, and play them through your Sky Q box, computer or smartphone.
Films are typically available to rent or buy from the service at the same time they appear on DVD and Blu-Ray. So if you want to watch a movie before it's on TV, Sky Store's one of the easiest ways to do it.
If you only want to watch something once, you can typically rent it, with new films costing £4.49.
If you buy, however, there is an additional perk in the form of Buy & Keep - not only do you get a digital version to watch whenever you want, Sky also sends you the DVD.
Not every film has this option, but most of the new releases do, and it's a great idea.
While you don't have to be a Sky customer to use Sky Store - it's open to anyone - the ability to watch through your set top box is a real perk for Sky customers.
Sky TV existing customer deals
Already got Sky TV and want to try out its broadband too? The provider regularly has great deals for existing customers. Here's where you can find out more:
What's good about Sky TV?
Good variety of channels - entertainment, factual, kids, music, movies, sport and more
Only way to get Sky Atlantic, which airs a lot of hit US shows first, such as Game of Thrones
Sky Q box lets you pause and rewind live TV, and record hours-worth
Slick, fast interface and easy-to-use electronic programme guide
Sky Q boxes add loads of features, including better search, personalisation options and intelligent suggestions of shows you might like
You can watch TV fluidly round the house, pausing in one room and picking up in another, with Sky Q
Sky Cinema regularly premieres the biggest films first on UK TV
Sky Sports has what may be the widest collection of sports on TV, including Premier League football, Aviva Premiership rugby, international cricket, golf, Formula One and more
Lots of catch-up TV, on-demand box sets, movies and more
Rent and buy movies from Sky Store through your set top box
Sky Go lets you watch Sky anywhere on PC, smartphone, games consoles and more
What's bad about Sky TV?
More expensive and less flexible than most pay-TV options
The best on-demand content is locked if you don't have the appropriate bundle
Requires a satellite dish, which can be hassle to get installed
No longer has rights to Champions League or Europa League. It's solely available to watch on BT Sport
What else can I get from Sky?
As well as satellite TV, Sky offers broadband, home phone, and other services. Read all about it:
Frequently asked questions
What set top box do I get from Sky?
When you sign up to any Sky TV package, you'll get a Sky Q 1TB set top box. This is easy to use and comes with some very cool features, including:
Pause and rewind live TV
Record up to 150 hours of HD TV - or about 300 hours in standard definition
Record three shows and watch a fourth live at the same time
Series record, so you can automatically record every episode of a series
Access to catch-up services and other apps if you have an internet connection
Built-in Wi-Fi, so you can connect easily... and it can act as a hotspot to boost your home Wi-Fi signal
Sky also offers a Q 2TB box. It'll give you double the storage space, plus it's 4K Ultra-HD ready.
If you want Sky in more than one room, you can also get Sky Q Mini boxes. These aren't as feature-rich as the main box, but it's an affordable way to get Sky across the house.
And because it's Sky Q, you can access all your recorded and on-demand shows. The box will even remember where you stopped watching last time.
Can I get cheap Sky TV?
Sky TV is one of the more expensive pay-TV services. However, you can cut your outgoings by signing up for broadband and home phone from Sky too.
This works out significantly cheaper than taking those services from a separate provider and signing up for Sky TV separately.
You might also want to look into Now TV Passes. These don't require a subscription and allow you to sign up for Sky Sports for one day, one week or a month without committing to a contract.
So if you're in a position where you need to cut back on your monthly outlay, it's easy to cancel.
Now TV also offers one-month passes that allow you to watch Sky Cinema channels, as well as Entertainment Passes that offer access to the likes of Sky Witness, Sky One, Sky Atlantic and more.
Do I need a Sky broadband package to get Sky TV?
Sky TV is a satellite TV service. So you don't need a landline or broadband connection to get it.
However, if you want to watch Sky TV on demand you will need to be connected to the internet.
What Sky TV packages are available?
Sky TV packs include: Sky Cinema, Sky Kids, Sky BoxSets, Sky Ultimate On Demand and Sky Q Experience.
You can also sign up for Sky Sports channels and get one, two or all its channels in a bundle
Will Sky TV work without a satellite dish?
At the time of writing, Sky TV requires a satellite dish. Sky TV will be available without a dish in future, but Sky has yet to announce when the service will launch.
In the meantime, your best bet if you're not able to install on a satellite on your property is to sign up for Now TV passes that let you watch Sky TV channels over the internet.