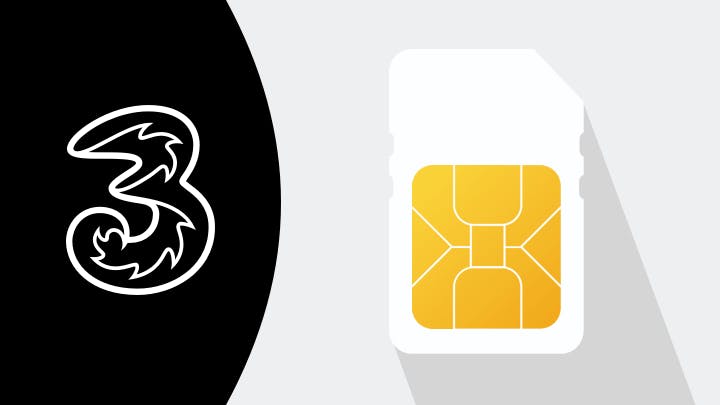 One of the four big networks in the UK, Three is known for reasonable prices, lots of options, and the fastest 5G speeds on the market. You'll find all that and more with its SIM-only deals.
Read on and we'll take you through the Three SIM deals you can get, and how to find the best one for you.
What SIM-only deals can I get from Three?
There are absolutely loads of SIM deals available from Three.
You can get a rolling one-month deal, or a longer-term 12-month or 24-month contract. The lowest data allowances start from 1GB of data per month, all the way to unlimited data. Most SIMs come with unlimited calls and texts as standard, so you're free to chat as much as you want.
While Three used to include extra perks and benefits with its plans, it's moved onto focusing on developing its 4G and 5G network across the UK. So, it's little wonder that Three regularly comes out top in 5G speed tests, pulling far ahead of the other major networks.
So, although new customers no longer get the value-adding extras Three used to offer, they can enjoy Three's superior 5G speeds and connectivity. Plus, the vast majority of SIMs come with access to Three's top-quality 5G network, at no extra cost.
If you have a tablet, iPad or other mobile broadband devices, you can get data-only SIMs for them, too. For more information, visit our page on Three mobile broadband.
How to compare Three SIM-only deals
Finding the best Three SIM deal for you is easy - just take a look at everything you can get in our comparison table. Adjust the filters so you only see the most relevant deals, sort them how you like, and select the one you like best.
You can choose between things like:
Data allowance
Calls allowance
Contract length
Price
Then just pick the one you want, and then click through to go to Three and sign up.
Is Three a good network?
If you want a SIM deal with one of the four big UK networks, Three is the most affordable option. Compared to its peers – O2, EE and Vodafone – its plans are very reasonably priced, and you get a good amount of data for the price you pay.
What Three lacks in value-adding perks and extras, it makes up for in its superior 5G network. As well as great coverage that's continuously expanding, its 5G speeds are the fastest you can get.
You can access free Wi-Fi at over 250 stations on the London underground – perfect if you're a regular commuter.
There's also the Three+ rewards app, where you can get exclusive offers from many brands, including restaurants and cinemas. Not to mention, Three+ members can enjoy access to presale tickets for a number of UK festivals.
For more on Three, read our full review.
Can I get an unlimited data Three SIM?
If you're the type to watch videos, stream music and play games online while on the go, it's well worth getting a plan with unlimited data. That way, you can use your phone as much as you like, without worrying about going over a limit and having to pay extra.
Luckily, Three offers unlimited data with its one-month, 12-month and 24-month plans. What's more, it has pay as you go Data Pack plans – if you use a lot of data, Three recommends checking these out, as they're better value than the standard Pay As You Go rates.
We recommend using our guide to data usage to get a general sense of how much data you actually need. Alternatively, you can compare deals right now with the below:
Does Three offer data only SIMs?
Yes, it does. Three offers a wide range of mobile broadband SIM plans, starting from a modest 1GB of data per month to unlimited mobile data. You can use these data-only SIMs with your handset, tablet and other devices.
Plans are on one-month, 12-month and 24-month contracts. And if you don't want to be tied to a contract, you can also get data-only SIMs on a pay as you go basis – simply pay an upfront cost for a set amount of data that's valid for anywhere between one to 24 months.
What's the cheapest Three SIM-only deal?
Three has a sizeable selection of SIM plans, and that means you'll find deals at various price points. If your budget is on your mind, you'll be pleased to know that there's a decent range of affordable plans.
At the time of writing (April 2022), its cheapest deal is a 24-month plan with 1GB of data and unlimited calls and texts, all for £6 a month.
But browse Three's SIM-only plans and you'll find that it has plenty of other low-priced deals, some of which get you a lot more data for just a few more pounds per month.
Bear in mind that its 12-month and 24-month plans are a lot cheaper than its one-month packages, which are on the expensive side compared to the likes of giffgaff, Tesco Mobile and SMARTY.
So, it's definitely worth shopping around Three's deals to find a plan that best suits you. While lower data allowances come with lower price tags to match, it may be the case that a higher data allowance works out as better value for you. Plus, sometimes there are time-limited discounts with the higher-priced packages.
To find the cheapest one that suits you, select what you need from your plan in the comparison grid, and sort the deals by cost. The cheapest Three SIMs will be right at the top.
Is a Three SIM deal cheaper than a phone contract?
In general, yes. You'll find that most of the time, buying a phone outright and getting a SIM-only deal works out to be cheaper over two years, compared to getting a mobile contract with a handset.
That's the case with Three, too. You can save up to a good hundred quid or so by choosing SIM-only – and since SIM contracts are shorter, you're free to upgrade to a cheaper deal sooner.
Still, Three's contract deals aren't half bad – the difference in overall cost for slightly older or mid-range phones is actually pretty low. If you'd rather not splash out on a handset upfront, a Three contract can give you all the same benefits as its SIM plans and make your costs easier to manage.
Can I upgrade a Three SIM-only deal?
Yep, Three has a range of upgrade deals, especially if you're an existing customer. Just log into your My3 account to see what upgrade options you can get.
If you initially take out a SIM-only deal and later decide you'd rather have a phone contract, it's easy to change it. You can upgrade as soon as you're within 30 days of the end of your pay monthly contract, or, if you're on a rolling one-month SIM plan, after three months.
If you think you'll likely change or upgrade soon, it may be best to take out a Pay As You Go plan, which allows you to upgrade any time you like.
What network does Three use?
Three is one of the four big mobile networks in the UK. So, it actually operates its own network, and other networks like SMARTY and iD Mobile use Three's infrastructure too.
It's the fastest 5G network right now, regularly coming out top in speed tests – leaps and bounds ahead of its competitors.
Its combined 3G and 4G network is also extensive, covering 99% of the UK population.
Roaming with Three
While Three doesn't offer inclusive roaming in Europe like some other networks, it does have a 'Go Roam' plan. For a daily charge, you can unlock your call, text and data allowance in 71 international destinations, and use your plan as you would back home.
At the time of writing (April 2022), it costs £2 per day to unlock your UK allowance in Europe, and £5 per day in locations outside Europe.
For more on roaming, take a look at our guide on using mobile broadband abroad.
Can I keep my number if I switch to a Three SIM-only deal?
Yes – you can easily keep your current phone number when you switch to a new network.
Choose a new SIM-only plan. Compare deals and sign up to one that you like the look of. Your SIM will be sent through the post to you. While you're waiting…
Contact your current provider and request your PAC (porting authorisation code). You can request your code in a few ways: online, or by text or phone call. If you phone, they may try to talk you into sticking with them, but stick to your guns if this happens. They'll send you the PAC as a text message within two hours.
Give the PAC to your new network. When your new SIM arrives, it will have a new number. To change it to the old one, contact your new network and give them the PAC code. They'll take care of porting the number over. It could be as fast as one working day before the old number's transferred, but be aware that it can occasionally take a little more time.
It may sound complicated, but it's very simple in practice. If you want a bit more detail, check out our full guide to keeping your phone number:
What size SIM do I need?
SIM cards come in three sizes: standard, micro, and nano. What size you'll need depends on your device.
Will a Three SIM fit my iPhone?
Definitely. All of Three's deals come with clever multi-SIM cards – called a Trio SIM – which let you pop out the right size for your handset.
That means Three's SIMs will work in any phone, provided it isn't locked to another network, and you won't need to work out which size SIM to get.
What else can I get from Three?
If you're an existing Three customer, you can get some exclusive deals on devices, SIM-only plans and broadband.
For example, deals on the latest gadgets may come with discounts on the first few months.
More SIM-only deals
Take a look at the SIM deals you can get from other providers too:
Frequently asked questions
Are all Three SIMs 5G?
While not all Three SIMs come with 5G, most of them do at no extra cost.
Should I get unlimited calls and texts?
Similarly, the vast majority of Three's SIM plans come with unlimited calls and texts.
If you really don't think you'll call often, there's a 12-month plan that gets you 2GB of data, 200 minutes and unlimited texts every month for £7.
How do I cancel a Three SIM-only contract?
It's easy to cancel your SIM-only contract with Three. Simply get in touch with them, either by phone call or text, and give 30 days' notice when cancelling.
Make sure you have your personal details to hand: your mobile number, password, address and date of birth.
It's important to note that if you're leaving within your minimum term contract, you may be charged a cancellation fee.
If you're thinking of getting a contract with another provider, take a look at our cheap SIM-only deals.
Can I get a pay as you go SIM with Three?
Yes, you can. Three offers four Pay As You Go Data Packs, which give you a set amount of data per month, as well as unlimited minutes and texts.
You're free to cancel anytime, as there's no contract.