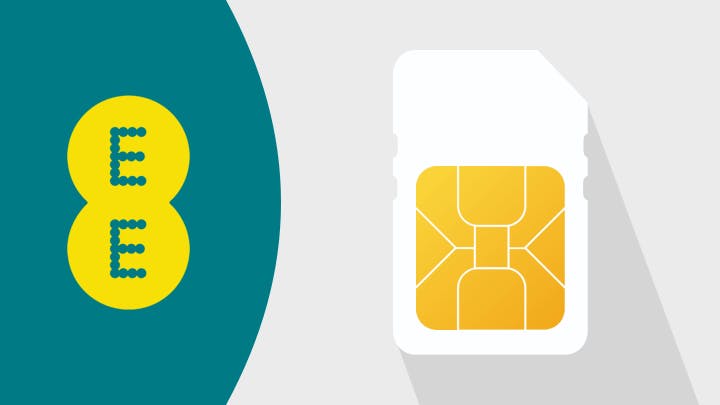 EE says it offers 'Everything Everywhere' - and it comes pretty close to fulfilling that promise. It's the country's biggest mobile network, known for its excellent 4G and 5G coverage, and has lots of extras and perks to give you the most for your money.
And all that applies for its SIM-only plans. Let's take a look at what you can get, and answer some common questions you may have about EE.
What SIM-only deals can I get from EE?
EE's got an excellent range of pay-monthly SIM deals, both for your mobile phone and for mobile broadband devices - like tablets and dongles. You can read all about EE mobile broadband in our special guide, but right here we'll explain what you can get for your smartphone.
All EE phone SIMs come with unlimited minutes and texts, but monthly data allowances vary. The smallest plan you can get comes with 250MB of 5G data, while you can get unlimited data if you sign up for 24 months.
12-month and 30-day contracts are available, but only the 12-month ones are available to order online. Its 30-day deals are quite a bit more expensive too, and they're missing a lot of the benefits you get with long-term plans, which means you may want to consider locking yourself in for a year.
All EE SIM deals include 4G mobile internet and many now come with 5G. The latter's availability is widening all the time. EE's speciality. Its 4G network covers more of the country than any other provider, while its 5G can reach lightning has 200Mbps, with EE claiming this could go above 1Gbps once 5G infrastructure improves.
Perks and benefits
With all 12-month SIM-only deals from EE, you can get the following benefits:
Wider coverage than any other UK network
Six months' free Apple Music
Three months' free BT Sport, via the BT Sport app
Wi-Fi calling - EE uses your Wi-Fi connection to make calls if signal is dodgy
Tethering, limited only by your monthly data allowance
EE Broadband customers get bonus monthly mobile data - up to a frankly insane 50GB extra per month
Is EE a good network?
In short, yes. EE regularly wins awards for its excellent coverage and range of SIM-only plans and devices. At the core of that is its superb network - it led the way with 4G and continues to offer more 4G across the UK than any other provider.
EE's ever expanding 5G network is also best in class, offering home broadband speeds to anyone with a compatible phone and the SIM-only deal to match. You can check EE's coverage map to see if your area has access.
It also has some of the widest ranging SIM-only plans available, with excellent extras such as free Apple Music, Apple TV+ and Apple Arcade access, BT Sport at affordable rates and data roaming deals. However, the latter no longer comes free as standard.
It's also worth keeping in mind that EE is more expensive than many other networks, with consumers paying a premium for its fast network and range of perks.
How to compare EE SIM-only deals
The comparison table at the top of this page lets you see all the currently available EE SIM-only deals. For each one, you can see how much it costs, the monthly allowance you get, and the contract length. All you need to do is take a look and find the one that looks best for you.
Looking for a specific allowance or budget? Use the filters to narrow them down to only the ones that fit what you need.
And if you're not totally sure that EE is the network for you, you can compare its deals alongside ones from other providers too.
When you find a deal you like, just click through and we'll take you to EE's website to find out more and sign up.
What's the cheapest EE SIM-only deal?
At the time of writing, the cheapest EE SIM-only deal costs £8 per month. That gets you 4GB of 4G data with unlimited calls and texts, on a 24-month contract.
This deal is great if you mainly call and text, don't use a whole lot of mobile internet, and want the best coverage (and all those lovely EE benefits) at the lowest price.
On the other hand, if you go online on the go a lot you may want to consider a deal with more data allowance. If you have a 5G phone, such as the iPhone 13, you may want to look for a 5G SIM-only deal.
To find the cheapest EE deal that suits you, we recommend filtering the deals on our comparison table and sorting them by monthly cost.
You'll usually find that plans with lower allowances cost less, though this is also a good way to spot special deals. 12-month contracts are quite a bit cheaper than 30-day ones too.
24 month ones are even cheaper, but remember you'll be locked in for two years if you opt for one.
Can I get unlimited data on EE SIM-only?
Yes, You can't get an EE SIM-only deal with unlimited data.
However, you can only get unlimited data if you go for a long term, 24 month contract. You'll pay £35 per month for unlimited calls, texts and data.
This is great for anyone who's glued to their phone and wants all the benefits of EE without having to take out a phone contract plan.
Is an EE SIM deal cheaper than a phone contract?
Generally, yes. It's almost always cheaper in the long run to buy a handset outright and grab a SIM-only deal to use in it - and in EE's case, you could save up to a few hundred quid on like-for-like deals by going SIM-only.
As a bonus, it also means you can switch your SIM plan for a cheaper one a lot sooner - at least a year earlier than you can with a contract.
Can I upgrade an EE SIM-only deal?
Yep - and EE has a good range of special upgrade deals for existing customers. If you're happy to stick with the provider, in fact, you can upgrade early: on a 12-month SIM you can upgrade to another EE plan after just six months.
You can switch to a different SIM-only tariff, or grab a contract on a phone. Sometimes its existing customer deals include money off top handset deals.
Can I keep my number if I switch to an EE SIM-only deal?
Yes - it's almost always possible to keep your current phone number when you switch to a new network.
1) Choose a new SIM-only plan - compare deals and sign up to one that you like the look of. Your SIM will be sent through the post to you. While you're waiting…
2) Contact your current provider and request your PAC (porting authorisation code) - you can request your code in a few ways - online, via text and even by post. If you phone, they may try to talk you into sticking with them, but stick to your guns if this happens. They'll send you the PAC as a text message within two hours.
3) Give the PAC to your new network - when your new SIM arrives, it will have a new number. To change it to the old one, contact your network and give them the PAC code. They'll take care of porting the number over. It could be as fast as one working day before the old number is transferred across, but be aware that on occasion it can take a little longer.
The main thing is not to stress. The process is not complicated and much more streamlined than it used to be. Want a bit more detail? Then check out our full guide to keeping your phone number.
What network is EE using?
EE uses its own network for its SIM-only plans, just as it does with its phone contracts.
While other providers such as BT Mobile and Plusnet use the EE network, going direct with an EE SIM-only deal has its benefits.
You get access to more perks, including free Apple Music streaming, and you'll be more likely to know about any planned works or reasons for the network going down (a rarity, but just in case.
Third party providers may offer cheaper deals, but you're unlikely to enjoy the same range of benefits. Plus you may find that 5G access isn't available.
Roaming with EE
EE stopped offering roaming as standard on its SIM-only deals and phone contracts in January 2022.
That makes it one of a number of major providers to stop allowing customers to use their data, calls and texts at no extra charge when abroad in Europe and selected other destinations.
If you travel a lot and want to use your phone while away, EE now has a Roam Abroad Pass which costs £10 per month and can be bought or cancelled any time.
This allows you to use your allowance in the EU, USA and Australia, as well as a number of other countries.
If you're going on a shorter trip to the EU, you'll be charged £2 per day to use your allowance. This will be charged automatically when you go online, make a call or send a text.
We strongly recommend keeping your phone in airplane mode and using WiFi instead if you want to save money and avoid bill shock when you get home, especially when travelling outside the EU where charges are much higher and vary depending on the destination.
EE's stablemate BT Mobile offers roaming as standard, so if you want the great network without paying to use your phone abroad, then consider them instead.
What else can I get from EE?
As well as SIM-only deals, EE offers a brilliant array of phone contracts. EE phone deals allow you to spread the cost of the best new phones, such as Apple's iPhone 13 and Samsung's Galaxy S22, all while accessing its award-winning network.
You can also get EE broadband, with speeds of up to 900Mbps, depending on where you live. Taking out EE broadband will also get you an extra 5GB on your data allowance.
More SIM-only deals
Take a look at the SIM deals you can get from other providers too:
Frequently asked questions
Are EE SIMs 5G enabled?
Yes, you can get 5G enabled SIMs on an EE SIM-only deal. However, not all SIMs come with 5G. When you compare deals, look to see if they offer 4G or 5G.
You can see this on every deal at the top of this page - 4G or 5G is listed beneath the data allowance of each deal.
If you have a 5G phone, we recommend getting a 5G SIM. EE's unlimited 5G deals are actually cheaper than 4G ones, so it makes sense. Just check you can get 5G in your area first.
Should I get unlimited calls and texts?
All EE SIM-only deals come with unlimited calls and texts as standard.
How do I cancel my EE SIM-only contract?
If your EE SIM-only contract is up, you can switch by texting INFO to 85075 for a PAC. Alternatively, you can call 150 from an EE phone or 07953 966 250 from any handset. You can also make a request to leave via My EE.
Remember, if you're still in contract, you'll need to pay up the remainder in order to leave.
Can you get pay-as-you-go EE SIMs?
Yes. You can get a free pay-as-you-go EE SIM direct from EE.
After that though you'll need to top up to get different 'packs' with 30 days supply of data, texts and calls, plus extras, with prices starting at £10 per month for 5GB of data and unlimited calls and texts.