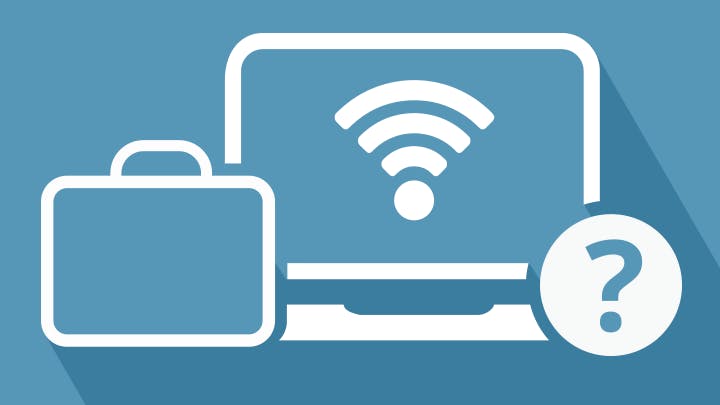 These days, most companies would struggle without decent broadband. Whether you're just starting out or already up and running, you can get a fast, reliable internet connection and cut your costs by taking advantage of one of the many great business broadband deals available across the UK.
Business broadband packages
Business broadband designed for commercial use comes with additional benefits you simply don't get with home broadband. Whether you're a freelancer working from home or the head of a company with dozens of employees - or something between the two - when it comes to getting online, business broadband packages have several important advantages over home broadband packages:
Priority service and support - Broadband providers tend to prioritise their business customers' needs over residential customers', and will deal with problems as swiftly as they can to keep your business online at all times.
Faster uploads - Business broadband normally offers much better upload speeds than home internet, which is important for adding new content to your website, sending large files or backing up to the cloud. Fast speeds come thanks to fibre optic lines - see fibre business broadband deals here.
Static IP addresses - Often included with business broadband packages, a static IP address makes it easier to host and run your own website and allow you to connect to your work computer from anywhere. You can compare packages with a static IP here.
Web hosting - Most business broadband providers offer additional services such as web hosting, cloud space, domain names and email addresses for employees, and sometimes include them in packages at no extra cost.
Which providers offer business packages?
TalkTalk Business
TalkTalk has a huge range of plans in its arsenal for businesses of all sizes. For broadband, there's everything from a basic ADSL line, to complete Ethernet fibre connections with download and upload speeds that reach up to 1Gb. Needless to say, you have a lot of choice. All packages include unlimited downloads, no web traffic management, WorkSafe internet security, and the Talk2Go app if you include a phone plan.
Speaking of which, TalkTalk's voice and calling services aren't to be sniffed at either. It offers phone lines, complex business phone systems, voice-over-Ethernet, inbound solution, and of course easy-to-remember phone numbers.
Other services available include hosted data centres, call recording, and business mobile deals. Oh, and it's all fantastic value too.
Virgin Media Business
Small and medium-sized businesses can choose between two primary package types from Virgin Media. Essential Business Internet is their basic business package that gives you the bare essentials - download speeds of up to 50Mb, unlimited downloads and up to 72-hour fault response; while the Voom Fibre option offers download speeds of up to 350Mb, and up to 12-hour fault response.
XLN Telecom
XLN is a company that focuses on broadband and phone lines for small businesses. Its two main packages, Basix and Max, are available with ADSL lines, fibre optic broadband, and line rental. Every single package includes 24/7 UK-based customer support, as well as the option to add security software.
There aren't many options for larger businesses, but if all your workplace needs is a phone line and an internet connection, you're in luck.
BT Business
BT's options for business broadband are some of the most wide-ranging out there. If your business only needs the internet for checking emails every now and then, you'll be fine with the basic BT Broadband; while a larger company that needs a constant reliable connection can get a leased line.
As for voice services, it has four line rental options with varying levels of customer care, right up to BT Prompt Care that makes you a priority when there's a fault with your line. You'll have approximately a gazillion calling features available to add on as well - like three way calling, internal calls, and hunt group numbers.
Like with all BT broadband packages, signing up will get you free access to over 5 million public Wi-Fi hotspots, so you can work from almost anywhere.
bOnline
If you're looking for a broadband provider that gets small businesses, bOnline is definitely worth a look. The provider specialises in affordable, easy to understand packages, with speeds of up to 24Mb 40Mb or 80Mb. That means it can cater to sole traders or offices alike.
It has excellent customer service and technical support, and offers extended business services too, including website design and search engine optimisation.
Static IP addresses
One of the main benefits of business broadband packages is that they usually include at least one static IP address. Home broadband typically has a dynamic IP address - an identifying number that changes at regular intervals. A static IP address always stays the same, allowing you to access advanced internet features that are particularly helpful in business, like setting up your own FTP server so you can transfer lots of files. The main advantages of a static IP address to a business are:
Access your computer remotely - With a static IP address your computer can be located and identified on the internet, allowing you to log in to it and access files and software on it from anywhere as long you can get online.
Host your own website and FTP server - Associating your domain name with a static IP address means your website can be found, while an FTP server allows you to send and receive large files from those you do business with more easily.
Set up your own email - A static IP address also allows you to set up an email server, giving you direct control over your business's email, which you don't get with an external provider.
Leased lines
A leased line essentially provides your business with its own private internet connection, meaning it won't be affected by other network users in the area. Having your own connection also means the speeds you pay for are the speeds you get - there's no guarantee that will be the case with regular business broadband. You might need a leased line if you're hosting your own website or email server, send a lot of large files or want greater resilience and security from your internet connection.
Business phone packages
In the same way upgrading to business broadband helps you get more out of being online, business phone packages offer additional features to help your company flourish. A phone line's usually required for broadband, so it makes sense to get your business's broadband and phone from one provider. Depending on which provider you choose, you might get a discount on calls or even on mobile plans that come with handsets for employees. The main advantages of business phone packages are:
Business phone numbers - Business phone packages offer different kinds of numbers. While local numbers can reassure customers nearby, a free, non-geographic number will help attract new customers from further afield.
Second line - If you need a second phone line, perhaps to help manage customer enquiries, your business phone provider should be happy to help. You'll usually get a discount if you take multiple business landlines.
Priority support - Business phone providers understand the importance of a working phone line to your company, so they'll respond as quickly as possible to any technical issues.