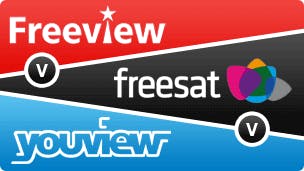 At first glance, Freeview, Freesat and YouView are very similar. They all offer dozens of free-to-air TV channels and catch-up services without a subscription fee. But there are, in fact, quite a few important differences between them. We take a look to help you find the right one for you.
Freeview, Freesat and YouView set top boxes
Freeview comes in many different forms. You can get it with a set top box, a streaming stick or a TV that has Freeview built in.
To get started with Freeview, simply hook it up to your aerial - and broadband, if you want to stop and start live TV or watch streaming services - and you're good to go.
Freesat is broadcast via satellite and gets you a lot of channels for a very keen price. However if you don't already have a satellite dish, you'll need to get one installed.
Freesat is a good choice if you have bad TV signal in your area, or already have a satellite dish installed.
YouView set top boxes come free with BT TV and TalkTalk packages, but are sold separately too.
As with standard Freeview boxes, you simply connect a YouView box to your aerial to be able to access the full range of Freeview channels. And connect it to the internet for streaming services.
Cost comparison
You can pick up a basic Freeview box, without recording functionality, for less than £20, making it the cheapest of the three.
Alternatively, Freeview HD TVs, which are available from most of the big-name electronics companies, start at around £170.
Freesat and Freeview are similarly priced, although with Freesat you will end up paying more to get a satellite dish installed if you don't already have one. Budget for about £80 to cover installation.
A basic Freesat box, with no recording capacity, will likely set you back around £45. But if you want the latest Freesat box with recording and on-demand functionality, expect to pay about £180.
A YouView box can cost up to £135 to buy outright, although cheaper models generally cost £80-£90. YouView boxes come free with BT or TalkTalk TV bundles, but you'll be tied in to a contract and monthly payments.
Click on the button below to see our pick of the best BT and TalkTalk TV deals on offer right now:
*Average speeds are based on the download speeds of at least 50% of customers at peak time(8pm to 10pm). Speed can be affected by a range of technical and environmental factors. The speed you receive where you live may be lower than that listed above. You can check the estimated speed to your property prior to purchasing.
Verdict

Freeview wins this one.
Channels and streaming services
Freeview offers 70 channels, as well as 15 HD channels if you've got an HD TV and a set top box with Freeview HD.
Newer 'Freeview Play' boxes offer all this, plus the option to subscribe to Netflix and add more channels with Now TV passes.
YouView has the same number of channels, with the option to get a lot more when you get with a pay TV service from BT or TalkTalk. Newer YouView boxes also allow you to subscribe to Now TV, Amazon Video and Netflix.
TalkTalk's Sky Cinema boost, for example, includes the most popular movie channels, including Premiere, Disney, Thriller and hundreds of films live and on demand.
And you can add ten channels kids' TV with a Kids TV Boost, including Nickelodeon, Disney Channel, Cartoon Network, Boomerang and Baby TV.
But when it comes to sheer quantity of channels, Freesat comes out on top, with a whopping 200+ TV and radio channels, including Retro Movies, horrorchannel, CBS drama and BET. Most Freesat boxes now support Netflix too
Verdict

Freesat takes the trophy here.
HD
Freesat, Freeview and YouView all allow you to watch your favourite shows in HD.
However, while YouView has 13 HD channels, Freesat offers 13, and Freeview boasts an impressive 15 HD channels.
Verdict

Freeview and YouView win this one.
Recording
Freeview, Freesat and YouView all let you record, pause, and rewind live TV, as well as offer boxes that let you save between 500GB or 1TB of TV.
Verdict

This one's a tie
On Demand
All three TV services offer catch-up functionality. Here's how they compare:
Freeview: BBC iPlayer, ITV Hub, Demand 5, All 4, UKTV Play and STV Player.
YouView: BBC iPlayer, ITV Hub, All 4, Demand 5, STV Player, Milkshake, UKTV Play, S4C, Quest. Plus BBC and TalkTalk offer extra on demand options depending on your package.
Freesat: BBC iPlayer, ITV Hub, All 4, Demand 5.
Verdict

A comfortable winner for YouView.
Usability
Freesat offers a seven-day catch up service called Freetime that lets you organise your recordings, as well as go back and watch the shows you've missed.
It's simple enough to use, but it doesn't come as standard. You'll have to double check that the box you choose supports Freetime.
When it comes to Freeview, different manufacturers and TVs will have different interfaces for the service, so it's difficult to give a straight answer on this one. What I can say though, is that it's very easy to set-up.
YouView stands out for its user-friendly design and accessible features. For instance, catch-up is integrated into the TV guide, and it's easy to switch on subtitles or audio descriptions.
Plus, there's an interactive zoom feature that makes the TV guide that much easier to read, along with audio feedback and a high contrast user interface.
Verdict

YouView wins for usability.
Movies
Freeview alone doesn't offer a lot of movies, although it is compatible with TV streaming services. So, if you have the right TV and broadband connection, you can access apps for Netflix, Amazon Prime Instant Video, Now TV and more.
Freesat has the fewest movie services, although you can add on demand services like Netflix.
Meanwhile, a standalone YouView box lets you use Netflix, Now TV, and Prime Video to buy and rent movies.
With BT TV, you'll get all of those and BT Box Office, as well as the Sky Cinema bolt-on, and you can also add all of Sky's movie channels to a TalkTalk TV package at any time.
If you're with TalkTalk, you can sign up for Sky Cinema, which gets you 11 dedicated movie channels and over 1,200 on demand movies.
Verdict

YouView takes it.
Sport
The standard channels available on Freeview and Freesat are by no means outstanding for sport. That's because most of premium sports events and competitions are solely available on paid-for channels.
That said, if you've got a Freeview Play box you will at least be able to subscribe to Now TV Sports passes to watch Sky Sports channels.
YouView is a far better proposition, though. TalkTalk TV, for example, lets you add on the full suite of Sky Sports channels as a Boost. You can get BT Sport too.
Naturally, BT Sport is also available on YouView from BT TV, and a Sky Sports Bolt-on can be added and removed whenever you like.
Verdict

YouView is best in this department.
Overall Winner
Sure, Freesat has the most channels. And Freeview might well be the kindest to your wallet. But for us, YouView is the best of three services. By some distance.
With an easy-to-user interface and a great range of HD channels, it offers a great TV experience for a good price.
Better still, you can get loads of extra channels and hours of on demand extras if you get the box via a BT TV or TalkTalk TV package.
Overall winner

YouView.