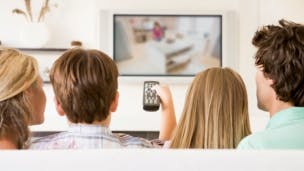 Once upon a time, a standard TV could only pick up five channels. But since the digital switchover, the number's now jumped up to over 60 - and that's thanks to Freeview.
What is Freeview?
It's the basic, free digital TV you can get in the UK. It doesn't require any kind of monthly subscription - just a TV set, an aerial, and a TV licence - and gives you the minimum number of channels you can get on telly. That's around 70 channels or so.
Freeview was founded in 2002, and it became the default way to receive basic TV after the digital switchover in 2012. It's what's known as DTT - digital terrestrial television.
Modern TVs have a Freeview tuner built right into them, but if you want a few more features - like recording from Freeview+, catch-up TV from Freeview Play, and apps like BBC Sport - you can get a separate, more advanced set-top box. That'll cost you anything from £25 to £200.
For anyone who just wants a bit of TV to watch every now and then, it's ideal; but serious telly fans will find it a bit lacking. There aren't any on-demand box sets, recommendations, or premium channels here, for instance. You'll only get those with a proper pay-TV package from Sky, Virgin Media, BT, or TalkTalk, even if it's just a cheap one.
Which is best: Freeview, Freesat, or YouView?
What channels can I get with Freeview?
You get somewhere between 60 and 70 channels with Freeview, depending on your location. They are…
| | |
| --- | --- |
| Entertainment, lifestyle, factual | BBC One, BBC Two, ITV1, Channel 4, Channel 5, ITV2, BBC Four, ITV3, Pick, Dave, More4, Really, Yesterday, Drama, 5USA, ITV4, Home, ITVBe, E4, 5STAR, Spike, Quest, Food Network, Challenge, Four7, My5, True Entertainment, CBS Action, CBS Reality, Tru TV, Horror Channel, CBS Drama, Your TV, Blaze, Community Channel, Travel Channel |
| Music | Chart Show TV, 4Music, Viva |
| International and regional | S4C, BBC Alba, TG4, RTE One, RTE Two |
| News and sport | BBC News, BBC Parliament, Sky News, RT |
| Film | Film4, Sony Movie Channel, Movies4Men, True Movies, Talking Pictures TV |
| Kids | CBBC, Cbeebies, CITV, Pop, Tiny Pop, Kix |
| Shopping | QVC, Ideal World, Create and Craft, QVC Beauty, QVC Style, Rocks and Co, Gems, The Jewellery Channel, Jewellery Maker, Hochanda, Sewing Quarter |
| Religion | TBN UK |
As well as all that, you also get a few +1 versions, around 15 HD channels, various local channels (like Estuary TV and Sheffield Live), adult channels, and 30 or so digital radio stations.
So you get a decent range, but a lot of great telly is still missing. There's no Sky 1, Sky Atlantic, Comedy Central, GOLD, Discovery, Cartoon Network, or sports - you'll need to take out a full TV package for those.
Featured TV and broadband deals
Starter + Superfast Fibre + Weekend Calls
Full House Sports TV Bundle
Sky Entertainment + Fibre
Full House TV Bundle
£491.87

Total first year cost

£770.00

Total first year cost

£581.95

Total first year cost

£680.00

Total first year cost

£35.99 p/m for 18 months £59.99 setup costs

18 month contract

£75.00 p/m for 12 months £20.00 setup costs

12 month contract

£46.00 p/m for 18 months £29.95 setup costs

18 month contract

£55.00 p/m for 12 months £20.00 setup costs

12 month contract

Average speed 50 Mb
Average speed 213 Mb
Average speed 36 Mb
Average speed 213 Mb
Weekend calls inc.
Weekend calls inc.
Pay as you go
Weekend calls inc.
Channels 96
Channels 269
Channels 138
Channels 257

Offer ends 21/06/18

Offer ends 20/06/18

Offer ends 21/06/18

Offer ends 31/07/18

Go
Go

Call Virgin Media on

0808 168 6088

Go

Call Sky on

0800 759 1469

Go

Call Virgin Media on

0808 168 6088
What's good about Freeview?
It's free
Widely available - 98.5% of the population can get it
Huge variety of Freeview set top boxes and TVs
60+ channels means you've got all the basics and then some
Around 15 HD channels included
7-day catch-up and recording available with certain set-top boxes
What's bad about Freeview?
It only offers the absolute minimum number of channels
Lots are missing, like Sky channels, Discovery, and GOLD
Can't get Sky Cinema, Sky Sports, or BT Sport
On-demand is very limited compared to premium packages
Set-top boxes aren't as good as Sky Q or Virgin Media TiVo