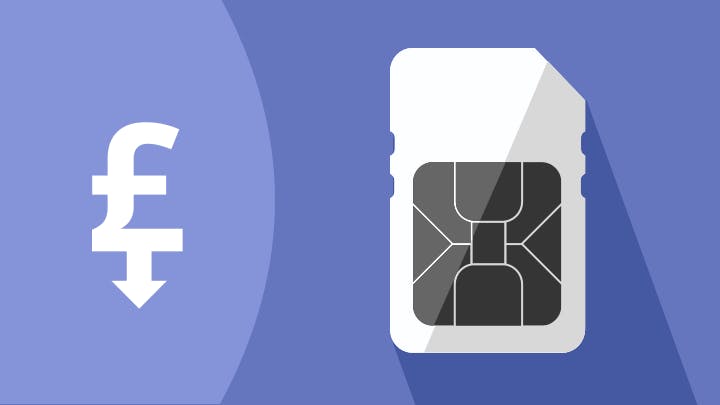 Why spend a fortune on that swish new smartphone, when you can just use the one you already have? If you want to save money on your mobile bill, a cheap SIM-only deal is one of the best ways to do it - and fortunately there's loads to choose from!
On this page, you can compare deals from all major networks, including Three, O2, EE and Vodafone, as well as smaller operators like giffgaff, iD and Voxi. Here's how:
Our grid above lists SIM-only deals by total cost by default
If you prefer, use the pull down menu at the top right of the grid to sort by monthly cost instead
You can also use the filters at the side of the page to set your search preferences such as a minimum data allowance, or specific networks
If you see a deal you like, click visit now and we'll take you to the provider's website where you can sign up.
What to consider when choosing a cheap SIM-only deal
You'll be confronted by tons of options when you compare cheap SIM-only deals - from data allowances, to contract terms, inclusive minutes and texts and more. To make sure you get the plan that's best-suited for you, ask yourself these questions:
What data allowance do I need?
You'll need mobile data for browsing the web, sending email, listening to music and watching video online. The allowance you should choose depends on how you use your phone.
Video, for example, really munches through the megabytes, while sending emails uses very little. If you're not sure how much data you need, you have some options to help you find out:
Download a data tracking app onto your current phone. These record how much data you use over a given period. Some networks offer their own - My Three or My EE for example - but you can also find lots of third-party tools on the Apple App Store or Google Play Store.
Use our comprehensive guide to choosing a data plan to calculate a general usage allowance. We list the data used by different apps, as well as different activities.
What contract terms should I get?
SIM-only plans typically come as either 12-month or one-month contracts. The best choice will obviously vary from person to person, but here's some general advice:
Pick a 12-month contract if… you're confident about your choice and want to pay the least amount possible over the year. A longer commitment means that these types of plan often work out cheaper than their one-month equivalents. That said, special offers can change that sometimes so make sure you compare SIM-only deals to make sure you're not missing out.
Pick a one-month contract if… you want the flexibility to change your mobile plan at any time. The advantage of short term contracts is that you can upgrade or downgrade your data, texts and minutes allowances at any time, or even change networks if you're not happy with coverage or other elements of the service.
Is my phone locked or unlocked?
If you plan to switch to a new network, you'll need to make sure your phone isn't locked to your old one. If it is, your new SIM won't work, but don't worry - your old network will be able to unlock the handset for you. If you're still within your contract terms, you may be charged but if your contract term is up, it's typically free.
If you're not sure whether your network locks phones, or you want more information about how to get it unlocked, check out our full guide:
Have I cancelled my old phone contract?
If you're ready to switch to a SIM-only plan, cancel your old one as soon as you can. Most mobile phone contracts require 30 days' notice to leave, so you'll want to call them up as soon as possible.
They may try to persuade you to stick with them, maybe offering alternate plans. In some cases, you may be able to negotiate a better deal, but don't feel pressured to stick with the same company if you want to change or there's a better deal online.
Do I want to keep the same phone number?
When you leave your existing plan, ask your old provider for a porting authorisation code (PAC) - you'll need this to transfer your number to a new operator.
You'll be sent a code - give this to your new provider and you'll be able to keep your phone number. It's actually a really easy process and you can get step by step instructions on how to do it in our guide:
Cheap iPhone SIM deals
iPhones are one of the most best (and most expensive) types of phone, so unsurprisingly many people want to keep using theirs after their initial contract expires. It doesn't matter if you have a swanky new model like the iPhone 8 or iPhone X, or a reliable old iPhone 6s - the SIM plan you pick will work with it.
What's the cheapest SIM-only deal?
SIM-only deals change all the time - so the cheapest will vary from week to week. You can see which plans are cheapest by simply looking at the top of this page, but here are some more general tips to help to minimise the price.
Go with an virtual operator - a mobile virtual network operator (MVNO) is a company that uses another's network to deliver services. giffgaff, for example, users O2's network, while Virgin Mobile share EE's. In many cases, these work our cheaper than the larger networks, so don't discount them!
Look out for special offers - competition is fierce in the SIM-only market, and networks are tripping over themselves to offer better deals than their rivals. That means you should be on the lookout for them. Again, you'll be able to easily see them on this page, but we also curate some of the best each month.