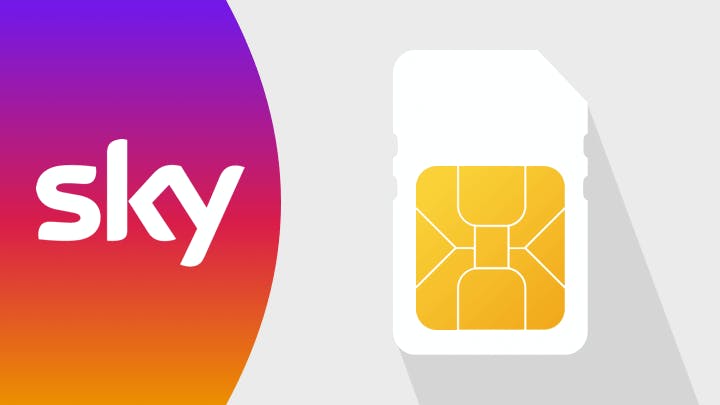 We all have that one mobile phone we fall in love with. We carry our faithful friend around with us until the contract ends… and then what? Well, if you want to keep the relationship alive, why not switch to a SIM-only deal?
The good news is that there are plenty of SIM-only plans available from Sky Mobile, designed to appeal to all types of users. In this guide, we'll tell you how to find a great deal that meets your needs, and answer some common questions.
How do I compare Sky Mobile SIM-only deals?
The grid at the top of this page shows you loads of SIM only deals from your network. As standard, it displays everything from budget plans for the lightest of users, to mega-data options for those who soak up the gigabytes like sponges.
To find the SIM-only plans that best suit you, use the filters at the side to adjust your search. Some of the filters you can choose are:
Maximum monthly cost
Data allowance
Number of inclusive minutes
Number of inclusive texts
SIM type
Contract length
Use these filters to build a grid that only shows the deals that hit your specific requirements. Then, when you find a deal you like the look of, click through and we'll send you to the provider's website where you can buy it or find out more.
Alternatively, we highlight some of the best deals around each month. Take a look at our guide:
Is Sky Mobile a good network?
Sky Mobile is a reliable and affordable network, making it easy to recommend to most users. There's a decent range of data allowances to suit different users, plus unlimited calls and texts with all packages.
It's priced quite competitively, in line with budget networks like giffgaff, iD Mobile and Tesco Mobile. But it also offers some unique features and perks that you'd typically only find with big-name networks like O2, such as its generous data rollover scheme.
Speaking of which, Sky Mobile uses O2's extensive network, meaning that you can get a reliable 4G connection almost everywhere in the UK. And if your device is 5G-ready, you'll be able to make use of its growing 5G network.
If you already have Sky TV, it's a no-brainer – some of the best Sky Mobile deals are reserved for Sky TV customers.
However, if you're a power user looking for an unlimited data deal, you'll need to go elsewhere – right now, Sky's biggest data allowance is 30GB per month.
And if you want a short-term plan, it may be better to check out 30-day SIM deals from the likes of giffgaff and VOXI, as all Sky Mobile's SIM-only plans are on 12-month contracts.
Should I get a Sky Mobile SIM-only deal?
It's well worth considering Sky Mobile, as it has quite a few handy and unique features – particularly if you're an existing Sky TV customer:
Data rollover – any unused data at the end of the month is automatically rolled over into your Sky Piggybank, which you're free to use whenever you like for up to three years. You can even share your spare data with friends or family by getting a new SIM. Not to mention, the unused data you save can sometimes earn you rewards, such as phone accessories or money off gadgets
Stream Sky TV on your mobile without using up data – if you already have Sky TV and sign up to Sky Mobile, you'll be able to stream unlimited TV from all Sky apps without using your data allowance
Truly flexible contracts – while some networks only let you change your plan once your contract ends, Sky Mobile's 'Mix' feature lets you switch up your plan whenever you want during your 12-month contract
If you already have a handset you're happy with, or you'd prefer to buy a new phone outright rather than as part of a contract, a SIM-only plan is the way to go. As well as having lowest possible monthly bills, you'll have a wider choice of deals to choose from and greater flexibility to change.
Are Sky Mobile SIM-only plans cheaper than their phone contracts?
Typically, yes – it's safe to say that SIM-only plans are almost always cheaper than a mobile phone contract.
Unlike a phone contract deal, you don't have to pay off the cost of the handset over the course of the contract, meaning your monthly bill and overall cost should work out considerably less.
Another bonus is that contracts tend to be shorter. Pick up a new iPhone contract, and you're probably locked in for a good 24 months. In contrast, all of Sky's SIM-only deals are on 12-month contracts, leading to a much lower overall cost.
What are the cheapest Sky Mobile SIM-only deals?
At the time of writing (April 2022), Sky's SIM-only plans start from £7 a month for 3GB of data. Some of the more expensive plans do include free data boosts or discounted rates, though – deals change all the time, so the cheapest option really depends on when you're looking.
To see what you can get right now, simply sort the grid above by total or monthly cost – the lowest prices will then appear first.
Alternatively, visit our main SIM-only page to compare loads more cheap SIM-only deals from other providers:
Can I upgrade a Sky Mobile SIM-only deal?
If you're already a Sky Mobile customer but you'd like to change your plan, it's easy to do so. Although all Sky Mobile deals come on a 12-month contract, you're allowed to change your plan every month during your contract. So, if you want to upgrade to a SIM-only deal with a higher data allowance, you're free to do so.
What network is Sky Mobile using?
Sky Mobile uses the O2 network.
As one of the four big networks, O2 has excellent coverage across the UK. Its 3G and 4G network covers around 99% of the UK population, and its 5G coverage is ever-increasing, too.
So, as a Sky Mobile customer, you'll be able to enjoy a steady and reliable connection with O2.
Roaming with Sky
If you're travelling abroad, Sky Mobile has a few options depending on where you're going:
Roaming Passport – use your calls, texts and data as you would back home in over 30 EU/EEA destinations
Roaming Passport Plus – pay a fee for a one-day pass that allows you to use your SIM plan as you would back home in 12 non-EU destinations
If the country you're going to isn't covered by either of Sky's Roaming Passport plans, you can still use your phone – but roaming charges will apply.
It's always best to check before you set off on holiday. For more information, read our guide about using your mobile broadband abroad.
Can I keep my number if I switch to a Sky Mobile SIM-only deal?
Yes – you can easily keep your current phone number when you switch to a new network.
Choose a new SIM-only plan. Compare deals and sign up to one that you like the look of. Your SIM will be sent through the post to you. While you're waiting…
Contact your current provider and request your PAC (porting authorisation code). You can request your code in a few ways: online, or by text or phone call. If you phone, they may try to talk you into sticking with them, but stick to your guns if this happens. They'll send you the PAC as a text message within two hours.
Give the PAC to your new network. When your new SIM arrives, it will have a new number. To change it to the old one, contact your new network and give them the PAC code. They'll take care of porting the number over. It could be as fast as one working day before the old number's transferred, but be aware that it can occasionally take a little more time.
It may sound complicated, but it's very simple in practice. If you want a bit more detail, check out our full guide to keeping your phone number:
Can I get an unlimited data Sky Mobile SIM?
Watching Netflix, streaming music, online gaming and video calling: all activities that eat up a lot of data. If you're often on your phone when you're out and about, you'll most likely need an unlimited data plan. That way, you can happily use your phone for data-intensive tasks, without worrying about going over your data allowance and incurring extra charges.
Unfortunately, Sky Mobile doesn't offer unlimited data plans. Still, its largest plan comes in at an ample 30GB a month, which may be more than enough to suit your needs.
Use the filters at the top of the page to select a minimum amount of data and see what deals are available. If none appear, or your chosen mobile operator doesn't offer enough GB to satiate you, check out our page for more options:
What else can I get from Sky?
Of course, Sky is synonymous with its most well-known offering, Sky TV. With its vast selection of sports coverage, streaming subscriptions, blockbuster films and TV channels, it boasts some of the most comprehensive TV packages on the market.
Not to mention, if you're an existing Sky TV customer, you can get some great offers on its mobile deals. And you can enjoy unlimited entertainment on the go – you'll be able to stream shows from all Sky apps on your phone, without eating into your data allowance.
More SIM-only deals
Take a look at the SIM deals you can get from other providers too:
Frequently asked questions
Are all Sky Mobile SIMs 4G?
Yes – all Sky Mobile SIMs come with 4G and 5G at no extra cost.
Should I get unlimited calls and texts?
You'll be pleased to hear that all Sky Mobile SIM plans include unlimited calls and texts, so you're free to chat as much as you like.
How do I cancel a Sky SIM only contract?
It's easy to leave your Sky Mobile SIM-only contract – simply get in touch with them. Just be sure to give 31 days' notice.
Do bear in mind that if you're cancelling your contract before the 12-month minimum term is up, you'll likely need to pay an early termination fee.