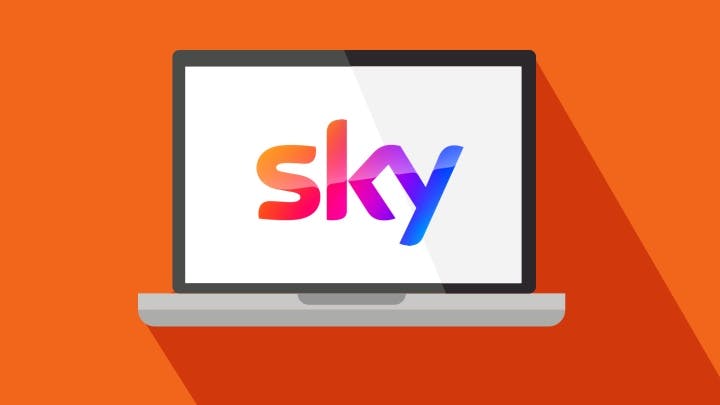 With over 10 million customers, Sky is one of the most popular TV subscription providers in the UK. But it also does competitive broadband and phone deals, too. Here's how to get them
Looking for the best Sky broadband, TV and phone deals? You've come to the right place.
Whether you want movies and sports, superfast broadband or a cheap mobile phone contract, Sky probably has a package to fit your needs.
And the best part is, we have everything you need to know about Sky – including how to get the cheapest deal – on this page.
Let's dive straight in…
All about Sky TV, broadband, and home phone: everything you need to know
With over 10 million customers, Sky is one of the most popular TV subscription providers in the UK – with competitive broadband and phone deals, too.
In essence, what Sky TV offers is one of the best TV services in the UK, with hundreds of channels. That's more than any other service. Thanks to its innovative Sky Q system, you'll have access to the latest and greatest in home TV technology.
You have the option to add on Sky Sports, to enjoy a plethora of sports at home; and Sky Cinema, for the best movies on demand.
Then, you can team that with broadband, with average download speeds up to 500Mbps depending on your area, a good landline service, and even Sky Mobile deals, if you like.
If you have a TV-loving household, Sky has everything to suit your needs – and then some. And with 500Mbps internet too, you have enough bandwidth to stream, game, and connect up your whole family's army of devices.
Want Sky channels without the satellite?
Interested in Sky Atlantic, Sky Cinema, or Sky Sports – but don't want to shell out for Sky TV? Take a look at Now TV Passes.
These give you a suite of channels, both live and on-demand, that you can normally only get through a pay-TV provider like Sky.
Instead, they roll over month to month, and you can access them via the app from your laptop, mobile, smart TV, or set top boxes from other TV providers (such as BT, TalkTalk, or EE).
What can I get from Sky Broadband?
Sky (www.sky.com) offers a standard ADSL broadband service, dubbed Essential, faster Superfast fibre broadband services and top-of-the-range Ultrafast and Gigafast services.
Sky Essentials - 11Mbps average broadband speed, with no download limit. Suitable for homes with one or two occupants and light internet users.
Sky Superfast 35 - Sky's entry-level fibre broadband, it offers speeds of 36Mbps and is widely available to 96% of UK households. Suited for most homes.
Sky Superfast - A fibre optic package with 59Mbps average broadband speed and no download limit. This package is ideal for streaming video and music, gaming, and large households with lots of people connected at the same time.
Sky Ultrafast - Sky's premium service with average speeds of 145Mbps. The catch is that it's only available in certain areas. At the time of writing, 32% of UK properties can get Sky Ultrafast.
Sky Gigafast - The latest of Sky's offerings, it uses 'Fibre to the premises' technology to deliver lightning fast speeds of 900Mbps. Like Ultrafast, it's only available in select areas - 24% of UK homes, according to Sky.
All Sky broadband deals come with a landline, as well as pay as you talk calls as standard.
However, if you use your landline a lot or need it make international calls, you can upgrade to Sky Talk Evenings and Weekends Extra, Anytime Extra, or International Extra.
Sky offers a range of TV bundles too, which combine broadband with movie channels, Sky Sports channels or Netflix.
What broadband and TV deals can I get from Sky?
As we say, although Sky is primarily known for its TV packages, it also boasts excellent standard and superfast broadband, too.
Here's a snapshot of the packages you can get:
Sky TV
Sky TV is the biggest subscription TV service in the country. It has just about everything anyone could want to watch – especially when it comes to films and sports.
It's delivered by satellite, meaning you'll need to get a satellite dish on your home, and provides up to a whopping 300+ channels.
When you sign up, you'll be sent a set top box to attach to your telly. Or, if you go for Multiscreen, Sky will send you additional boxes to set up in other rooms too.
You'll also have the option to add Sky Sports, Sky Cinema, BT Sport, extra kids' channels, HD and Ultra HD content, and more.
Sky Q
Sky Q is Sky's best set top box yet. It gives you a superior interface, an advanced, easy to use remote control, and loads more features - including the ability to access TV, on-demand, and recordings all over the house if you have multiple boxes.
All new Sky TV customers get a Sky Q box, and you have the option to spring for Multiscreen as well. This gives you an additional mini TV box to set up on a second television.
As a bonus, if you bundle up your TV and broadband, your Sky Q boxes can also deliver a boost to your Wi-Fi.
Sky broadband and Sky fibre
While Sky may not be as well known for broadband as it is TV, it's still the second most popular broadband provider in the UK. Sky Broadband comes in three flavours: Essential, Superfast, and Ultrafast.
All give you truly unlimited downloads.
Plus, for a little extra per month, you can also add Sky Broadband Boost. This gives you Broadband Buddy, Proactive Service, Premium Service, and even Mobile Data for outages.
What speeds can I get with Sky broadband?
Essential is basic ADSL broadband, with average download speeds of 11Mbps. Superfast is fibre optic, and gives you average downloads of 59Mbps. And Ultrafast goes up to average downloads of an incredible 500Mbps.
The exact speeds available to you will vary depending on your postcode, however. The good news is that Sky fibre optic broadband is quite widely available – so while you may not be able to get the top speeds of 500Mbps, there's a great chance you can at least get fibre at 59Mbps.
Sky Talk
This is Sky's home phone service. It comes with all Sky Broadband and Sky Fibre packages, though you can get it on its own too.
For a little more, you can even upgrade to Sky Talk Evenings and Weekends Extra, which gives you inclusive calls to UK landlines and mobiles on Saturdays and Sundays and every evening; Sky Talk Anytime Extra, which means you can use those inclusive calls whenever; or Sky Talk International Extra, which includes calls to 50 international destinations too.
Sky Sports
Sports fan? You need Sky Sports - still the biggest sports TV service in the UK, and the place to watch the Premier League, Formula One, and more. Get it with Sky TV; add it on to a Virgin Media TV, BT TV, TalkTalk TV package; or grab a Now TV Sports Pass.
Sky Cinema
If you enjoy your films, Sky Cinema offers a selection of channels that play nothing but movies all day - including some of the newest blockbusters before they reach any other streaming service.
Again, you don't even need Sky TV or Sky Broadband to get it. It's available on a variety of pay-TV services, including through Now TV with an Entertainment Pass.
Sky Mobile
On top of all that, Sky also now offers mobile deals. Its range includes 12-month SIM-only plans, with either 1GB, 3GB, or 5GB of data per month, as well as handset contracts on special 'Swap' tariffs.
Anyone can take out a Sky Mobile plan, but if you have Sky TV you'll get a few extra benefits - like unlimited minutes and texts, free Sky Go Extra, and features that let you connect to your Sky box from anywhere.
Sky Broadband Boost add-on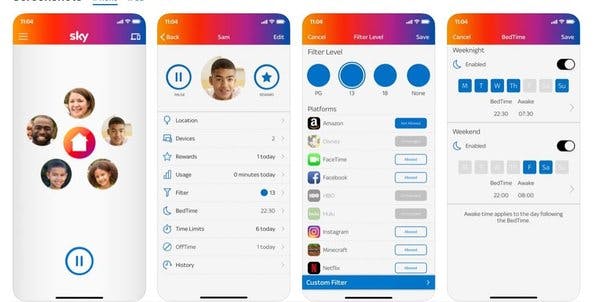 For an extra £5 per month, Sky Broadband Superfast, Ultrafast and Essential customers can also sign up for Sky's Broadband Boost add-on.
This lets you manage your family's internet time and even pause the internet from your phone, using the Broadband Buddy app.
Broadband Boost subscribers also get its latest Sky Hub router and benefit from Sky's WiFi Guarantee, which guarantees you a Wifi speed of at least 3Mbps in every room of your house.
Sky will also fix any broadband issues, provider flexible engineer visits on both evenings and weekends, and provide 2GB of mobile data in your Sky Mobile account if your broadband cuts out.
Sky Hub routers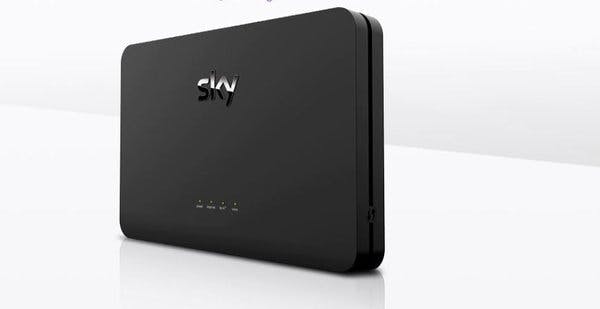 Sky broadband and home phone packages come with one of two routers: the older Sky Hub or the Sky Hub 2019.
The latter is faster and offers a wider range, faster speeds and is compatible with the Sky Broadband Buddy app.
To get the new version of the Hub, you'll need to sign up for Sky Ultrafast. Or sign up for the Broadband Boost add-on when you take an Essential or Superfast package.
The older Sky Hub has good range, as well as a lower-power mode that kicks when it's not in use to keep your energy bills down.
Like a lot of modern, high-tech routers, it's equipped with 'smart-signal' technology, meaning it'll scan for interference in your home and select the best Wi-Fi channel.
It also comes with Sky Broadband Shield. This will block websites at a network level, such as ones known to contain malware or phishing.
Sky Broadband gives you a free trial of McAfee Security Centre too. It lasts 12 months - but remember to cancel it when the trial is up, or you'll be charged £3 per month from thereon in.
The Sky Hub 2019 offers everything that the older Hub has, but provides a much wider-ranging, stronger signal and comes with the Sky WiFi guarantee that ensures you get a decent signal and minimum speed of 3Mbps throughout the home.
The newer Hub is also compatible with the Broadband Buddy app that allows parents much greater control over their children's viewing habits.
To find out if Sky is available where you are, use our postcode checker and take a look at your options.
Best Sky deals


New customers only Offer ends 07/12/2023

£26.00

per month

£23.22

Avg. monthly cost
New customers only Offer ends 07/12/2023



New customers only Offer ends 07/12/2023

£29.00

per month

£25.67

Avg. monthly cost
New customers only Offer ends 07/12/2023



New customers only Offer ends 07/12/2023

£32.50

per month

£29.72

Avg. monthly cost
New customers only Offer ends 07/12/2023



New customers only Offer ends 07/12/2023

£35.50

per month

£32.17

Avg. monthly cost
New customers only Offer ends 07/12/2023



New customers only Offer ends 07/12/2023

£34.00

per month

£30.67

Avg. monthly cost
New customers only Offer ends 07/12/2023



*Average speeds are based on the download speeds of at least 50% of customers at peak time(8pm to 10pm). Speed can be affected by a range of technical and environmental factors. The speed you receive where you live may be lower than that listed above. You can check the estimated speed to your property prior to purchasing.
Sky existing customer deals
Good news if you're already subscribing to a Sky service - the provider offers exclusive deals for existing customers too.
These are special deals or additional services that are only available to Sky households, and give you extra stuff at better value than a standard package. Upgrading can be less hassle than switching, and getting more from the same provider can mean lower monthly bills.
Sky broadband pros and cons
Pros
Sky Sports has exclusive rights to more big matches and sports events
Sky Cinema gets all the big films before other TV channels and online subscription services
Sky TV is available almost everywhere
Sky Q is super comprehensive and packed with features, like fluid viewing
You can also get just about any and every channel available in the UK
Sky Broadband is widely available
Sky line rental is generally among the cheapest charged by big providers in the UK
Sky Broadband Buddy provides excellent parental controls
Cons
Sky TV is expensive - if you want sports you can't get anywhere else, big films before you can watch them anywhere else and hundreds of channels, it'll cost you
If you want Sky TV, you'll have to have a satellite dish put on your home - there's no other way of getting it right now
You need an engineer to install Sky TV for you - you can't do it yourself
Sky Broadband has had problems with overcapacity in the past
Sky Fibre isn't as widely available as fibre optic broadband from other providers, such as BT
How does Sky compare against other providers?
Sky TV has more TV channels available than any other TV provider. Its nearest rival here is Virgin Media, which also offers channels in the hundreds. But the key difference is that Sky is delivered via satellite – making it very widely available.
Its broadband speeds are average for the industry. The speeds available are overall slower than those available from Virgin Media, and gigabit broadband (speeds up to 1Gbps, or 1,000Mbps) isn't yet available.
But its speeds are on par with most other broadband providers, including BT, TalkTalk, Plusnet, and EE.
About Sky
Sky Group Ltd is the UK's biggest satellite TV company, with the most comprehensive pay-TV in the country.
Sky Television initially formed in 1989, and over the years has merged with and acquired more TV companies to become the telly behemoth it is. It operates not just in the UK, but also across Ireland, Germany, Austria, Switzerland, and Italy too.
Today it offers the whole gamut of telecoms services in the UK – including TV, broadband, landlines, TV, mobile phones, and even business broadband.
Sky doesn't have its own broadband network, though; like many providers, it piggybacks on BT's Openreach platform.
Other TV and broadband providers
Frequently asked questions
Can I get Sky broadband deals in my area?
Sky's Superfast fibre broadband service and Essential standard broadband is widely available throughout the UK. However, Sky Ultrafast is solely reserved for larger towns and cities and is only available to 10% of UK premises.
To check which Sky broadband deals you can sign up for at your address, use our broadband availability checker.
How much is Sky broadband?
Sky broadband isn't the cheapest around. By way of example, if you choose the Essential service and you should expect to pay just under £400 over the course of an 18-month contract.
However, an equivalent service from Plusnet and TalkTalk comes in at around £300 for 18 months.
However, Sky is consistently rated highly for customer service so could be worth the extra outlay. Sky broadband is often bundled with free vouchers too.
Is Sky broadband any good?
With average speeds of 59Mbps on its Superfast package and 11Mbps for its low-cost Essential service, Sky speeds are in line with most rival providers.
It's also notable that while cheaper broadband is available, Sky generally offers significantly better customer service than the likes of TalkTalk.
And if time your purchase right, you may be able to get free vouchers when you sign up.
Want to know more? Read our Sky broadband review.
What speeds can I get with Sky broadband?
Average speeds on Sky's Essential broadband and Superfast broadband service are 11Mbps and 59Mbps respectively. However, the speed you'll actually get depends on the location of your home.
To get a more accurate picture of the speeds you'll get at your address, use our postcode checker.
Can I get Sky broadband without a landline?
Unfortunately you need a landline to get Sky broadband.
If you'd prefer to get standalone broadband and don't want a landline, we'd suggest you take a look at Virgin Media or Hyperoptic.
How long will it take to switch to Sky broadband?
The entire process of switching to Sky typically takes about two weeks from start to finish, but you may need to allow a bit longer if installation is required.
At the point when the switchover is actually taking place, you may be without service for a few minutes. But certainly no longer.
Find out more about switching provider with our one-stop guide.