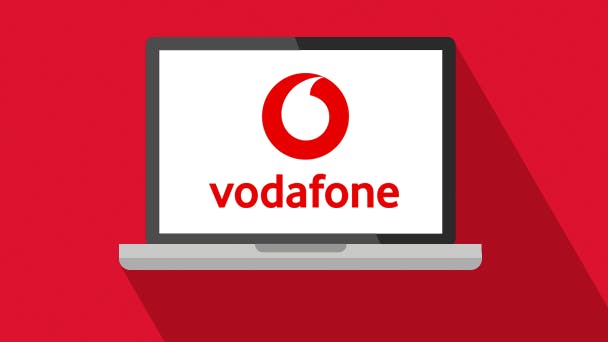 Vodafone is best known for mobile phone plans. But it sells a range of simple, well-priced fibre broadband packages too. We take a close look at what it's got to offer.
About Vodafone
With roots that date back to 1981, Vodafone is one of the world's largest telecoms companies, owning and operating networks in 22 countries.
In the UK, its range of products includes home broadband and phone bundles, as well as mobile phone contracts and its cloud-based Vodafone TV service via the Apple TV set top box.
All packages come with a highly rated router to help maximise coverage in your home. Not to mention, you can get a £3 monthly discount on your broadband deal when you also sign up for a mobile phone contract.
What broadband deals can I get from Vodafone?
Vodafone offers a good selection of fibre optic broadband packages, with a range of speeds to suit different needs.
Vodafone Superfast broadband
Its superfast fibre broadband products are the most widely available. The connection speeds you can get are:
Superfast 1 – average download speeds of 38Mbps
Superfast 2 – average download speeds of 67Mbps
Apart from the difference in download speeds, both packages are essentially the same. They're both available on 24-month contracts, and include:
Unlimited downloads, so you can browse and stream as much as you want without worrying about a usage cap
Free internet security with a six-month subscription to F-Secure SAFE
Parental controls that you can activate, to block sites you don't want the kids to access
Both packages require you to get a Vodafone landline when you sign up for broadband. If you don't use your home phone, don't worry – all packages come with line rental included. And if you do plan to use your landline often, you can add a call plan to your deal.
Vodafone Ultrafast and Gigafast broadband
For the speediest broadband on offer, take a look at Vodafone's Ultrafast and Gigafast options:
Superfast 100 – average download speeds of 100 Mbps
Pro Ultrafast 200 – average download speeds of 200Mbps
Pro Ultrafast 500 – average download speeds of 500Mbps
Pro Gigafast 900 – average download speeds of up to 900Mbps
All are available on 24-month contracts. They use 'Fibre to the premises' (FTTP) technology to deliver a full fibre connection directly to your home – as a result, you can get much faster speeds.
*Average speeds are based on the download speeds of at least 50% of customers at peak time(8pm to 10pm). Speed can be affected by a range of technical and environmental factors. The speed you receive where you live may be lower than that listed above. You can check the estimated speed to your property prior to purchasing.
Vodafone Pro packages

To take your Vodafone broadband to the next level, you can opt for Vodafone Pro.
Promising 'unbreakable broadband' and 'Super Wi-Fi', Vodafone Pro is intended to provide a reliable signal and fast connection in every room of the house. It's mainly aimed at home-workers, or simply anyone who needs a working internet connection at any given time.
Much like BT's Halo and Virgin Media's Intelligent Wi-Fi Plus service, Vodafone's Super Wi-Fi provides a powerful main router and Wi-Fi discs that function as supplementary routers.
Together, these create a mesh network that's much more robust than a regular Wi-Fi signal and is better at eliminating dead spots in your home, even in large properties.
Customers also benefit from the expertise of Vodafone's UK-based engineers. They can help tailor your set-up to your home and are on hand to monitor and fix problems.
In the event that your broadband goes down, the Wi-Fi router will automatically connect to Vodafone's 4G service. That means you're always guaranteed a working, failsafe internet connection without any interruptions – even if there's an outage in your area.
In fact, if Vodafone Pro doesn't live up to its promise of reliable Wi-Fi in every room, at all times, you're allowed to leave your contract early for free.
There are two tiers of the Pro service to choose from: Pro and Pro Xtra.
Vodafone's fastest three options (Pro Ultrafast 200, Pro Ultrafast 500, Pro Gigafast 900), all come with a Pro plan, as standard. Otherwise, you can add a Vodafone Pro plan to any Superfast package, or upgrade any broadband package with Vodafone Pro Xtra.
The Pro Xtra costs a bit more every month, but you get a free Apple TV 4K with a three-month Apple TV+ subscription, anytime landline and mobile calls, and a guarantee of no mid-contract price rises.
Additionally, all Pro customers are entitled to a free upgrade to Vodafone's 'Fibre to the premises' (FTTP) broadband when it reaches their area.
Which are the best Vodafone broadband deals?
Vodafone's Superfast 1 and Superfast 2 are the most widely-available broadband packages out of the bunch. They're reasonably priced, too – in line with other budget providers, and cheaper than the likes of BT and Sky.
Vodafone Wi-Fi Hub
Sign up for any Superfast package and you'll get the same Vodafone Wi-Fi Hub router free of charge.
Like routers from Virgin Media and BT, this allows you to control your Wi-Fi from your smartphone or tablet with the Vodafone Broadband app.
Other key features include:
Device boost – allows you to prioritise a device's Wi-Fi signal for a faster connection. It'll come in handy when you're downloading a big file on your laptop, or streaming a HD film on the TV
Private guest network – creates a second Wi-Fi network that's separate from your main network, so you can allow visitors to use the internet while keeping your data safe
Wi-Fi Schedule – gives you control over your screen time by letting you set custom online and offline periods. So you can disconnect selected devices when you're working, sleeping, or simply don't want any distractions
Plus, it's quick and easy to set up. It should be a case of plugging in your router and switching it on.
If you've subscribed for a Pro or Pro Xtra package, you'll receive Vodafone's Super WiFi router, which comes with integrated Alexa for voice control.
How reliable is Vodafone broadband?
Vodafone uses BT's Openreach network to deliver its internet service, so it should have roughly the same coverage and speeds as other Openreach providers.
However, according to Ofcom, customer satisfaction with Vodafone's service is slightly below average. Although customer satisfaction with speed is above average, it seems people are more likely to make a complaint.
Can I bundle Vodafone broadband with TV?
Vodafone's TV offering is more limited than likes of Sky, BT or Virgin Media and doesn't provide quite the same breadth of content.
While it does offer broadband and TV bundles, it's only if you upgrade your broadband to a Pro Xtra plan.
In doing so, you'll get a free Apple 4K TV set top box, as well as a three-month Apple TV+ subscription (new Apple TV+ subscribers only, though). You'll be able to stream shows from platforms like BBC iPlayer, ITV HUB and All 4, as well as access apps like Netflix and NOW TV.
Take a closer look at what Vodafone TV has to offer in our one-stop guide.
Can I get a home phone with Vodafone?
Yes, you can. In fact, all Vodafone packages require you to have a landline alongside your broadband service.
Pay as you go calls come as standard, so you only pay for the calls you make. And you get voicemail and caller display for no extra charge. So if you don't use your home phone, don't worry – you won't be paying anything extra.
On the other hand, if you plan on using your home phone often, there are a number of add-ons to choose from:
Evening & Weekend – evening and weekend calls to UK landlines
Anytime Landline & Mobile – anytime calls to UK landlines and mobiles
International 300 – 300 minutes a month to numbers in select countries
Can I get Vodafone fibre optic broadband?
All of Vodafone's broadband packages are fibre optic – it no longer provides standard ADSL broadband.
It offers a good selection of superfast fibre and speedier, higher-end ultrafast and 'gigafast' fibre packages.
It's highly likely that you'll be able to get Vodafone fibre optic broadband in your area – but what speeds you can get depends on where you live.
What speeds can I get with Vodafone broadband?
Superfast 1 – average download speeds of 38Mbps
Superfast 2 – average download speeds of 67Mbps
Superfast 100 – average download speeds of 100 Mbps
Pro Ultrafast 200 – average download speeds of 200Mbps
Pro Ultrafast 500 – average download speeds of 500Mbps
Pro Gigafast 900 – average download speeds of up to 900Mbps
What you can get depends on where you live. Its Superfast 1 and 2 packages are widely available, and you'll likely be able to get them in your home.
Conversely, the lightning-fast Gigafast is currently only available in select locations, although it's slowly being rolled out to more UK homes.
The easiest and quickest way to find out what you can get is to use our postcode checker. Just enter your postcode and we'll show you the Vodafone broadband deals available in your area.
What are the pros and cons of Vodafone broadband?
Pros
Packages are affordable, simple and straightforward
No one-off upfront costs or activation fees
Good range of superfast and ultrafast speeds, from 38Mbps to 900Mbps
Unlimited downloads on all packages, so you can browse and stream as much as you want
Existing Vodafone mobile customers can enjoy deals, discounts and introductory offers
Free Vodafone Broadband router, which has some smart tech
Landline included with all broadband packages
Cons
No broadband-only or landline-only options – can only get a package that has both
Only 24-month contracts available – no short-term options
TV is only available with the more expensive Pro Xtra package, and it's more limited than the likes of BT, Virgin Media and Sky
Very few extras - there's no cloud storage or email addresses like you'd get with broadband from other major providers
Gigafast service is only available to a very limited number of homes
How does Vodafone compare with other broadband providers?
Vodafone offers speeds that are in line with BT, Sky and EE. But still lags behind Virgin Media, which leads the way for speeds.
Still, Vodafone broadband remains quite affordable, with the plus point that there are no upfront costs to think about.
However, Vodafone's broadband customer service standards could be better. Ofcom's 2020 report on internet providers' customer satisfaction shows that Vodafone customers were significantly more likely than average to complain about their service.
Read our full Vodafone broadband review for more information.
Moreover, we've put together a host of provider reviews to help you compare what's available on the market.
Alternative broadband providers
Frequently asked questions
Can I get Vodafone broadband without a landline?
You can't sign up Vodafone without also taking a Vodafone landline. If you're set on getting a broadband-only package, we'd suggest you take a look at Virgin Media or Hyperoptic.
How long will it take to install Vodafone broadband?
If you've got an active phone line at your property, you'll be able to install Vodafone yourself and it should only take a matter of minutes. All you'll need to do is plug in the router and you're good to go.
However, if you don't have a landline active at your home, you'll require an engineer visit. In these instances, installation typically takes around two to four hours, depending on whether you're getting broadband with speeds of up to 67Mbps or above 100Mbps.
What network does Vodafone use for broadband?
Like Sky, Plusnet, EE and many more, Vodafone broadband is delivered by the Openreach network, which is owned by BT.
Openreach maintains the cables, cabinets and exchanges that connect the majority of UK homes to the national broadband and phone network. This means you're very likely to be able to get a Vodafone broadband service, unless you're in a particularly remote location.
Is it easy to cancel a Vodafone contract?
It's simple to cancel your Vodafone broadband contract. Give them a call on 0333 304 0191, or 191 from a Vodafone mobile, and have your Vodafone account number to hand.
Remember that you'll need to give 30 days' notice before leaving.
While it's easy to cancel anytime, there are a few things to consider before ending your contract.
If you're cancelling before your contract has expired, you'll need to pay an early termination fee. This consists of your monthly charge multiplied by the number of months left on your contract.
There are some exceptions:
You're cancelling within 14 days of signing up to Vodafone broadband (during the 'cooling off' period)
Vodafone has raised your monthly bill mid-contract – in this case, your broadband consumer rights say you're allowed to leave penalty-free within 30 days of being notified about the price increase
You've been facing issues with your broadband for a while and Vodafone hasn't done enough to resolve this – although you'll need some evidence of your correspondence in writing
If you have a Vodafone Pro or Pro Xtra broadband package and you're not getting stable Wi-Fi in all rooms as promised, you're allowed to leave your contract early without paying any fees
And if you're no longer within the minimum terms of your contract, you're free to leave without paying a fee. Plus, the good news is that you'll be getting some of the best deals on the market as a new customer.
Thinking of changing broadband provider? Read our guide on switching broadband.