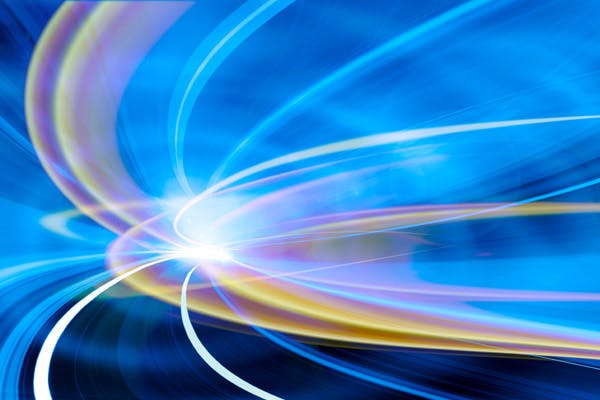 Fibre-to-the-premises, or FTTP, can take your home broadband to the next level. With speeds reaching over 1,000Mbps, it's seriously fast. Want to see if you can get it at your address? Enter your postcode above, or read on to learn more.
What is FTTP?
Fibre-to-the-premises, also known as FTTP or full fibre broadband, is a type of fibre optic broadband connection.
While the more common fibre-to-the-cabinet (FTTC) connection still uses older copper cables to transmit data from a telephone cabinet to your home, FTTP broadband uses fibre optic lines directly from your provider's exchange to your home.
As a result, FTTP can deliver much faster speeds and a more reliable connection. Speeds can be anywhere between 100Mbps to over 1,000Mbps (1 Gbps).
For more information on the difference between FTTP and FTTC, visit our page on FTTP vs FTTC broadband.
Is FTTP broadband any good?
Yes, FTTP broadband provides a speedier and stronger internet connection.
It uses speedy fibre optic lines all the way from the provider's exchange to your home – so, it bypasses the need for older copper cables connecting a telephone exchange to your home.
As a result, it's much faster than FTTC broadband. While most FTTC broadband packages offer speeds between 36Mbps-78Mbps, FTTP can provide gigabit connections (1 Gbps).
However, it's not as widely available. Although providers are continuing to roll out their FTTP coverage across the UK, it's still limited to certain locations.
Can I get FTTP where I live?
FTTP is less widely available than FTTC, so whether you can get it largely depends on where you live.
If you live in a large town or city, you'll have a better chance of getting an FTTP package from one of the major providers.
Nevertheless, you're not completely out of luck if you live rurally. In fact, there are several providers that exclusively supply rural locations with full fibre broadband, such as Gigaclear.
A quick and easy way to find if you can get FTTP is to use our FTTP checker on this page. Enter your postcode to see what deals are available at your address.
What providers offer FTTP broadband?
Many providers now offer FTTP broadband, including:
Some providers are focused on particular areas of the UK. For example, Community Fibre is only available in London, while Gigaclear is a rural-only provider.
Are there any disadvantages to FTTP?
The main disadvantage to FTTP is that it's currently limited to select locations. Although availability is ever-growing, it's still far less common than regular FTTC fibre optic broadband.
It's also more expensive than FTTC broadband. If you're a light user or living in a smaller household, chances are that you won't be using top speeds – therefore, there's no need to shell out for the fastest FTTP plan.
Installation can also be trickier. As FTTP connects the exchange to your home with fibre optic lines, it's highly likely you'll need an engineer to install the appropriate cabling at your address.
Frequently asked questions
Do I need a landline for FTTP?
No – one of the advantages of FTTP is that you don't need a landline, since it doesn't deliver your internet signal via a telephone line.
Of course, if you still want a home phone plan, you'll typically have the option to add it to your FTTP package.
Do I need a router with FTTP broadband?
Yes, you still need a router with FTTP broadband. Luckily, most providers will bundle their broadband with a powerful router that can easily handle ultrafast speeds.
How is FTTP broadband installed?
Installing FTTP broadband can be more complex than FTTC broadband and may require more time and effort.
Depending on the existing infrastructure in your area, fibre optic lines may need to be installed from scratch – particularly the cables connecting your home to the street.
In which case, an engineer will come to lay down the cables into your home and through the walls, which will allow for a router to be connected.