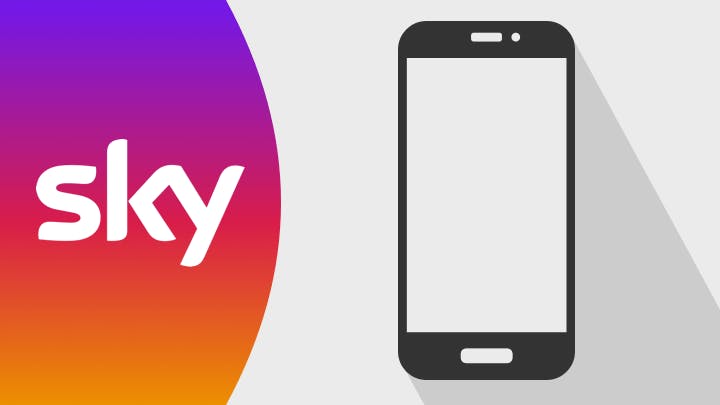 As if giving us satellite TV with 300 channels wasn't enough, Sky has officially expanded its repertoire. Sky Mobile is a new mobile network in town, offering a unique approach to mobile deals and lots of extra money-saving for its telly customers. Here's everything you need to know.
What can I get from Sky Mobile?
SIM-only plans
Sky Mobile deals in some pretty sweet 12-month SIM-only plans. Your choices of data allowance are:
500MB data
1GB data
5GB data
10GB data
All are 4G, so your mobile internet will be nice and speedy.
Calling minutes and text allowances work a little differently on Sky. If you're a TV customer, you can get unlimited calls and texts included on your plan as standard; if not, you can either add them on for an extra £10 a month, or just call and text on a pay-as-you-go basis.
You can also chop and change your plan whenever you want, even mid-contract, with the network's Mix feature.
Then there's the best feature of all: you can roll over your unused data to the next month so nothing's wasted.
Here's how that works. Let's say you take out the 5GB per month plan, but in one month you only use 4GB of that allowance. The remaining 1GB will go into your 'piggybank' - which you can access via the Sky Mobile app or the online portal - and you can pick it up and use it at any point, in addition to your normal monthly allowance. It's stored there for three years, so there's no hurry.
That means if you have a heavy month, there's no need to shell out for an add-on: there's already some data stowed away for a rainy day.
Handset plans
Sky also offers contracts on handsets, through a system it calls Sky Mobile Swap. It's a split contract like O2 Refresh - your monthly bill is split up into the cost of the handset, and the cost of your monthly tariff. The main attraction of Swap, though, is that you can trade in your phone and upgrade to a new one early.
The two available contracts are:
Swap12 - a 24-month contract, in which you can upgrade to a new phone after 12 months
Swap24 - a 30-month contract, in which you can upgrade after 24 months
Here's how it works.
Let's say you take out a Swap12 deal on a new Samsung Galaxy S8. Altogether, the phone costs £768. For the first year on this contract, you pay £41 per month - so at the end of the year, you'd have paid £492 overall, and would still owe £276.
To pay that £276 off, you can either continue making payments for another year (at £23 per month), oryou can trade in your phone back to Sky. Trading it in pays off the remaining balance immediately, and you're free to get a new phone… like the Samsung Galaxy S9. Or, if you want to upgrade but still keep your S8, you can pay off the remaining balance in cash.
It's not quite as flexible as O2 or Tesco Mobile's upgrade schemes - which let you upgrade your phone whenever you want, provided you pay off the remaining cost - but it's still better than being stuck in an expensive contract plan.
(Costs here are correct at the time of writing - see Sky's deals for the most up-to-date prices.)
Sky TV customers
Got Sky TV? Taking out a Sky Mobile plan comes with a few fun extras for you.
You'll get those unlimited calls and texts included, for a start - which up to five phones can register for per household. That'll save you up to £120 per year for each phone right there.
You'll also get Sky Go Extra free of charge, which usually costs £5 a month (£60 across a whole year). It's basically the superpowered version of Sky Go: it lets you download TV shows and watch them from anywhere, register more devices, and watch Sky shows on games consoles, on top of all the features that the regular Sky Go offers.
And then there's Sync - a feature that lets you connect to your Sky TV box and access your recordings, make personal playlists to watch, and manage them remotely.
What's good about Sky Mobile?
Can roll used data over to the next month, and keep it for up to three years
Can change your allowance around whenever you want
Option to get calls and texts on PAYG - great if you don't make calls or send many SMS texts
Extra discounts and goodies for Sky TV customers
Can upgrade your phone early with Swap
What's bad about Sky Mobile?
Not much choice of plans - just a few allowances to pick from
Maximum data you can get is 10GB per month
It's not the cheapest - especially if you add on unlimited calls and texts (and haven't got Sky TV)
Handset contracts aren't that flexible... and may lock you in for 30 months