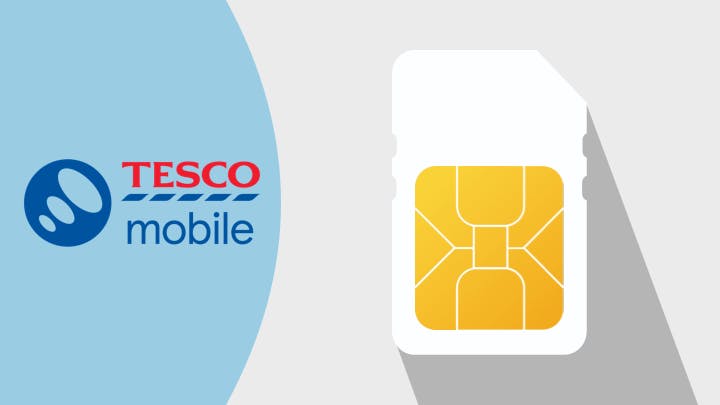 Tesco has a flexible range of good value SIM-only deals which should cater for most data, minutes and text needs. On top of reasonably-priced tariffs, there are also handy benefits, such as contract caps, inclusive roaming across Europe and Family Perks like extra data or discounts.
In this guide, we'll take you through what you get from Tesco, how to choose the right SIM deal for you, and how to get it for the cheapest price.
What SIM-only deals can I get from Tesco?
Tesco's monthly allowances range from 100MB of data with 100 calling minutes and 5000 texts, up to 50GB of data with 500 minutes and 5000 texts. With plans catering for everything in between, it should be easy to find the right one for you.
SIMs are available on either 12-month or one-month contracts, with a range of added benefits. Longer term 12-month plans cost less per month, and higher allowances are available; while one-month deals give you more flexibility.
You also have the option of a Pay-as-you-go SIM.
Perks and benefits
Tesco's pay-monthly SIMs give you the following benefits:
Cap your contract for complete control over your monthly spend – and add a safety buffer so you can't overspend
Get Family Perks when you have more than one contract on your account. Choose extra data, extra minutes, extra Clubcard points or money off
Download the Xtras app to get an additional discount each month
Use your phone in Europe at the same rates you do at home with Home From Home
How to compare Tesco SIM-only deals
It's easy to compare Tesco SIM deals - just use the table at the top of this page. You can see all the deals together, compare what you can get, and filter them down so you only see the ones that suit what you need.
Think about things like:
Allowance - how much data and how many minutes and texts do you need per month? If you're not sure how much to go for, take a look at our full guide to data usage
Contract length - choose between a 12-month or one-month plan. If you're willing to commit to a year, the longer contract will typically work out cheaper over that period
Price - if you have a budget, choose the maximum you want to pay each month in the cost filter
Can I get an unlimited data Tesco SIM?
No, the maximum data allowance you can get with a Tesco SIM-only deal is 8GB on a 12-month or one-month plan. That's still a huge chunk of data and should take care of about 50 hours of HD video.
However, if you don't think 50GB is enough for you, take a look at the unlimited and big data options offered by other networks.
What's the cheapest Tesco SIM-only deal?
The cheapest mobile SIM deal you can get from Tesco is a 12-month contract that comes with 100MB data, 100 minutes, and 5000 texts per month.
This deal is fine if your use involves browsing the internet, sending emails and checking Facebook, and you basically don't use your phone much, but not great if you're a heavy user.
You'll generally find that 12-month plans work out cheaper per month than one-month ones, so it's worth the commitment if you really want to save money. And sometimes there are limited time deals that are worth going for - keep an eye out for those.
Is a Tesco SIM deal cheaper than a phone contract?
Yes, it's almost always cheaper in the long run to buy a phone outright and take out a SIM-only deal.
If you do want the benefits of a phone contract plan (like lower upfront costs, a nice new phone in your hand today, and free screen replacements), it's worth seeing what other networks can offer.
Can I upgrade a Tesco SIM-only deal?
Yes, with Tesco Mobile's Anytime Upgrade Flex you can change your tariff to suit your needs. It's a flexible monthly contract which means you can also change your tariff down as well as up. You can do it every month if you want to and it'll take effect from your next bill date.
Can I keep my number if I switch to a Tesco SIM-only deal?
Yes - it's almost always possible to keep your current phone number when you switch to a new network.
Choose a new SIM-only plan - compare deals and sign up to one that you like the look of. Your SIM will be sent through the post to you. While you're waiting...
Contact your current providerand request your PAC (porting authorisation code) - you can request your code in a few ways - online, via text and even by post if you're really old-school. If you phone, they may try to talk you into sticking with them, but stick to your guns if this happens. They'll send you the PAC as a text message within two hours.
Give the PAC to your new network - when your new SIM arrives, it will have a new number. To change it to the old one, contact your network and give them the PAC code. They'll take care of porting the number over. It could be as fast as one working day before the old number's transferred, but be aware that on occasion it can take a little more time.
It may sound complicated, but it's very simple in practice. If you want a bit more detail, check out our full guide to keeping your phone number:
What size SIM card do I need?
There are three SIM card sizes you can get:
Standard SIM card - 15mm x 25mm, commonly used in older feature phones
Micro SIM card - 12mm x 15mm, used in some smartphones, primarily older models
Nano SIM card - 8.8m x 12.3mm, used in most modern phones, including popular handsets like the iPhone 8 and Samsung Galaxy S8
Don't worry if you have no idea which size your phone takes. Most networks will send you a 3-in-1 SIM, designed to fit into any handset. It'll come encased in plastic, and you can pop it out into the size you want.
In other words, don't stress about SIM size when comparing deals. Whichever you choose, the SIM card will fit in your phone.
Does my phone have to be unlocked to use a Tesco SIM?
Some phones are locked onto a particular network, and will need to be unlocked before you can use another company's SIM. Fortunately, this is really easy to do. To find out if your phone is locked, pop in a friend's SIM card - they'll need to be on another network obviously. If it works, then your phone is good to go - otherwise, you'll need to contact your current operator and ask them to unlock it.
Different networks have different rules on unlocking. Some examples are:
Those are just the major networks. To find out more about unlocking your mobile, check our full guide:
More SIM-only deals
Take a look at the SIM deals you can get from other providers too: