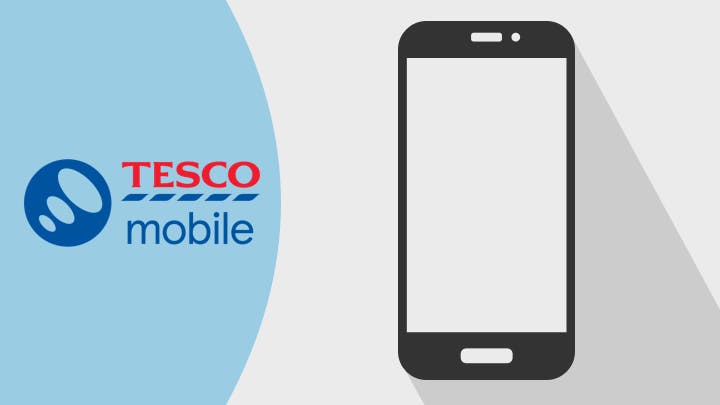 Tesco Mobile gives you a lot: 4G at no extra cost, the option to upgrade your phone at any time, and a wide array of flexible pay-monthly plans. Oh, and Clubcard points too.
It's a mobile virtual network operator - or MVNO - meaning that it uses O2's network to offer mobile plans rather than running its own. These plans have range of unique features, such as Clubcard points, caps to prevent you from overspending, and more.
In other words, Tesco is more than just a place to buy broccoli. Read on for everything you need to know about getting a Tesco Mobile deal.
What can I get from Tesco Mobile?
If you're looking for a pay-monthly plan that offers better than average value for money, Tesco Mobile's a sensible option. It offers a pretty decent range of handsets, including top-end devices like iPhones and Samsung Galaxies, to more affordable options like the Motorola Moto G.
Or if you don't need a handset, there are loads of SIM-only plans on offer too. They're available on both 30-day and 12-month terms - the 12-month plans costing less per month - with allowances ranging from a handful of minutes and texts all the way up to 30GB of data. Or, you can grab a free pay-as-you-go SIM - but you won't get all the unique features that come with a pay-monthly plan, such as bill caps, safety buffers, and family perks.
Some Tesco Mobile pay-monthly plans are also Anytime Upgrade contracts. These let you, well, upgrade your phone any time. They split your monthly bill into two payments - the cost of your phone and the cost of your tariff, just like with O2 Refresh. It's still one monthly bill, but two separate contracts. When your contract term is up, you'll have paid for your phone. Or, you can pay off the cost of the phone early, and start a contract on a brand new one.
Tesco Mobile perks and benefits
Tesco Mobile plans include a variety of extra features and other benefits. These include:
Capped contracts - You can cap your monthly bills, so you have more control over how much you spend. It sets a limit on how much you're able to spend outside of your bill each month, and you can increase or decrease it whenever you like.
Perks for family members - Add family members to your pay-monthly plan and each one will get to choose between extra minutes of calls, extra texts, extra data , or a discount off your bill.
Clubcard points - For every £1 you spend on a Tesco Mobile plan, you'll earn Tesco Clubcard points, just as you do from your weekly shop. Collect enough, and soon you'll earn vouchers to spend.
Tesco Mobile coverage
Tesco Mobile uses O2's network. As such, coverage is excellent - around 99% of the UK population is covered. 4G coverage is more limited, reaching around 75% of us; although luckily 3G is far, far more available than that.
Read more in our guide to mobile coverage.
What's good about Tesco Mobile?
Plans are affordable, and there's a lot of choice
4G added at no extra cost, and wide coverage
Capped contracts make managing costs easier
Family members can get extra minutes or data if you add them to your pay-monthly plan
Chance to earn Clubcard points
Good customer service
Anytime Upgrade makes your contract more easy to manage
Xtras app lets you save up to £3 a month by viewing ads on your phone
What's bad about Tesco Mobile?
4G coverage isn't amazing
No unlimited data plans
No options to cut costs down if you use your phone abroad outside of the EU