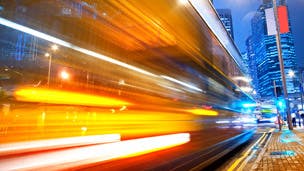 Want to know how fast your broadband really is? Use our free internet speed checker to find out. Read on for instructions on how to use it and learn everything you need to know about broadband speeds.
Using our broadband speed tester
Our free online internet speed checker tells you how fast your broadband is, giving you an accurate reading of the speeds you're currently getting*.
Once you've done the test, we'll be able to tell you your download speed and your upload speed, measured in Mbps (megabits per second).
Not sure what those terms mean? We'll explain all...
Download speed - How quickly data is transferred from the internet to your computer. The higher your download speed, the faster you'll be able to download content. And you'll get a better TV streaming and online gaming experience too.
Upload speed - How quickly data is transferred from your computer to the internet. Upload speeds determine how quickly you can send files, upload photos to Facebook. Typically much slower than download speeds
Mbps - Stands for megabits per second and is the unit of measurement used for broadband speeds.
For more information, read our full guide to download and upload speeds.
* It's important to note that the speed test tells you only the broadband speed at the specific point in time when you tested it and on the device on which you performed the test. Your speeds will fluctuate depending on time of day, how many people are using your provider's network at this time and other factors.
How do I check my broadband speed?
Our free speed tester (you'll find it at the top of this page) is easy to use, and takes just a few seconds. All you need to do is enter your postcode and email address. Then just the click the green button to get the speed test going.
It normally takes less than 30 seconds to get your results.
Bear in mind, though, that broadband speeds are variable and can be affected by lots of things - including the time of day, how many people are using the connection. What other other people you live with are doing online is also a factor.
So don't use our speed checker for a single test. It's much better to conduct a few tests at different times throughout the day.
That way you'll get a much more accurate picture of the broadband speeds you're receiving.
Average download speeds
Broadband providers' advertisements usually loudly trumpet the broadband speeds you'll get if you sign up.
For example, they might tell you can get 16Mbps. Or 76Mbps. Or even faster with top-of-the-range fibre broadband service.
However, that doesn't mean those are the speeds you'll actually receive.
In fact, those advertised speeds are the average speeds that are available at peak times to at least of customers who've signed up to that service.
So although there's a good chance you'll get the speeds that are touted in broadband adverts, there's no guarantee.
It's worth noting that you're much more likely to get speeds closer to those advertised if you get fibre optic broadband than a standard broadband service.
This is because the fibre-optic cables that deliver fibre broadband are more reliable and less prone to interference and 'slow down' than the ageing telephone lines that bring standard broadband to your home.
Why can't I get my advertised speed?

There are lots of factors that affect the speed of your broadband. But perhaps the key factor for anyone with standard non-fibre broadband is distance from the local telephone exchange - the further away you are, the slower your connection.
Something that affects all types of broadband is internet traffic. This means that the more people are who are online, the slower your connection will be. Consequently, during peak times (usually early evening) you may notice your broadband slow down.
Similarly, if you have a lot of people in your house, all of whom are online at the same time, you'll see your speeds start to drop.
That's why large households are better with fibre optic packages rather than cheap internet packages. The former are fast enough that the drop in speed is much less of an issue.
Using your broadband over Wi-Fi instead of connecting devices with an ethernet cable will also have an impact on speed.
This because the signal becomes weaker when it has to pass through walls and doors.
A wired connection's always the fastest option, although it's not always the most practical.
Switch broadband provider
If slow speeds are a problem, you should consider upgrading your package, or switching to different provider. A fibre optic broadband package could be the answer.
It's faster and more reliable than broadband delivered over the copper wire telephone network, as fibre optic cables can carry more information across greater distances, and it's the perfect solution to slow broadband problems.
Most major providers, including Plusnet (www.Plus.net), Sky (www.Sky.com) and TalkTalk (www.TalkTalk.co.uk) offer fibre broadband packages
However, not all fibre packages are available in every part of the country. Some areas will be able to get BT fibre, for example, but not Virgin Media. Make sure you use our postcode checker to see what broadband deals available in your area.
Explore broadband packages
Frequently asked questions
How does the internet speed test work?
The speed test works by sending a small file to your computer and measuring how long it takes to be downloaded, and sending a file from your computer to measure the upload speed.
Why is my broadband connection so slow?
A number of factors could be making your broadband slow. You could have a problem with your router. Or your WiFi signal could be weak.
It's also possible that there are lots of people using your connection in home simultaneously, which puts a strain on the service.
Or at peak times (usually early evening), your provider's network could be congested by the sheer number of people who are online at the same time.
Simple steps you can take to try and improve your speeds include moving your router to a location where fewer walls and other blockages will obstruct the signal, as well as checking you've got your provider's latest router.
Need some more help? Take a look at our handy tipsheet for boosting your broadband speed.
Why can't I get my advertised broadband speed?
Regulations stipulate when a broadband provider mentions speeds in its adverts, these speeds must be available to at least half of its customers at peak time. That means that up to 50% of customers may be getting slower speeds. And you could well be among them.
Your speeds could also be negatively affected by congestion on your network or the wiring in your home.
The positioning of your router can also be a factor or if you're using an older computer, laptop, tablet or phone.
If you're not happy with the speeds you're getting and they're dramatically slower than those advertised (for instance if you're paying for a service that was advertised with average speeds of 27Mbps, but you're only getting 0.2Mbps), we'd suggest you take it up with your provider.
How can I speed up my broadband?
If your broadband's slower than you want it to be, you do have a few options. Firstly, if you're on Wi-Fi, test your speed, then switch to a wired connection and test again. This will tell you if the problem's with the line, or your hardware setup.
Once you know it's your broadband that's the problem, contact your provider to see if there's anything they can do to improve your connection.
They should be able to tweak a few settings, or give you advice on how to make it better.
There are lots of other things you can do to get your connection to pull its socks up, from moving your router, to getting apowerline adapterthat uses the wires in your house to improve a wireless signal.
Read our guide to boosting your broadband speed formore information.
If you're still not happy, you should consider switching to a package with a faster download speed.