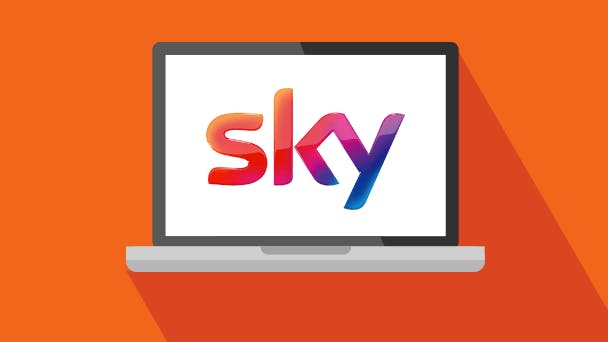 How does Sky broadband measure up with the likes of BT and Virgin Media? We took a good look at speeds, prices and everything else to find out.
Is Sky broadband any good in 2023?
Sky broadband isn't the cheapest around. But you get a good, reliable service for your outlay, as well as speeds that are well in line with the likes of BT, TalkTalk and Plusnet. Although not as fast as Virgin Media.
But for most people Sky's real selling point is its pay-TV service and highly rated set-top box, Sky Q, which remains among the best around.
And with the addition of the relatively new Sky Glass service, it's now much, much easier to get Sky TV in a block of flats too.
All Sky customers benefit from its VIP loyalty scheme, with rewards such as free movie downloads or a free subscription to some extra channels or streaming services.
That's a neat differentiator from most of Sky's rivals, which tend to reward loyalty by hiking your prices.
Sky broadband review
What's good about Sky broadband? And what's not so good? We take a look below...
Cost
For just broadband and home phone, prices are reasonable from Sky - it's not a budget provider, but it shouldn't break the bank either.
For TV, meanwhile, it's definitely on the expensive side. That said, you do get a lot for your money.
Sky has deals and special offers going on pretty frequently, so do look out for those. Here's what prices look like right now:
Speed
Sky offers three packages to choose from. These are:
Sky Broadband Essential - An ADSL service with 11Mbps average speeds.
Sky Broadband Superfast - A fibre optic package with average speeds of 59Mbps
Sky Broadband Ultrafast - High-end service with average speeds of 145Mbps.
Sky Broadband Ultrafast Plus - Top-of-the-range service with average speeds of 500Mbps
Sky's most widely available packages are Essential and Superfast. And speeds on those are very much broadly in line with comparably priced packages from BT, TalkTalk, Plusnet and EEIf you're prepared to pay a bit more, of course, the Ultrafast packages offer a much, much faster service that almost go toe to toe with Virgin Media.
But the downside is that Sky's Ultrafast service is only available in a fairly limited range of locations.
Compare broadband deals in your area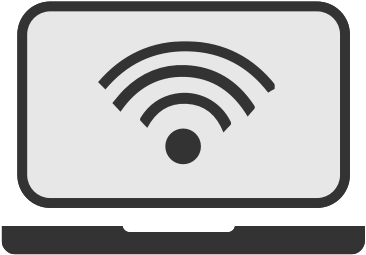 Download limits, fair usage, traffic management
Sky's unlimited broadband is truly unlimited. That means no usage cap, no 'fair usage', and no traffic management to slow your speeds.
Sky TV review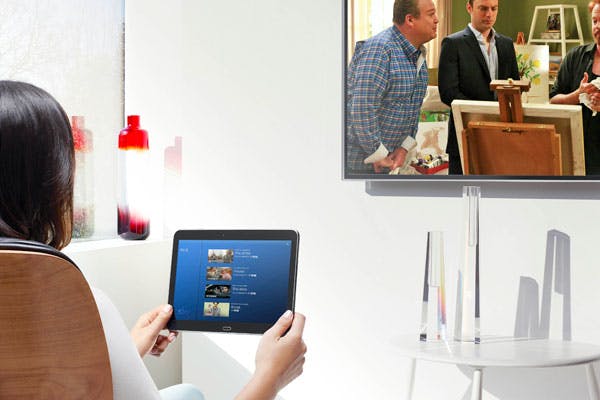 Pay-TV remains Sky's forte. That applies whether you get the highly rated Sky Q set top box, or choose a package with the Sky Glass smart TV that means you no longer need a satellite dish to get Sky TV.
Here's a snapshot of what you can expect when you sign up..
Packages
Sky offers two base packages to choose from, namely Sky Signature and Sky Ultimate. Once you've chosen one of these, you can then customise your package with flexible add-ons, such as Sky Sports or Sky Cinema.
If you choose Sky Signature you'll get around 300 channels, some 150 of which you can't get on Freeview.
And you'll get Sky Atlantic, as well as Sky Box Sets, which grants you access to glossy TV series, such as Westworld and Succession, on demand to watch on your TV or via the Sky Go mobile app.
Opt for Sky Ultimate and you get all of the above, as well as a Basic subscription to Netflix (worth £5.99 per month at the time of writing).
Add ons
But on top of that base packages outlined above, there's a decent selection of add-ons that you can sign up for on a flexible, rolling-contract basis. And cancel with just 30 days' notice.
These are:
Sky Sports - gets you the full suite of Sky Sports channels
Sky Cinema - Entitles you to 12 movie channels and hundreds of movies to watch on demand
Sky Kids - includes11 live children's TV channels
Sky HD - 40+ extra HD channels
BT Sport - All BT Sport channels, with 52 live Premier League games per season
HD and Ultra HD - upgrades select channels to HD and Ultra HD
Multiscreen - Lets you watch Sky TV on separate TVs around the home simultaneously
Disney+ - Includes movies and TV shows from Marvel, as well as Star Wars and Pixar.
So that's an awful lot to choose from. The downside, of course, is that if you take more than couple of add-ons, the price really starts to add up. And it's a bit irksome that multiroom is quite pricey.
Conversely, you can easily cancel add-ons if you're worried about your bills.
Channels
Hundreds of channels are available on Sky TV. The Signature base package alone has more than you can get with any other TV provider, and the Sky HD add-on gives you 50+ in HD - though it's a bit annoying to have to pay an extra monthly fee just to get HD channels.
On the plus side, every Sky Signature customer gets an extensive range of channels that includes Sky 1, 2, Atlantic, Living, Arts), Discovery, MTV, Comedy Central, Gold, and more.
All of which makes Sky the most extensive pay-TV provider available in terms of channel numbers.
Sky Q
Since superseded by the recent arrival of the Sky Glass smart TV, most Sky customers get their TV via the Sky Q set top box and a satellite dish installed at their home.
Although it's no longer new, the Sky Q set top box is still one of the best set top boxes on the market now, rivalled only by Virgin Media's TiVo.
It's incredibly easy to use, and integrates live TV with on-demand shows seamlessly. Its 'fluid viewing' lets you pause a programme in one room and pick it up where you left off in another, plus there's a voice-controlled touch remote. And the 2TB box is 4K-ready.
The good news is that while Sky Q was pretty expensive back when it launched, it's now much more affordable. And you really are getting a great set top box.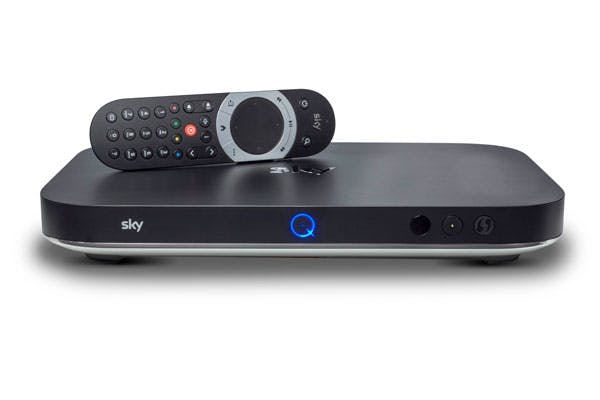 Sky Glass
Launched in October 2021, Sky Glass is the latest way of getting Sky TV. And its got two big selling points. These are:
It does away with the need for a set top box. Instead you get a high-end QLED TV with Sky's Q TV system built in.
And it does away with the need for a satellite dish too. Which is great news if you previously couldn't get Sky TV because you lived in a block of flats and weren't permitted to put up a dish.
Sky Glass offers the same functionality as Sky Q. The only major difference is that it doesn't allow you to record shows. Instead you add what you want to watch to a playlist, that you'll be able to access at a later date.
As with Sky Q, packages bundled with Glass require you to take a base TV service (Sky Ultimate or Sky Signature) with the option to sign up for add-ons on a rolling-contract basis.
Right now, Sky Glass isn't cheap. But it's the going rate for an excellent bit of tech that really is state of the art.
Sky home phone review
A landline is required for all Sky's broadband packages. All of which comes with pay-as-you-go calls as standard. Which means you only pay for the calls you make.
You can upgrade that to include evening and weekend calls, anytime calls, and international calls to 50 countries - so you've got a decent amount of choice here.
BT landlines have more calling features available, and providers like Post Office have cheaper line rental - but if you talk on the phone a lot, Sky's home phone is a good bet.
Extras and other selling points
Sky Mobile - Sky has an extensive selection of SIM-only and mobile phone plans, which allow you to easily upgrade to a new phone via Sky Swap. Sky TV customers who add a Sky Mobile plan get the sweetener of unlimited minutes and texts.
Sky Go mobile app - Watch catch-up, box sets, recordings, and a bunch of live channels from anywhere - on your computer via a browser, or via the app on smartphones, tablets, and games consoles.
Security - All Sky broadband packages come with Sky Broadband Shield for parental controls, and a free trial of McAfee to protect your devices.
Sky Q Hub - Sky's router is among the best you can get with broadband. If you've got a Sky Q Hub and Sky TV, your set top boxes can function as Wi-Fi hotspots, to push your connection that bit further.
Our verdict
Sky's a very good choice. You get decent broadband, a good router and some attractive extras to sweeten the deal.
Its broadband doesn't have the low prices of TalkTalk, or the blazingly fast speeds of Virgin Media, but it'll serve you well.
For TV, Sky is one of the best you can get. It certainly has the most channels, and its equipment is top quality too. It costs a fair bit more than BT TV, for instance, but what you get is quite amazing.
If it's within your budget and your household loves to watch TV, we'd say Sky's well worth it.
See also:
Pros and cons of Sky broadband
What's good about Sky? And what's not so good? Let's have a look...
Pros
Excellent range of TV to choose from
Sky Q and Sky Glass are highly rated
Broadband speeds to suit most households
Easy to switch from almost all providers
Discounts when you add a mobile phone plan
Router is very good
Cons
TV service isn't cheap. Especially if you take a few add-ons
You can get cheaper broadband with comparable speeds elsewhere
Not as fast as Virgin Media
How does Sky broadband compare with other providers?
Sky's major selling point is its TV service, which is streets ahead of the likes of TalkTalk, EE and BT.
Whether you choose Sky Q or Sky Glass, you get superb suite of functions and a massive trove of TV to choose from. The only provider with a TV offering that really compares is Virgin Media, with its TV360 box.
Sky's broadband is less standout and is broadly on a par with BT. It's not as fast as Virgin Media and it's not as cheap as budget-friendly providers such as TalkTalk and Plusnet.
But for all that, Sky broadband is notably reliable and comes with a very good router. Add to that well regarded customer service and its customer schemes and Sky adds up to a really attractive package.
Our latest Sky deals


New customers only Offer ends 30/11/2023

£25.00

per month

£19.44

Avg. monthly cost
New customers only Offer ends 30/11/2023



New customers only Offer ends 30/11/2023

£28.00

per month

£22.44

Avg. monthly cost
New customers only Offer ends 30/11/2023



New customers only Offer ends 30/11/2023

£25.00

for 3 months

£35.00

for months 4 - 18

£27.78

Avg. monthly cost
New customers only Offer ends 30/11/2023



New customers only Offer ends 30/11/2023

£28.00

per month

£22.44

Avg. monthly cost
New customers only Offer ends 30/11/2023



New customers only Offer ends 30/11/2023

£28.00

for 3 months

£38.00

for months 4 - 18

£30.78

Avg. monthly cost
New customers only Offer ends 30/11/2023



New customers only Offer ends 30/11/2023

£35.00

per month

£29.44

Avg. monthly cost
New customers only Offer ends 30/11/2023

*Average speeds are based on the download speeds of at least 50% of customers at peak time(8pm to 10pm). Speed can be affected by a range of technical and environmental factors. The speed you receive where you live may be lower than that listed above. You can check the estimated speed to your property prior to purchasing.